The Young And The Restless Preview Week of August 21: Victoria Snoops, Esther's Opportunity, Lily's Flaming Jealousy
Find out what is happening in Genoa City next week on Y&R!
The Young and the Restless (Y&R) spoilers for the week of August 21 reveal that a preview clip has been released. It features Victoria Newman (Amelia Heinle), who digs for intel from Kyle Abbott (Michael Mealor).
Sharon Rosales (Sharon Case) has an opportunity for Esther Valentine (Kate Linder). Plus, Lily Winters (Christel Khalil) gets jealous of Heather Stevens (Vail Bloom). Keep reading to find out what is coming up in the CBS soap opera.
The Young and the Restless Spoilers – Victoria Newman Snoops
Y&R spoilers for the week of August 21 reveal that the preview clip begins with Victoria. Now, Victoria is filled with doubt about Nate Hastings (Sean Dominic).
Victoria doesn't like to be deceived or manipulated. So, Victoria digs for some information. This information isn't about Nate, but his right-hand woman, Audra Charles (Zuleyka Silver).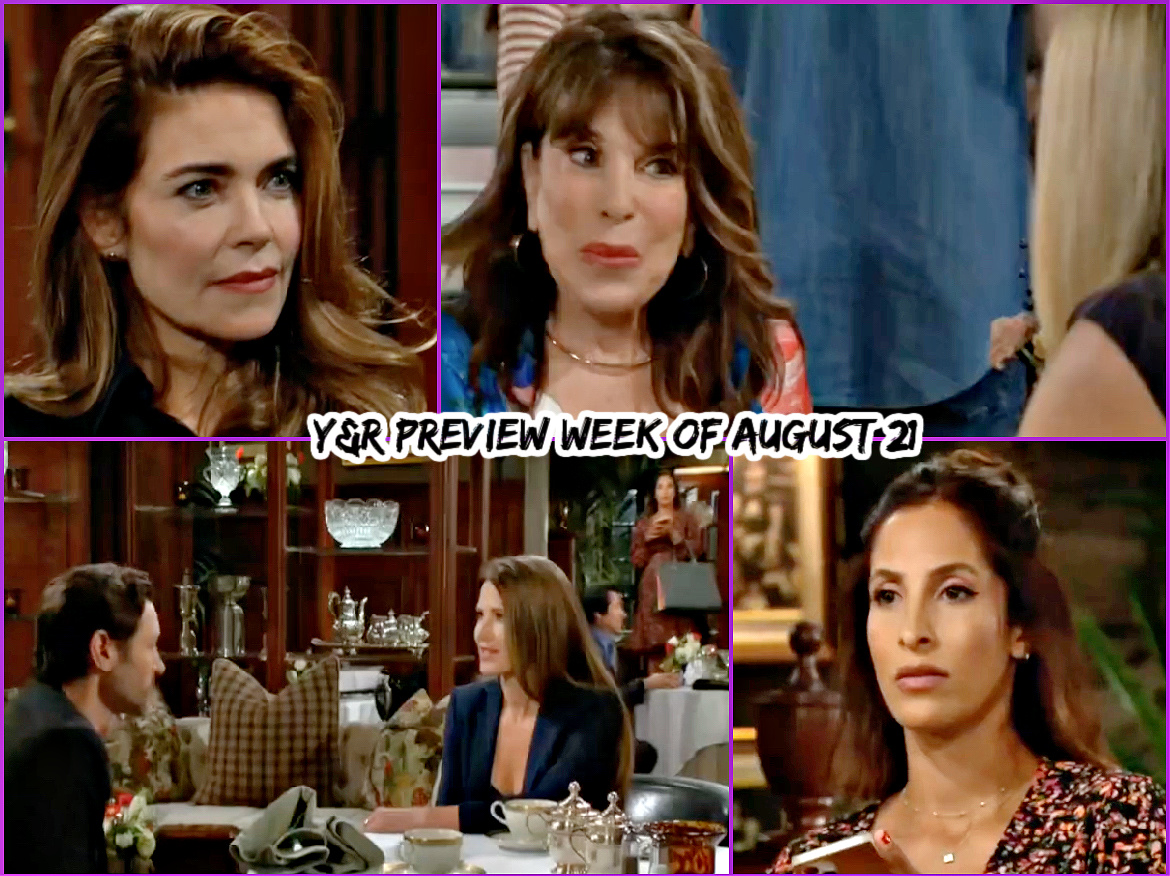 Even though Victoria quizzes Kyle, he isn't giving up any information. In fact, Victoria tries to dance around her real issue, but Kyle catches onto it.
Y&R Spoilers – Heather Stevens' Bombshell
The preview clip also shows Heather and Daniel Romalotti Jr (Michael Graziadei). Heather tells Daniel that she has decided to stay in Genoa City. Daniel puts his hand on Heather's and says he's glad to hear that.
The Young And The Restless Spoilers – Lily Winters' Jealousy
The Young and the Restless spoilers for the week of August 21 reveal that just when Daniel puts his hand on Heather's, Lily walks into the bar.
From a distance, Lily's face falls and she freezes. Lily watches as Daniel's hand is touching Heather's. It is clear that Lily might be misunderstanding the dynamic, though.
It's true that Daniel and Heather have history as well as a child together. It's also true that Daniel wanted Heather back, but she moved on with another man.
With Heather's bombshell, could she suddenly be single again? Could Heather staying in Genoa City lead to her reuniting with Daniel?
READ THIS: Find out what happens next on The Young and the Restless.
These are probably all questions that run through Lily's mind. Remember, Lily has been cheated on and betrayed in the past.
So, there is no way that Lily wants to invest any additional time in a relationship that's going nowhere. At the same time, jealousy does funny things to people's minds.
https://twitter.com/flutterpolitely/status/1692267392322126108
Y&R Spoilers – Esther Valentine's Opportunity
The preview clip for the week of August 21 also shows Esther. It seems that Sharon calls Esther to come for a chat. Sharon gives Esther an update on her new venture.
While Esther gushes about how Sharon's going to have her hands full, that is when the opportunity is presented. Sharon tells Esther that is exactly why she called her there.
Which storyline are you looking forward to seeing the most during the week of August 21? Share your thoughts in the comment section below.
Remember to keep watching the soap on CBS or Paramount+ to find out what happens next.
Be sure to catch up on everything happening with Y&R right now. Come back often for The Young and the Restless spoilers, news, and updates.