The Young And The Restless Spoilers: Are Ashley's Marriage Problems Part Of A Game With Tucker?
The Young and the Restless spoilers document that Ashley Abbott McCall (Eileen Davidson) did not return home with her renewed husband.
But is the seeming fallout with Tucker McCall (Trevor St. John) part of the plan they appeared to shelve after the remarriage ceremony happened?
Ashley seemed to decide that she did not want to fight with Jack Abbott (Peter Bergman) anymore. Diane Jenkins Abbott (Susan Walters) likely saving her life at Society played into what appeared to be a new outlook.
The Young And The Restless Spoilers – Ashley Abbott McCall Is Upset
If Ashley and Tucker had a real falling out, then the direction of the storyline these characters are taking is in question.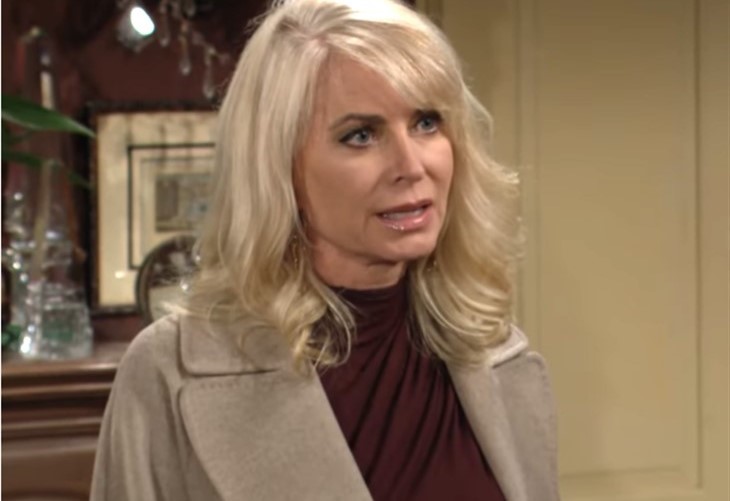 Why go through the motions of a long and involved build-up only to have their marriage collapse off-screen during the honeymoon?
Yet, viewers know that Ashley never truly forgave Tucker or at least seemed disinclined to trust him.
So, whatever happened in Paris, France could have set this ever-explosive couple off and created at least a temporary rift.
It is not hard to believe that Ashley got angry with Tucker and refused to fly with him on the return trip to Genoa City, Wisconsin.
Fans saw how she reacted the morning after their remarriage ceremony when she believed he went to Audra Charles' (Zuleyka Silver) suite for a romantic interlude.
Y&R Spoilers – Diane Jenkins Abbott Stays Alert
Diane told her new husband that she understood his truce with Ashley could be good. But she warned him to remain on guard.
Walters' character is right to advise Jack not to accept that the storm has passed. Ashley's feelings for Diane run deep because Tucker cheated on her during the first marriage.
Jack wants to believe that the talk he had with Ashley in the Genoa City Athletic Club suite was a breakthrough. It may have been, but viewers do not know enough to draw a firm conclusion.
MUST READ – Y&R Spoilers: Sally Shocked, Sharon Wants Nick To Work With Her
The Young And The Restless Spoilers – Tucker McCall's Plan For Simply Ashley Back On?
Tucker encouraged Ashley to turn her attention away from Jack's personal life. Part of that recommendation involved Ashley also being asked to forget about Jabot and allow Jack to run it as he saw fit.
Ashley grew frustrated and eventually tired of trying to warn Jack from allowing Diane to control him. So, it feels possible that Ashley has no plans to use her patents, create Simply Ashley, and use it to take over Jabot.
But the off-screen nature of Ashley and Tucker's seemingly falling out implies that more is happening than meets the eye on Y&R.
This site is a leading source for everything linked to The Young and the Restless. Check back regularly for Y&R spoilers and news!