The Young And The Restless Spoilers: Jack Agrees To Billy's Risky Plan – Tucker Out For Blood
The Young and the Restless spoilers document that Jack Abbott (Peter Bergman) considered Billy Abbott's (Jason Thompson) plan. At first, Jack did not want his younger brother to involve himself. But that outlook shifted. Jack's conversation with Ashley Abbott (Eileen Davidson) was a game-changer. Jack heard the break in his older sister's voice. Her demeanor shift happened because of Tucker McCall's (Trevor St. John) response.
Ashley decided that she did not want to walk away from her family's business. The Abbott family means the world to Ashley, with Tucker concluding that family loyalty means she has betrayed his trust.
The Young And The Restless Spoilers – Tucker McCall Is Behaving Irrationally
Tucker wants to blame Ashley for his behavior. That means Tucker believes he has no free will.
Animalistic logic is born from self-serving minds. Tucker fits that soapy bill, with the love he proclaimed for Ashley being tied to her agreeing to his plan for her life.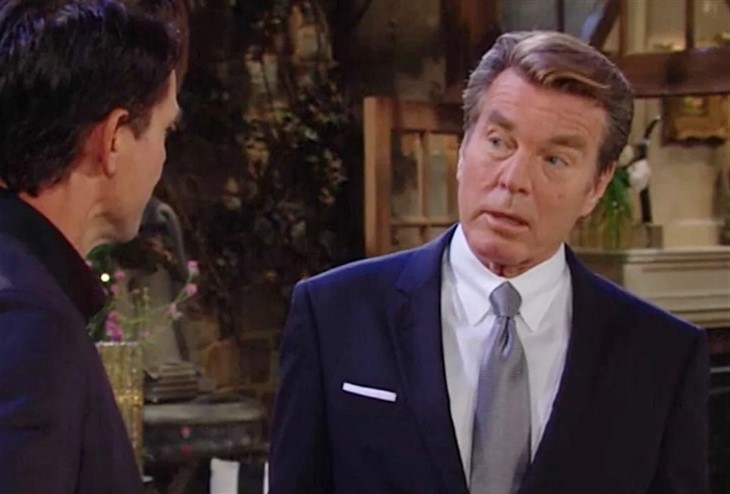 To be fair, Tucker was drawn to Ashley's defense during the period when she was fighting with Diane Jenkins Abbott (Susan Walters).
Of course, Jack's wife was involved with Tucker years ago before she added the Abbott last name and broke Ashley's marriage.
Y&R Spoilers – Jack Abbott Recognizes Threat
Jack surmised that Tucker would be coming for the Abbott family after his falling out with Ashley during their honeymoon. Bergman's character believed Tucker would blame him for that result.
Jabot is a target that Jack is defending. He was uncertain of Ashley's loyalties until recently.
Tucker was resisted by nearly everyone in the Abbott clan. Abby Newman Abbott (Melissa Ordway) became the exception when she decided that Tucker loved her mother.
Abby reverted to defending her mother after learning what happened in Paris, France. Billy's plan is in full support of the family but puts him in a vulnerable spot.
READ THIS: Find out what happens next on The Young and The Restless.
The Young And The Restless Spoilers – Can Billy Abbott Convince The Deceiver?
Billy did not trust Diane or Tucker. However, Billy has come to see that Diane does love Jack.
The difference between Abby's belief that Tucker changed and Billy's view of Tucker involves what both characters are doing now. Diane is loyal to Jack, whereas the Abbott family believes Tucker is a threat to Ashley and the family.
It would seem hard to imagine that Tucker will buy Billy's bluff. St. John's character is also trying to prey on Phyllis Summers (Michelle Stafford). Viewers see the high-risk potential for all involved on Y&R.
This site is a leading source for everything linked to The Young and the Restless. Check back regularly for Y&R spoilers and news!
For more about what's happening on your favorite soaps and more ways to connect with us, join the conversation on our Facebook Page, check out our Twitter feed, look for an update on our Instagram, follow us on Threads , Always stay up-to-date with us on Google News, or drop us an e-mail HERE! See you there!