Days Of Our Lives Spoilers: Vivian Could Lose Victor's Estate, The Returned Figurines Maggie's "Out"?
Days of Our Lives spoilers and rumors tease that even as Vivian Alamain (Louise Sorel) interrupted Julie Williams (Susan Seaforth Hayes) and Maggie Kirkakis' (Suzanne Rogers) she may have sabotaged herself. She had just told John Black (Drake Hogestyn) at Brady's Pub if she gave Maggie anything back she'd forfeit the estate-will returning Maggie's figurines be her undoing?
Days Of Our Lives Spoilers – John Black Wanted Vivian Alamain To Return Maggie Kiriakis' House
Since Vivian stormed in and took over everything, claiming it was all hers because there was no will, Maggie has been staying with Julie and Doug Williams (Bill Hayes).
At Brady's Pub, Vivian had interrupted John when he was celebrating finding his real birth father with Steve Johnson (Stephen Nichols); she had a job for him.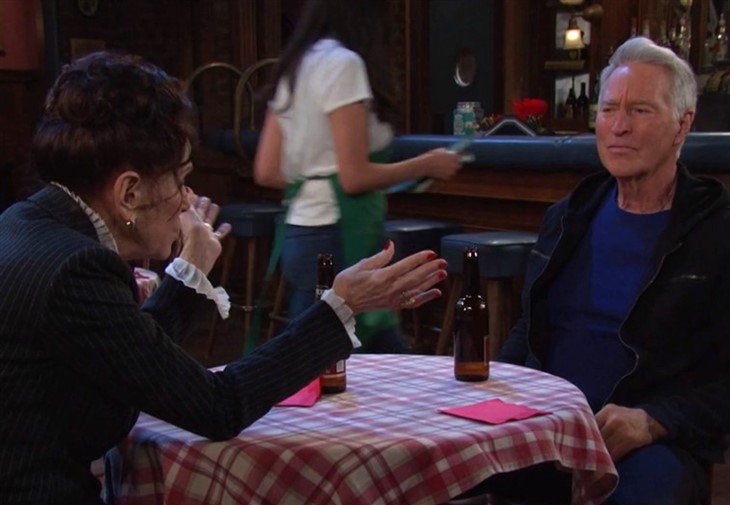 Chad DiMera (Billy Flynn) had resigned over Vivian telling him Titan would now be dealing in drugs, presumably illegal, since Victor Kiriakis (John Aniston) had been a drug lord.
Vivian wanted him to be COO at Titan, the job Chad just vacated but John had a caveat; she had to return the Kiriakis mansion to Maggie.
Vivian claimed she would forfeit Victor's estate if she gave anything back to Maggie, naturally John turned her down.
READ THIS: Find out what happens next on Days Of Our Lives.
DOOL Spoilers – Brady Black And Alex Kiriakis Have To Find Something?
After Vivian showed up bringing a box with Maggie's figurines and taunting her about needing something to sell, having fired her as well, Julie rushed at her and pushed her out the door-however, they did accept the figurines.
Maggie's figurines, of people in 1700s costuming, were so important to her she'd packed them away so they wouldn't be broken as the mansion filled up with family.
Maggie and Julie knew Brady Black (Eric Martsolf) and Alex Kiriakis (Robert Scott Wilson) were in Greece looking for information-little did they know Shane Donovan (Charles Shaughnessy) had Victor's briefcase.
There may be something to dispute Vivian's takeover in that briefcase, but they could still use the figurines as well!
Days Of Our Lives Spoilers – The Truth Will Set Her Free
The truth will set her free, and that's Maggie, not Vivian-but the truth that they find may not require them revealing Vivian returned the figurines.
Maggie and Justin Kiriakis (Wally Kurth) will be shocked at what's in Victor's retrieved briefcase, and what's in his amended will.
Once John and Maggie and Julie have a chance to talk, he'll no doubt remember what Vivian told him about not giving anything back to Maggie.
If nothing else, those figurines will be insurance in case Vivian has other tricks up her sleeve to dispute what Victor amended in the will. It sounds like it'll be a shock to everyone!
Be sure to catch up on everything happening with DOOL right now. Come back here often for Days Of Our Lives spoilers, news, and updates.
For more about what's happening on your favorite soaps and more ways to connect with us, join the conversation on our Facebook Page, check out our Twitter feed, look for an update on our Instagram, follow us on Threads , Always stay up-to-date with us on Google News, or drop us an e-mail HERE! See you there!