The Bold And The Beautiful Spoilers: RJ Keeps Eric's Secret – Ridge Does Not Know The Whole Story
The Bold and the Beautiful spoilers document that RJ Forrester (Joshua Hoffman) has been written into what already is a major family drama. That is exactly the scenario the recast character Hoffman plays said he wanted to avoid after returning to Los Angeles, California, earlier this year.
His love and respect for everyone in the family is strong. Learning about his grandfather's developing physical condition represents a confidence Eric Forrester (John McCook) entrusted to him.
Ridge Forrester (Thorsten Kaye) does not know what is driving his father to want a fashion showdown. But RJ does and that is a classic soapy dilemma.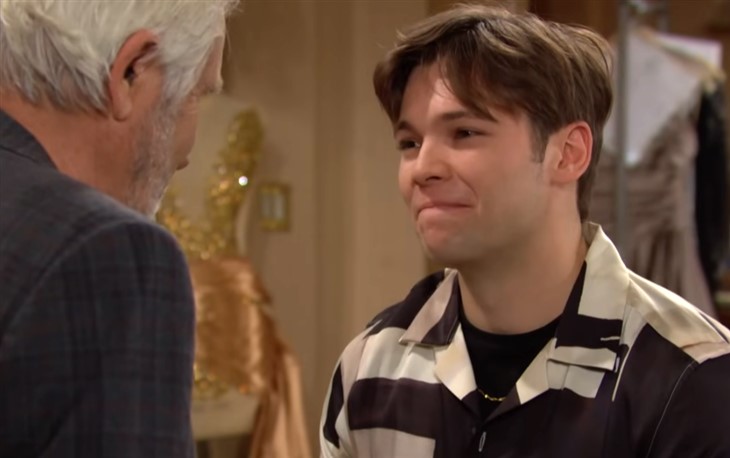 The Bold And The Beautiful Spoilers – Ridge Forrester Does Not Understand
RJ Forrester (Joshua Hoffman) is a good young man who has his priorities straight. Some of what he has learned about life happened when he developed a social media following.
As the audience saw, RJ's comments about creating content went over his dad's head. Ridge did not understand what being a social media star meant or how that reflected RJ channeling his talent.
The audience recognizes the similarity between Ridge not understanding why Eric would want to create a new line and his inability to understand the importance of RJ's online content creation.
Eric and RJ are expressing their talent in ways that Ridge can not control and does not seem to want to accept.
B&B Spoilers – Brooke Logan Believes Eric Forrester Is Done
Brooke Logan (Katherine Kelly Lang) made a very arrogant statement. She said, in front of her sisters, Donna Logan (Jennifer Gareis) and Katie Logan (Heather Tom), that Eric was Forrester Creations, but that Ridge's vision leads the company now.
That line of thinking matches the way Ridge sees the world. He wanted Eric to be happy with his accomplishments and not take a risk.
But Eric reminded his son that he and Stephanie Forrester (Susan Flannery) co-founded the company by risking everything. The result changed the fashion world.
READ THIS: Find out what happens next on The Bold and The Beautiful.
The Bold And The Beautiful Spoilers – RJ Forrester Is Wise Beyond His Years
RJ did something noteworthy when first returning. He embraced Taylor Hayes (Krista Allen).
The longtime rivalry between RJ's mother and Taylor has not affected his view of Allen's character. He sees people for who they are rather than who he thinks they should be.
Ridge could take a lesson from his son. Respect is not earned and then held forever. It continues to be an open event throughout all the days of one's life on B&B.
This site is a leading source for everything linked to The Bold and the Beautiful. Check back regularly for B&B spoilers and news!
For more about what's happening on your favorite soaps and more ways to connect with us, join the conversation on our Facebook Page, check out our Twitter feed, look for an update on our Instagram, follow us on Threads , Always stay up-to-date with us on Google News, or drop us an e-mail HERE! See you there!