The Young and the Restless Spoilers Monday, August 13: Girls' Night Disaster – Cane's Plan Revealed – Ashley & Kyle Plot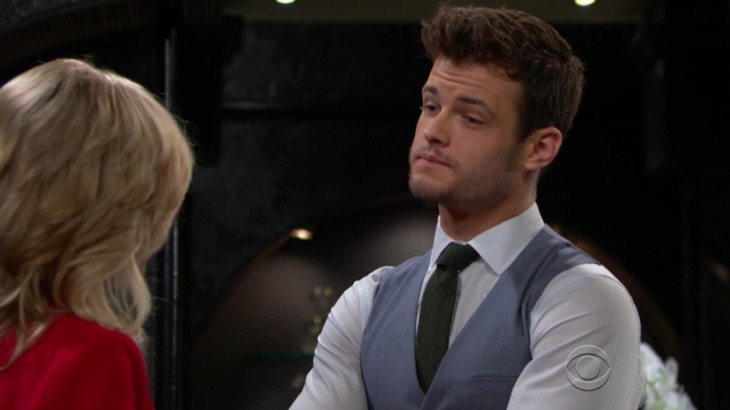 The Young and the Restless (Y&R) spoilers for Monday, August 13, 2018 reveals, Sharon (Sharon Case) and Mariah (Camryn Grimes) are home when the door bell rings; Mariah is surprised that Sharon has more bridesmaids. Summer (Hunter King) arrives and they are about to have a drink when Mariah realizes she was duped into another girls' night.
Lily Wants To Make The Most Of her Time
Lily (Christel Khalil) walks into the bedroom, informing Cane (Daniel Goddard) how worried Mattie (Lexie Stevenson) is about her legal situation. Lily says they need to make the most of their days and get as much done as possible, while she still has her freedom.
Sharon Asks Victoria To Be A Bridesmaid
Victoria (Amelia Heinle) and Nikki (Melody Thomas Scott) talk about Reed, both surprised that he didn't talk much about JT (Thad Luckinbill). Victoria tries to show her mom photos of the trip, but Nikki can't hide the pain in her hands. She assures Victoria that it is being treated.
Sharon calls, asking Victoria to be her bridesmaid, suggesting this could bring her and Nick (Joshua Morrow) closer together. Victoria tries to decline as Summer wants to know when Sharon and Victoria became "besties". Summer was going to bail on the party, which Mariah encourages, so Summer says she will stay all night!
Nikki feels its very tacky of Sharon, but Victoria feels she could be right. Nikki agrees that they could give her some credit for making an effort. Victoria says they need to improve their standing with Sharon and suggests Nikki comes with her, as she can only tolerate this is small doses.
Ashley and Billy Feud
Phyllis (Gina Tognoni) rushes to Jabot, looking for Summer. Billy (Jason Thompson) can see that Summer is in trouble and tells Phyllis that she went to Nick and Sharon's place; Phyllis bolts before he can say any more. Ashley (Eileen Davidson) and Billy are very tense with each other.
Billy knows Ashley went to legal behind his back but he insists this was legitimate business. She tells him to only do one boutique, as they continue feuding, Kyle (Michael Mealor) walks in saying Billy doesn't need science or proof, he has Abbott blood, right God?
Phyllis Confronts Summer About Her Matchmaking
Summer asks Mariah when Sharon's parties become cursed as this is dull. Phyllis arrives and Mariah says, "Cue the train wreck!" Phyllis asks Summer how she could even be there as she hates Sharon. Summer says she used to be and Mariah adds in her two cents.
Phyllis tells Mariah to watch it, but Summer says Mariah is right that Summer used to be very immature in how she handled things and would lash out at people like Sharon and if Mariah can "adult", than so can she.
Phyllis angrily confronts her about manipulating Jack and demands to know what she was thinking when Summer stammers for a response. She tells her mother that she is a much better match with Jack. Phyllis says she has a match and isn't looking. Summer says she should be!
Phyllis is shocked at Summer's behavior, but Sharon says that Phyllis is pretty skilled at arguing but it could be genetic; the argument ends halts when Victoria and Nikki arrive. Nikki wants to know what Phyllis' excuse is for being there. Phyllis wants answers from Summer, but they want to focus on the dress first.
She rushes them through Summer posing with the dress, then sits her down as Summer explains how with Jack, Phyllis was the wild one so they were a good match; where with Billy, he is wilder and crazier than she is which means she needs to be the stable one.
Lily Lets The Kids Know She Could Go To Prison for 20 Years
The Ashby family goes to GCAC for dinner, when Charlie (Noah Alexander Gerry) feels a weird vibe and wants to know what is going on. Lily confirms she plead guilty for her role in the accident and is waiting to be sentenced. Cane tells him they don't know the outcome but Mattie says the maximum outcome is 20 years in prison. Cane is sure they won't put Lily away for the next two decades.
Charlie wonders if this is Lily's last supper. Cane says no, but Lily tells him the hearing isn't for a few weeks, but they need to be prepared and understand reality. Mattie explains how this "accident" is still their mom's fault. Charlie worries how the court is going to deal with his mom as Cane tries to reassure all of them.
Mattie and Charlie talk to their parents about school. Lily apologizes, feeling sad for Charlie about how things fell apart with Shauna (Camryn Hamm), but Cane feels this is for the best. Charlie is frustrated how they are being so cool about this, as now his mom probably won't be able to see him graduate.
Sharon Tells Nick She Wants Phyllis In The Wedding Party
The women are split on whether Phyllis and Billy should be together and as the discussion progresses, Sharon lets it slip that her and Nick almost called off the wedding – Nick walks in. Nick is happy to learn Victoria will be in the wedding party, but when he asks what Phyllis is doing there, Victoria says Sharon wants Phyllis in the wedding too since they became so chummy. Phyllis grabs a glass of wine and chugs it, saying they can definitely discuss it.
Nikki mocks how far Sharon has come as Nick's one ex-wife will stand up for the other ex-wife. Summer and Victoria like it and say this will remind them how close they truly are and that they can really rely on each other. Mariah thinks its a recipe for disaster.
Phyllis glares at her so she says, "I don't know anything about recipes, as I doesn't cook". Both Phyllis and Sharon agree that its better for Phyllis to cheer them on from the audience. Nikki wants to know if she will be attending their wedding solo or will Victor (Eric Braeden) be coming with her?
Summer As Mariah What Is Going On With Sharon and Nick
Summer demands Mariah tells her what is going on with Sharon and Nick. Mariah lets it slip that Nick did spend a full night away from home but things are fine and they should get back to picking a dress for a wedding party, not a frat party!
Kyle Asks Ashley What His Loyalty Is Worth
Billy talks to both Kyle and Ashley. He understands that Ashley would want Kyle on her side, as both confront him on using all the RND money. Billy has faith they will up with money and Ashley will eventually thank him when her budget is back and increased because the stores will be doing so well.
He then tells them both to leave. Outside, Ashley is concerned about Billy's nonsense and over confidence as Kyle wants to know what his loyalty is worth to her.
Kyle and Ashley sit for dinner, but when he feels he is being jerked around Ashley admits she asked Jack (Peter Bergman) and Dark Horse to help with Billy. Kyle is impressed with her plan and that his dad might have a say in Jabot's future after all.
The Ladies Toast Hilary
Nick leaves for Dark Horse as Sharon jokes if she is the sole survivor of the party, they can simply elope. Victoria comes down in the next dress sample as does Summer, but Mariah is hesitant. When she does come into the living room, they all agree that her dress is the winner.
Summer grabs her phone but Mariah warns her if she is taking a picture of this, she will being wearing the phone as a headband. Phyllis tells Sharon to stop hosting parties because this is strike 3. They all begin to talk about Hilary (Mishael Morgan), raise a glass and toast to "one brave bride".
Mariah and Summer continue to dish it out at the party. When Summer gets angry, Mariah tells her to "Bring It Snowflake!" They are both told Girls' Night is a no cat fight zone; Summer leaves. Phyllis knows that Summer had it coming, but still. Mariah leaves to take care of work things. Phyllis was waiting for a moment alone with the exclusive club.
Summer Spies On Ashley and Kyle
Summer spies Ashley and Kyle on the rooftop, as Ashley tells Kyle he has to trust her as time is of the essence. Ashley coolly informs Summer she didn't know she needed to clear her schedule with a Fenmore's trainee. Summer says she will let them get on with their business, as she is sure it is all about supporting their CEO and promote his brilliant JaBoutique idea. Ashley assures her that her and Kyle are both very much Team Jabot until the very end. When Summer leaves, Ashley asks if Summer is going to be a problem and tells him to handle her!
Phyllis and Sharon Are Angry With Victoria
Phyllis and Sharon both attack Victoria for implying Phyllis would be a bridesmaid. Nikki defends her saying it was a joke, unlike Phyllis suggesting Victoria and Nikki go down for murder. They keep arguing until Sharon reminds them to keep it down as Mariah is upstairs and not drunk.
Victoria admits guilt is getting her and the stress is triggering Nikki's MS flareups. They are all surprised to hear Phyllis admit she isn't immune to the guilt and stress either. Sharon says that night has changed them all and they will never be free of it.
Summer Tells Billy Ashley and Kyle Are Plotting Against Him
Billy is on a business call when Summer arrives at his office. He demands better designs for the boutiques and doesn't care about the costs. Summer tells him she just spotted Kyle and Ashley on the roof of the club and they are plotting against him. Billy orders her to leave as he isn't getting sucked into her mind games. At the door, she asks who he is trying to convince more, her or himself?
Sharon Talks To Nikki, Victoria and Phyllis About Her New Life With Nick
Sharon talks to Nikki, Victoria and Phyllis about her new life with Nick. She is struggling about keeping this secret from Nick, but Nikki reminds her that this isn't the first lie she's kept from him. Victoria tells them not to be so hard on Sharon. Phyllis and Sharon have a war of words again just as Nick returns.
He wants to know what is going on, and Phyllis says she can only take so much of Sharon, telling him to have a wonderful wedding. Nikki and Victoria quickly leave too. Sharon acts like this is all Phyllis, but Nick doesn't seem to buy it.
Next week on Y&R, Cane plots with Colin to take his family to Australia permanently so Lily won't face a prison sentence. Cane and Lily need to decide what's best for their family, but the one thing Lily can count on is that Cane will always stand by her side. #Lane #YR pic.twitter.com/IgyIXWa8T4

— Kim Huck (@acejordan23) August 10, 2018
Cane Tells Lily & The Family They Are Going To Australia
Lily thanks everyone for making the night a special evening. Charlie wants to take Mattie away, so their parents can have some alone time, Cane agrees but tells them to be home within an hour. Charlie tells Mattie that their mother cannot go to prison and they are going to save her. At the table,
Lily is grateful for Cane's efforts. He is her hero, but can't save her. Cane tells Lily he bought 5 tickets to Australia, he sorted it all out with his father and they are leaving tonight. Lily is shocked!
The Young and the Restless airs weekdays on the CBS network. Check your local listings for times. In the meantime, drop us a line with your thoughts in our comments section below. And as always, don't forget to check back with Celebrating The Soaps for all the latest news, updates and spoilers on The Young and the Restless and all of your favorite daytime television shows right here!
Read more Celebrating the Soaps news, spoilers, and gossip on our The Young & The Restless homepage