The Young And The Restless Spoilers: Nick Torn Between Sally And Sharon
The Young and The Restless spoilers and updates tease that Nick Newman (Joshua Morrow) will be torn between Sally Spectra (Courtney Hope) and Sharon Rosales (Sharon Case). He loves Sally and wants to stay connected but he feels he needs to protect Sharon, who's in danger from Cameron Kirsten (Linden Ashby)!
The Young And The Restless Spoilers – More And More Fearful Gifts
Sharon gets more and more fearful "gifts" that she knows are from Kirsten, but even though Chance Chancellor (Conner Floyd) has been contacted she fears when they keep coming. Chance checked into Kirsten and is waiting to hear back, if Kirsten had been released from prison following the end of his full term-it's been over twenty years. According to The Young and the Restless spoilers, Nick's not even sure that he wants to tell Sally about Kirsten and what he and Sharon dealt with so many years, ago, what a psycho he is.
Sally and the baby don't need that kind of stress but knowing Sharon lives alone and Chance can't guard her twenty-four seven he feels like he has to protect her. He's so torn between Sally and Sharon, he doesn't even realize anyone connected to him as well as Sharon could be a target!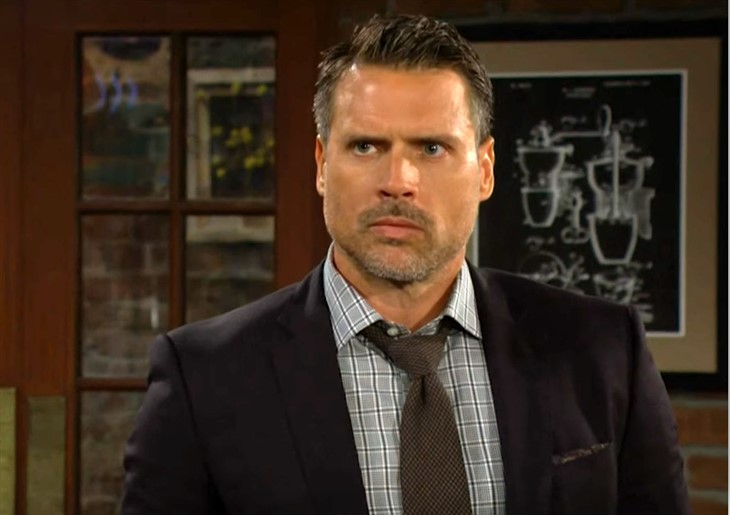 Y & R Spoilers – He Doesn't Want To Lose Sharon Rosales Too
Nick isn't in on the latest about Phyllis Summers (Michelle Stafford) and so he doesn't know that she is really alive, but he reflects on her loss. Especially, he reflects on Summer Newman-Abbott (Allison Lanier) being so devastated and he doesn't want Mariah Copeland, (Camryn Grimes) and Noah and Faith Newman (Rory Gibson, Reylynn Caster) to lose Sharon. He doesn't want to lose Sharon either, it's bad enough having lost Phyllis to a madman and Jeremy Stark (James Hyde) pales in comparison to Kirsten!
The Young And The Restless Spoilers – Faith Newman Returns
Nick finds out Faith has come home for a visit and soon goes over to the house, she's come with her cat Borgnine to meet Aria Copeland-Porter (Millie and Maddie Ingle). Sally is busy with Chloe Mitchell (Elizabeth Hendrickson) on a project so Nick is fine to get away and joins the family, with Tessa Porter (Cait Fairbanks) there too. Noah's out of the country along with Allie Nguyen (Kelsey Wang) so Nick is pretty sure that they are safe.
While there, Sharon receives yet another package, one she opens and glances over at Nick in fear-it's a cigar box with a matchbook inside.
It's yet another anonymous gaslighting gift signifying a nightmare Nick and Sharon thought was over long ago. Nick quietly tells her to save it for Chance, in case it's needed for evidence…he thinks to himself he'll figure out some way to keep Sally and Summer safe.
Be sure to catch up on everything happening with Y & R right now. Come back here often for The Young and The Restless spoilers, news, and updates.