The Young and the Restless Spoilers Thursday, August 9: Summer Kisses Billy, He Throws Her Out – Kyle Helps Summer With Her Devious Plot & More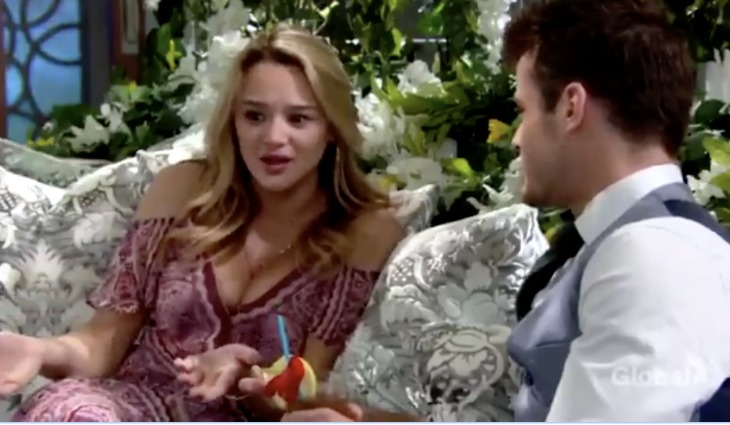 The Young and the Restless (YR) spoilers for Thursday, August 9, 2018, reveals, Lily (Christel Khalil) defends her actions to Devon (Bryton James), who won't hear any of it. He fires her and refuses to see her face at his place of business. Neil (Kristoff St. John) reminds Devon that they are partners and he will not cut Lily loose.
Billy Accuses Phyllis Of Conspiring
Billy (Jason Thompson) ends a call when Phyllis (Gina Tognoni) comes in to congratulate him, but he is surprised since she was conspiring against him a few hours earlier. Phyllis is shocked at the accusation.
Phyllis denies teaming up against Billy as he reveals Summer (Hunter King) told him about the meeting. Phyllis insists she was sucked in the meeting but Billy says that doesn't excuse the fact he heard it from Summer and not her. He also knows about the alliance Ashley (Eileen Davidson) and Kyle (Michael Mealor) have. Phyllis sarcastically says it is clear Summer is more loyal to him than his own girlfriend. She admits she did defend him but is also on Lauren's (Tracey E. Bregman) side. Phyllis confronts Billy, saying this is a "thrill" to him, almost as if he traded in gambling cards for gambling at Jabot. She worries if this takes this could damage Jabot and he will take all the heat.
Billy questions Phyllis about her mood lately, she says it has to do with Hilary (Mishael Morgan). She loves his confidence and how he goes with his gut, but she is scared that if the Jaboutique idea falls flat the Jabot blood clause will not protect him from the fallout. He promises her it will work, saying the risk is worth it, explaining the biggest gamble he took in life is being with her and it pays off every day. She agrees she is with him "all the way!"
Neil Tries To Convince Devon To Move On
Neil orders Devon to stop and that running away is not solving anything. Devon knows this is about family and throws it in their face that this is about the two family members that were ripped away from him. Lily agrees to go if this is ripping him up so much.
Kyle Accuses Summer of Being A Billy "Fan Girl"
Summer tells Kyle she is perfectly okay with the Jaboutiques, reminding him that Billy doesn't need his consent for anything and was in fact only telling them as a courtesy as their boss. Kyle calls her out on being a "fangirl". She tells Kyle to have a little faith, the rest of them are too busy being haters to see how great this could be. Summer reveals she is the one who told Billy about their secret meeting. Kyle taunts her and Summer insists once Billy knows that her mother slept with Jack (Peter Bergman), he won't be able to run to her fast enough. She will be telling him the ugly truth tonight!
Kyle questions Summer about her plan, pointing out that Billy has no interest in her at all and she has no proof that Phyllis actually slept with Jack. Summer plans to get proof and when Kyle asks about cameras, Summer suggests cameras will be involved and a repeat performance will do – setting the mood and putting Jack and Phyllis alone together. She enlists Kyle's help to make it happen, he agrees as he wants to see the explosion blow up in her face.
Devon Insists Lily Packs and Gets Out Of His Office
Devon puts a box on Lily's desk and tells her to pack or he will have her things brought to her house. Again, Neil stops him, telling him that Lily is hurting, facing criminal prosecution. Devon says it's because she committed a crime. Lily feels she should leave because if she goes to prison, all she will think about is spending more time with her kids. Devon agrees wholeheartedly.
Lily tells Devon she replays the accident over and over all night long. Devon says all night he thinks about the baby names, Hilary was choosing for their child or all the ideas they never got to talk about. He shares how he wakes up wondering where Hilary is, as he momentarily forgets she is gone, then remembers his life is gone because of what Lily did. Neil stops the conversation and Devon grabs his briefcase, leaving the office.
Cane Explains To Nat Why He Lied
Nate (Brooks Darnell) finds Cane (Daniel Goddard) at Crimson, saying he knows about Lily's decision. Cane feels really guilty and Nate tells him that he wasn't protecting Lily by lying.
Cane sits and talks to Nate about his reasoning behind the decision. Nate doesn't understand what its like to lie to the family but he gets what its like to want to solve the problem. He reminds Cane that he can't play God and he can't let the fear take over as Lily needs him way too much as he needs to be her rock. Cane promises he will always be her rock, that will never change.
Summer Sets Her Plot In Motion
Kyle runs into his dad at GCAC, talking to him about having a social life, telling him the right person is out there for Jack. He quickly texts Summer telling her where Jack is, wishing her good luck at luring him away. Summer is home setting up a camera and works her plan with Phyllis. Her mother comes home, who tells Summer not to keep Billy in the loop with secret updates, as it is her job to look after Billy. Summer asks if Phyllis has talked to Jack since she saw him earlier, he looked upset and needing someone to lean on. Phyllis promises not to tell Jack what Summer said and that she will do what she can to help him.
Summer appears at GCAC, telling Jack there are weird vibes happening at home between Billy and Phyllis. She says they are hanging on by a thread, Billy is working late and Phyllis doesn't have Hilary to talk to anymore. Jack apologizes and reminds her that Phyllis won't talk to her about Billy because she knows how he feels. Summer pushes, saying that Phyllis was ready to throw her pride aside when Billy left the picture; implying that Phyllis was ready to try again. Jack says whatever he/they thought Phyllis made her choice. Summer encourages him to "go with that feeling!" before its too late.
Lily Feels The Only Thing That Will Make Devon Happy Is If She Disappears
Cane finds Lily at the office, who reveals that Devon thinks the only way there is justice for Hilary if Lily gets punished; but she thinks even that won't be enough. She feels if she does disappear, Devon will act like she doesn't exist and they will drift only further apart, but if she ends up in prison it won't matter anyway. She doesn't care about the job – Devon is her brother! Cane reminds her this was an accident and Devon can't blame her for that. Lily asks him if the roles were reversed would he blame Hilary? Cane says that didn't happen, but she feels she can't blame Devon as she is the reason his wife is gone and nothing she does will make it right.
Neil Feels Devon Is Spiraling
Neil voices his concern to Nate, feeling Devon is spiraling and not the man he recognizes. Nate agrees to help him any way possible; they both go to see Devon who isn't interested in speaking to them but Neil says they are there to save him from himself. They aren't there to judge him as Nate shares the story of when his girlfriend died. Neil reminds Devon that he isn't an angry man and hates seeing him consumed like this, talking about how he was when Drucilla died and he doesn't want to see that happen to Devon. He asks Devon if Hilary wanted this for Devon.
Jack and Phyllis Meet While Kyle Films Them
Jack comes to see Phyllis, both completely oblivious to the camera as Kyle watches from the coffee house. Summer goes to Jabot with dinner for Billy, saying there is something she needs to talk to him about. Phyllis and Jack talk about their friendship as Jack reveals he has no leads on who his dad can be, but Dark Horse has helped keep his mind off of it.
Summer Kisses Billy
Kyle watches them closely from his tablet as Summer and Billy enjoy dinner at the office. Billy leans down and groans about his arm, Summer jumps at the chance to help him, massaging his shoulders; Billy tells her she doesn't have to do this. She sits on his desk and tells him to get a better chair, he compliments her on the message, saying she wasn't lying as she knows what she is doing. She suggests he be honest with her too. He gets up from his chair and Summer grabs his face, kissing him. He pulls away demanding to know what the hell that was. Summer says "that's me kissing you, and you letting it happen!"
Michael Tells Lily The Arraignment is Tomorrow
Devon assures Neil he is not going to crawl into a bottle, nor give up on his work. He simply wants justice for his wife and child. He's frustrated that if it were anyone else responsible, Neil would have his back and right now he is proving that Lily's comfort supersedes what happened to Hilary and the baby.
At HWG, Lily receives a call from Michael (Christian LeBlanc), who informs her she is being arraigned tomorrow. Cane wants to know the charges and Lily tells him it is two counts of vehicular homicide! Cane is shocked saying they cannot do this to her, he wraps her in his arms as she breaks down in tears.
Jack Tries To Kiss Phyllis
Jack tells Phyllis all about working with Nick and how inspirational he is. Phyllis agrees how intoxicating Nick is. She thinks their work is impressive, working from the ground up. Jack asks her to join them as Nick would take her any way he could get her. Phyllis feels it would be a bad idea but Jack continues to plead his case, saying he will always be there for her. Jack leans in to kiss her but Phyllis turns her face, saying she and Billy are fine. Jack leaves embarrassed, not sure what came over him.
Billy Throws Summer Out
Billy tells Summer he is sick of this and she needs to stop before she leaves him no choice but to go to Phyllis. Summer dares him to tell her right now and tries to get him to admit he likes it as she reminds him of who he used to be and who he wishes he could be again. Billy says the only reason he hasn't told her mother is that he doesn't want to be the reason their relationship blows up. He isn't doing this to protect Summer, but to protect Phyllis and orders her to get out!
The Young and the Restless airs weekdays on the CBS network. Check your local listings for times. In the meantime, drop us a line with your thoughts in our comments section below. And as always, don't forget to check back with Celebrating The Soaps for all the latest news, updates and spoilers on The Young and the Restless and all of your favorite daytime television shows right here!
Read more Celebrating the Soaps news, spoilers, and gossip on our The Young & The Restless homepage