The Young And The Restless Spoilers Thursday, March 30: Devon And Amanda Talk, Tucker Intrigues Ashley, Phyllis Fights Back
The Young And The Restless spoilers for Thursday, March 30 indicate Devon Hamilton (Bryton James) and Amanda Sinclair (Mishael Morgan) discuss their breakup. Tucker McCall (Trevor St. John) keeps Ashley Abbott (Eileen Davidson) on her toes. Phyllis Summers fights back.
The Young And The Restless Spoilers – Devon Hamilton And Amanda Sinclair Talk
The Young and The Restless spoilers indicate that Devon and Amanda will have a talk that has been a long time in the making. Devon and Abby Newman (Melissa Ordway) seem to be moving forward with their relationship even though they haven't defined it as of yet. However, there are still some things that are unfinished between Devon and Amanda.
Amanda can still rattle Devon's cage if she wants to and that could be of some concern. Since Devon and Abby aren't connected at the hip, it seems to be a great time to talk things out. Will Amanda and Devon be able to come to a friendly end now that they have separated? Are there still lingering feelings between Devon and Amanda that need to be resolved?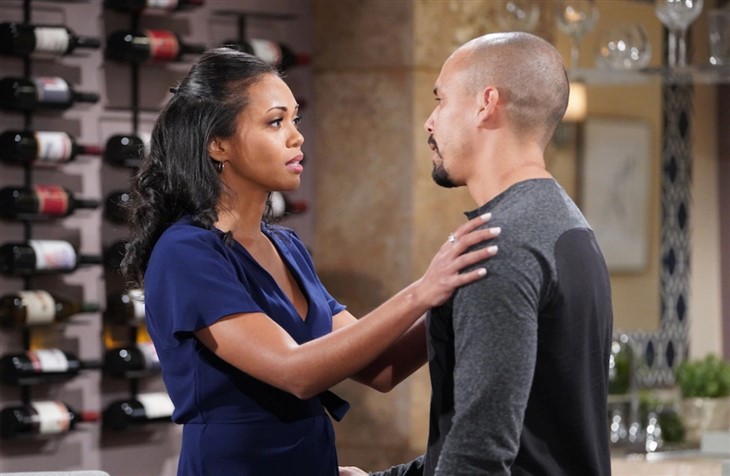 Y&R spoilers – Tucker McCall Intrigues Ashley Abbott
Tucker didn't exactly jump at the thought of going to the gala. However, being on Ashley's arm make it a bit more able to bear. Trevor is trying to do what Ashley asked with McCall Unlimited. However, a lot is depending on Devon's decision. It is nice for Tucker to have Ashley involved in his business one way or the other.
Ashley seems to be fooling herself into thinking that she has the upper hand with Tucker. In reality, it seems that Tucker knows exactly what he wants and he is working his way toward getting it. Ashley may be none the wiser to Tucker's plan but it seems that Ashley is playing right into it. Will Tucker and Ashley end up back together in the end?
The Young And The Restless Spoilers – Phyllis Summers Fights Back
Phyllis has been trying to save her family from Diane Jenkins (Susan Walters) for some time. However, Jack Abbott (Peter Bergman) has been put under Diane's spell and Phyllis cannot get him to listen to reason. Jack has even gone as far as to propose to Diane. Phyllis is doing everything she can to end this to no avail.
Phyllis has something up her sleeve. Jack even walked in and saw Diane trying to strangle Phyllis and she still got not even a note of sympathy. Now that Phyllis has joined forces with Jeremy Stark (James Hyde). How far will Phyllis take this plan to get through to her family? Is Phyllis willing to disappear for good if it gets Diane out of her family's lives?
Be sure to catch up on everything happening with Y&R right now. Come back here often for The Young And The Restless spoilers, news, and updates.