The Bold And The Beautiful Spoilers Thursday, March 30: Finn Vows To Protect Steffy, Will Sheila Finally Go Down?
The Bold And The Beautiful spoilers for Thursday, March 30 indicate John "Finn" Finnegan (Tanner Novlan) will vow to protect Steffy Forrester (Jacqueline MacInnes Wood) from Sheila Carter (Kimberlin Brown). Bill Spencer (Don Diamont) is determined to put Sheila away for good.
The Bold And The Beautiful Spoilers – John Finnegan Learns That Sheila Carter Is On The Run
The Bold and The Beautiful spoilers reveal that Finn will learn that Sheila is on the run and goes into high alert mode. Finn needs to protect Steffy and their child from his deranged mother. Finn knows that Sheila is desperate and could do anything, including coming after him and his family again. Sheila reacts violently when cornered and Finn needs to be prepared.
Sheila almost killed Finn and Steffy last year. When Finn realized that Steffy might be in danger, he got to her just in time to be shot by his own mother. Finn jumped between Sheila and Steffy to try to protect her and almost paid the ultimate price. However, Sheila turned the gun on Steffy anyway because she was trying to call for help for him.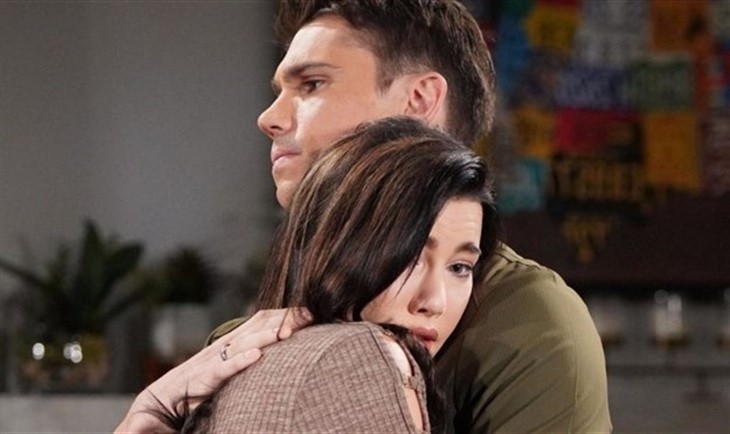 B&B Spoilers – Sheila Carter Is Crazy
Not only did Sheila almost kill both Finn and Steffy, but she also went after Finn's mother, Li Finnegan (Naomi Matsuda) as well. After Finn was saved, Sheila took off and faked her own death but making it looks like she was mauled by a bear. Sheila even went as far as to cut off her toe so that there was DNA left behind.
Things are about to change now that Sheila has lost the protection of Bill who has been pretending to love Sheila for all these months. Soon the truth will be out and hopefully, the charges against Sheila can be reinstated. Will Sheila manage to skip town before she can be brought to justice? Will Finn and Steffy finally be able to move about the town without fear?
The Bold And The Beautiful Spoilers – Will Sheila Carter Go Down This Time?
Bill managed to get the evidence proving that Sheila committed murder. What is better than the Feds hearing Sheila's confession? However, now Sheila needs to be caught again. Bill knows that Sheila will run straight for Deacon's home. However, Bill has no idea what Sheila has asked Deacn to do. Will Sheila talk Deacon into running away with her?
Deacon loves Sheila, as much as you can love a psychopath. However, Deacon loves his daughter as well. Since a warrant hasn't been issued for Sheila's arrest just yet, she may skip town before everyone learns the truth. If the FBI had done their job, they would have arrested Sheila before she fell off the balcony. Will Sheila be captured this time?
Be sure to catch up on everything happening with B&B right now. Come back here often for The Bold And The Beautiful spoilers, news, and updates.