B&B Recap And Spoilers Wednesday, March 29: Deacon Questions Hope, Sheila Escapes, Bill Gives Chase
The Bold And The Beautiful spoilers for Wednesday, March 29 reveal that Bill Spencer (Don Diamont) tells Sheila Carter (Kimberlin Brown) that she confessed to the murder and is going away for life. Ridge Forrester (Thorsten Kaye) and Agent Chen (Brian Yang) freak out when Sheila falls. Hope Spencer (Annika Noelle) stops by to see Deacon Sharpe (Sean Kanan) who is mulling over Bill's proposal to Sheila.
The Bold And The Beautiful Spoilers – Deacon Sharpe Questions Hope Spencer
Hope believes something is wrong with Deacon and asks what is going on. Deacon chalks it up to being new in the restaurant business. Deacon wants to know how Hope is now that Douglas is coming back home. Deacon questions why Douglas changed his mind. Hope tells Deacon it was seeing her and Thomas Forrester (Matthew Atkinson) working together.
Hope says Thomas is backing himself up this time. Hope says one screw-up and Thomas is out of there. Deacon wants Hope to promise to get rid of Thomas if he acts up. Hope thinks Deacon should be more worried about Sheila. Hope is afraid that Sheila will go after John "Finn" Finnegan (Tanner Novlan) and Steffy Forrester (Jacqueline MacInnes Wood) again. Deacon tries to convince Hope that Sheila is no longer a threat.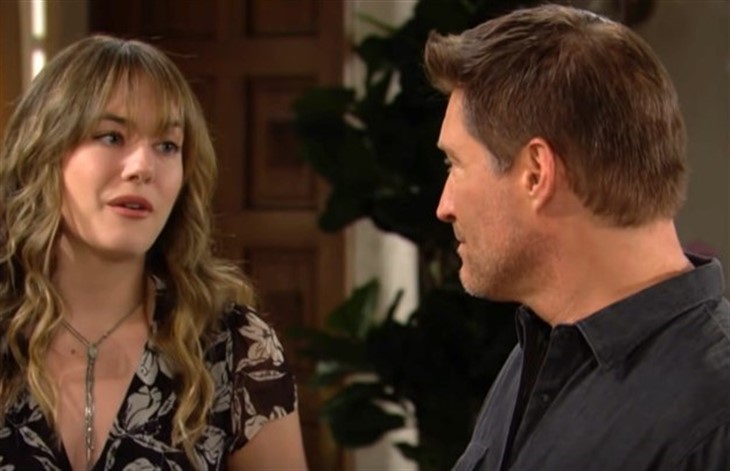 B&B Spoilers – Sheila Carter Is On The Run
The Bold And The Beautiful spoilers indicate Sheila has jumped in her car and taken off after she fell off the balcony. Sheila drives down the road going over every moment she spent with Bill. Sheila is furious that Ridge and the FBI are in on this. Sheila vows to never see the inside of a prison again. Sheila tells Deacon to meet him at his apartment.
Sheila tells Deacon that Bill was playing her. Deacon asked if Sheila told Bill something she shouldn't have. Sheila tells Deacon about the doctor that fell. Sheila goes on to bring up the guy she turned bees loose on. Sheila tells Deacon she confessed to Bill and the Feds are involved. Sheila wants Deacon to run away with her.
The Bold And The Beautiful Spoilers – Bill Spencer Tries To Find Sheila Carter
Bill calls Ridge and tells him Sheila is gone. Bill promises to call back. Bill is on the road trying to find Sheila. The FBI has an update on Sheila and her car as well. Bill goes over everything Sheila told him in his head. Bill is still chasing Sheila and says he knows where she is going. Bill is heading to Deacon's to find Sheila.
Be sure to catch up on everything happening with B&B right now. Come back here often for The Bold And The Beautiful spoilers, news, and updates.