The Young And The Restless Spoilers: Tucker And Ashley Get Engaged
The Young And The Restless spoilers indicate Jack Abbott (Peter Bergman) will learn about Ashley Abbott's (Eileen Davidson) plot to have him removed as CEO of Jabot. Jack comes home to confront Ashley who is quickly defended by Tucker McCall (Trevor St. John).
The Young And The Restless Spoilers – The Abbotts Are At War
The Young and The Restless spoilers suggest that Ashley will walk into the living room and right into the middle of this tense conversation.
Of course, Tucker knows this will give him the opportunity to look good in Ashley's eyes. Ashley believes that Jack is behind the argument and orders him to back off and leave Tucker alone.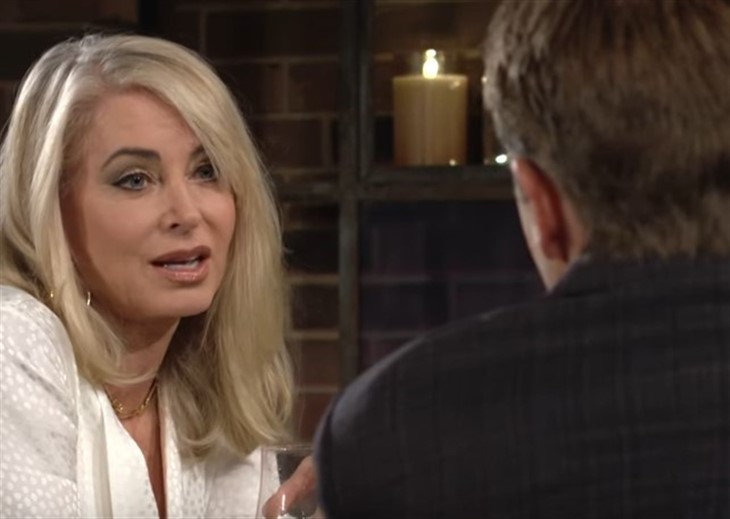 Jack is furious with Ashley for setting this up because he has done nothing to be removed as CEO. However, Ashley begs to differ and will defend her decision.
Ashley is worried that Jack's association with Diane Jenkins (Susan Walters) will cause harm to the company and the family name. However, Jack disagrees.
Y&R Spoilers – Playing The Blame Game
Jack and Ashley will argue over which one of them is causing more harm to the father's legacy. Diane will hear the argument and try to get the two of them to calm down before Harrison Locke (Kellen Enriquez) returns home from his play date. Diane simply doesn't want Harrison to be upset by the fighting with everything else going on.
Of course, Diane sticking her nose into this. As far as Ashley is concerned, this is about the family business and Diane is not family.
Ashley believes that Diane is purposely causing a rift between her and Jack and she isn't going to put up with it any longer. Diane needs to sit down and stay out of it. Ashley and Jack never had an issue before she returned.
The Young And The Restless Spoilers – Jack Abbott Challenges Tucker McCall's Status
Jack will announce that Diane is more family than Tucker, after all, Diane and Jack are engaged. Ashley will counter with the announcement that she and Tucker are engaged.
This will shock Tucker as much as it does Jack. In fact, Ashley shocked herself with her heat-of-the-moment declaration. However, considering Jack's reaction, Ashley realizes she can use this to her advantage.
Ashley plans to take full advantage of her engagement to Tucker to run Diane out of the family once and for all. Will Ashley's strategy work or will it backfire when she actually falls for Tucker?
Will the Abbott family expand by two instead of just one? How will Abby Newman (Melissa Ordway) and Devon Hamilton-Winter (Bryton James) react to this news?
Be sure to catch up on everything happening with Y&R right now. Come back here often for The Young And The Restless spoilers, news, and updates.