The Young And The Restless Spoilers: Victoria's Righteous Anger – Victor Could Care Less
The Young and the Restless spoilers document that Victoria Newman (Amelia Heinle) is outraged by her father's unexpected actions. Devoted viewers are wondering why Victoria allowed herself to believe that the latest run in the family business would be any different than the rest. Victor Newman (Eric Braeden) is who he is because of what he has done. That, in his mind, justifies, any actions he takes for whatever rationalized reasons.
So, discounting Victoria's stellar performance, per his assessment, the founder of Newman Enterprises had a maintenance employee rehang his portrait in the Chief Executive Officer's suite. Victor offered a clenched fist in response to his image as well, signaling that he remains the field general.
The Young And The Restless Spoilers – Nate Hastings Straddling The Line
Nate Hastings (Sean Dominic) knows that his position at the Newman's personal playfield is tenuous. His rapid trajectory from being the family's concierge doctor to Victoria's handpicked right hand might be short-lived.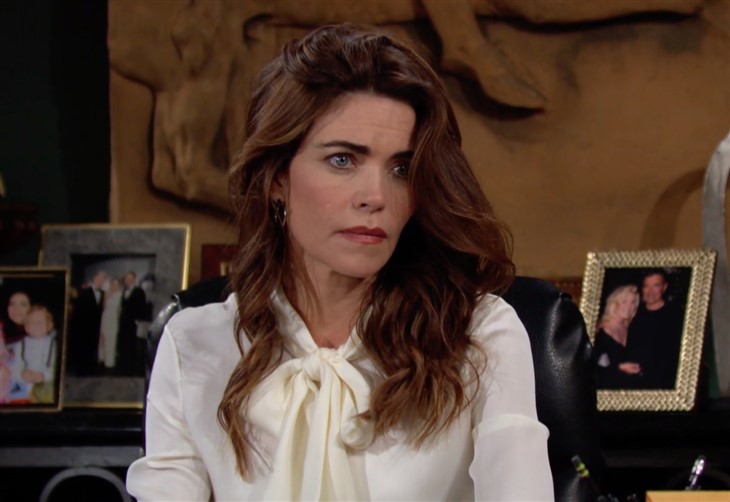 Victor has told Nate, on more than one occasion, that no one who is not named Newman will head the company. Nate accepted that pointed statement and regularly volunteers that he is grateful to be where he is.
Victoria demands as much loyalty from her romantic connections as Victor does from his underlings. So, Victor's request that Nate help persuade Victoria to the seismic change that occurred is significant.
Y&R Spoilers – Victoria Newman Does Not Have To Take It
Years ago, Victoria, Nick Newman (Joshua Morrow), and Abby Newman Abbott (Melissa Ordway) sued their father for a perceived collective slight. The subjective judgment in their favor resulted in Victor having to pay that trio one-half billion dollars each.
Nick gave away his money. Abby used some of it for her business ventures in recent years, including purchasing Society. Of course, she has plenty of cash left but is not a threat to her father because she does not harbor competitive feelings.
As for Victoria, the bulk of that five hundred million dollars may remain. So, she does not need to work for her father and can walk off the job, with no notice, whenever.
The Young And The Restless Spoilers – Where Will The Great Man Go?
Victor must believe that he will still hold sway after passing to the great beyond, whether his final resting place is glorious or smokey.
Alternatively, his comment to Nate about only a Newman heading the company could be stipulated in the most recent version of his will.
Braeden's character is not going anywhere. Victor rules the soapy roost and Victoria's inability to grasp that continued reality is her problem, in his opinion.
While Victor's attitude has made his company a global powerhouse, the cost of business is family dysfunction. But that creates great conflict storylines on Y&R.
This site is a leading source for everything linked to The Young and the Restless. Check back regularly for Y&R spoilers and news!