The Young And The Restless Spoilers: Jack Gives Phyllis A Chance For Redemption By Betraying Tucker
The Young and the Restless spoilers document that Jack Abbott (Peter Bergman) agreed with his brother. Just that means Tucker McCall's (Trevor St. John) plan is not as certain as he believes it to be. Tucker used Phyllis Summers' (Michelle Stafford) desperation to his advantage, forcing her to sabotage Billy Abbott (Jason Thompson). He also went a step further, making her hack into the Jabot corporate account.
Billy's good timing allowed him to witness Phyllis and Tucker together at Genoa City Athletic Club's entrance. St. John's character did not anticipate those incidents and dismissed them as non-factors.
The Young And The Restless Spoilers – Jack Abbott Learns From The Past
Jack knew that Tucker was wrong for his oldest sister in the past and wrong for her now. But Ashley Abbott (Eileen Davidson) gave her ex-husband an opening and, at a decisive moment in the plot, stopped him from leaving Genoa City, Wisconsin.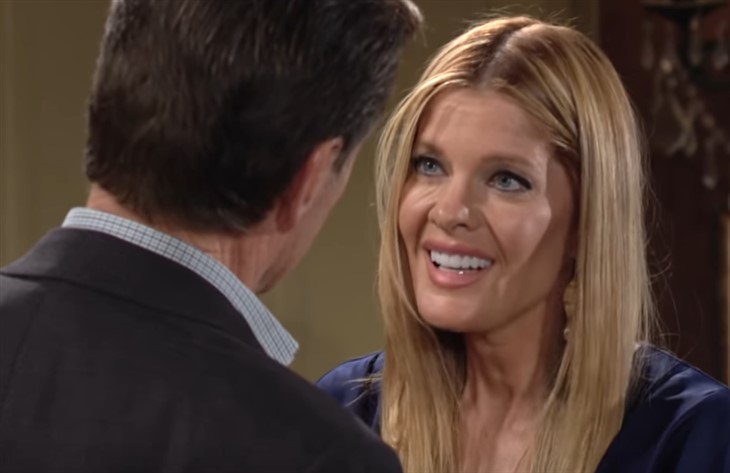 Ashley allowed her heart to open, trusting that Tucker's proclaimed change was sincere. Recently, she became Ashley Abbott McCall in a ceremony that was held at his late mother's mansion.
That happened because their children offered to host, with Devon Hamilton Winters (Bryton James) warmly becoming his biological father's best man.
But remarriage to the woman he loves did not prevent a blowout during the honeymoon in Paris, France.
Tucker returned alone and has been seeking vengeance against the Abbott family since, as Jack predicted when learning of Ashley's plight.
YR Spoilers – Phyllis Summers Felt Compelled To Act
Phyllis owned an insurance company for two million dollars. Her debt existed because of a policy Jeremy Stark (James Hyde) passed after their hoax death scheme was exacted.
Diane Jenkins Abbott (Susan Walters) was not responsible for poisoning Phyllis, who did not succumb at her hands and changed her mind about faking her demise. So, Phyllis' return to the land of the living meant she had to pay back the money Jeremy stole.
Tucker came to know of Phyllis' quandary and made use of it. He agreed to settle her debt if she used her hacking skills to make Billy look like he embezzled money from Jabot.
READ THIS: Find out what happens next on The Young and The Restless.
The Young And The Restless Spoilers – Tucker McCall Reacting Out Of Emotion
Going after the Abbott family, by attempting to turn Jack against Billy, is not a business strategy. Instead, Tucker is using his estrangement from Ashley to push the Abbotts into disarray.
Tucker told Phyllis that he would be taking over Jabot. He did not say that this plan may be a veiled apology gift for Ashley.
Ashley intended to start a company, that Tucker titled Simply Ashley. But a honeymoon argument happened because she changed her mind.
It would be classic Tucker if he wanted to steal Jabot and then offer it as a makeup gift for his bride. But Phyllis can derail his efforts and Jack will allow her to do that on Y&R.
This site is a leading source for everything linked to The Young and the Restless. Check back regularly for Y&R spoilers and news!
For more about what's happening on your favorite soaps and more ways to connect with us, join the conversation on our Facebook Page, check out our Twitter feed, look for an update on our Instagram, follow us on Threads , Always stay up-to-date with us on Google News, or drop us an e-mail HERE! See you there!