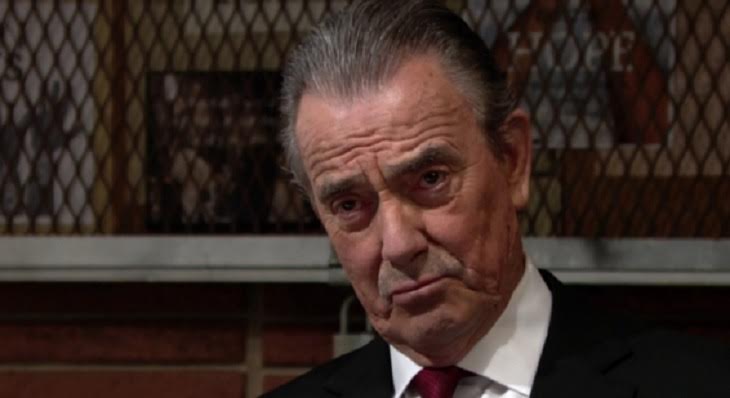 This rumor about 'The Young and the Restless' comes from this week's dialogue between Eric Braeden (Victor) and Nikki (Melody Thomas Scott). Tenderly holding the love of his life's face in his hands while in the visitor's room at the Genoa City-based prison, Victor tells Nikki to never repeat to anyone what she knows. Y&R fans were right to wonder at that exact moment in the script if the 'Black Knight' just implied knowledge of J.T.'s (Thad Luckinbill) gruesome fate and his wife's involvement.
Victor was returning to town at the end of last year because he, or his security forces, came to know that Nikki and her coverup crew were responsible for J.T.? The 'Moustache' often withholds information, even from those he's trying to help, and plays three dimensional chess as well as anyone.
So it's plausible to take the dialogue tidbits, while combining all of Victor's past actions, or even just some of them, and conclude that he came back to town while knowing what Nikki did. Her accident simply coincided with Victor's plan to help resolve the matter.
This takes #OOTD to a whole new level! ✨ Check out these outfits from #YR's past for #ThrowbackThursday. Do you remember what they were all dressed up for? pic.twitter.com/F17r6H1QnE

— Young and Restless (@YandR_CBS) January 10, 2019
Now, knowing that he's been falsely charged, Victor is playing rope-a-dope with Detective Rosales (Jordi Vilasuso) and District Attorney Williams (Lauralee Bell). He knows that Rey and Christine have no body, but will continue applying their efforts in this faux direction. Doing so allows Victor time to prepare for Nikki's defense, or full exoneration.
Might it be possible that J.T. is still alive and that Victor, via his paid staff, has Luckinbill's character somewhere? If so, assuming J.T. is being pressured to tell no tales against Nikki and the coverup crew, then both halves of 'Niktor' would be permanently saved, with neither side being guilty of committing murder.
Assuming this rumor proves true, Y&R will need to present a believable explanation regarding how Victor would have learned about Nikki's act of self-defense in protecting Victoria (Amelia Heinle) and the coverup crew's resultant actions. The extra stretch, if J.T. is in fact alive, would need to be even more skillfully written.
Fans accept escapism in daytime. In return they deserve good stories and their logical conclusions.
Celebrating the Soaps is a leading source for everything linked to 'The Young and the Restless'.