The Young and the Restless (YR) Spoilers: Jack and Ashley Resolve Differences – Dina Must Be Family Focus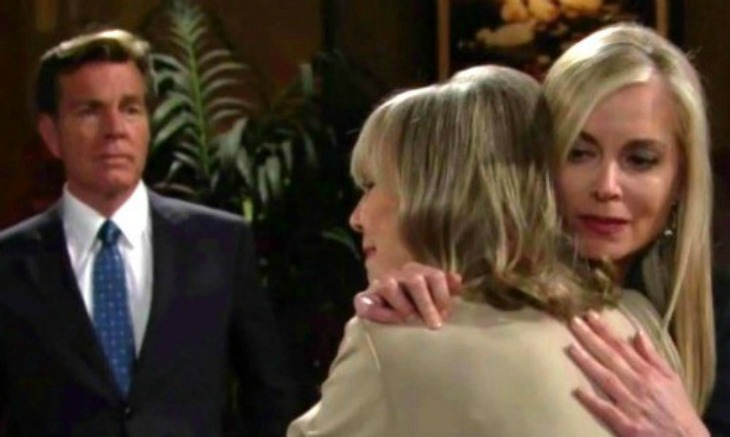 Business disagreements pale in comparison to Dina's (Marla Adams) situation on 'The Young and the Restless'. Jack (Peter Bergman) and Ashley (Eileen Davidson) know that, while also acknowledging unexpected family pressures have put them at odds.
This too shall pass, but not immediately. Dina's Alzheimer's diagnosis is fresh, as it was just confirmed weeks ago. She and Graham (Max Shippee) knew about it for approximately a year, but opted not to tell the Abbott family for reasons that no longer matter.
Jack's been handling mother since Thanksgiving. He's taken a temporary leave of absence from Jabot, which meant that Ashley is the acting CEO.
Brent Davis' (Bert Kramer) daughter was handling her responsibilities at John Abbott's (Jerry Douglas) iconic cosmetic company. Ashley is an accomplished professional and didn't need her half-brother's interference, but she got it.
Jack blocked a deal that Ashley had been working on for years and made a unilateral decision to green-light sponsorship of a controversial website and connected TV show. He made both moves to let his sister know that he's still in charge.
Are family ties subjective? They are if one, or more members believes them to be. In this soapy instance, Jack and Ashley share blood through Dina. John Abbott, Senior seemingly never knew that Ashley wasn't his own child and raised her believing that she was one of three offspring he had with Dina.
Jack's crack about Ashley not being John's daughter was wrong, regardless of how much stress Dina's situation has injected into his mind. Ashley responded bitterly to her brother's words and who could blame her?
It's natural that both siblings would be suffering as they face Dina's bleakest hours, days, months and possibly, years. But Traci (Beth Maitland) is home, Billy (Jason Thompson) is back in the fold and Abby (Melissa Ordway) fully supports her maternal grandmother.
Jack and Ashley will battle, on occasion. They've also inherited John's character traits. So, they'll also do right by the mother they share.
LOVE THE YOUNG AND THE RESTLESS?  SIGN UP FOR OUR Y&R NEWSLETTER!
Fights are common within many family's histories. They're also forms of expression that can be handled with honesty and love.
Celebrating The Soaps is a leading source for everything linked to 'The Young and the Restless'.
Also, don't forget to check back with Celebrating the Soaps for all your latest news, updates, and spoilers for General Hospital along with all your other favorite daytime television soaps