General Hospital Spoilers Mon December 11: Michael Fights Nelle – Sonny Wants Answers – Anna Visits Andre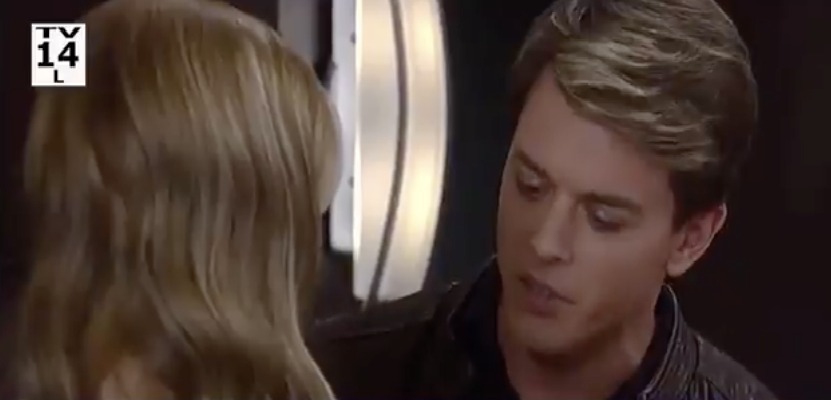 The General Hospital episode for Monday, December 11 promises plenty of action and drama. Please be sure to tune in, you don't want to miss any of the drama.
Finn Is Taking Matters Into His Own Hands
Dr. Hamilton Finn (Michael Easton) has decided to take matters into his own hands regarding Cassandra (Jessica Tuck) and her plan to bring cheap drugs into Port Charles. ABC General Hospital Spoilers state Finn can't fight the inevitable. Perhaps Finn has decided, against Anna's (Finola Hughes) wishes, to offer his services to Cassandra, but has she beat him to it? Finn meets up with Cassandra at General Hospital and she tells him she thinks there is a way they can both help each other. Will Cassandra ask Finn to develop the cheap opioids for her or is she testing him? Finn is placed in a precarious situation. He knows Anna does not want him to be involved for his own safety however, he wants to make his life matter for something. Could Finn be getting in too deep and will his life be at risk?
Anna Visits Andre
WSB agent Anna Devane has heard about her fellow agent and dance partner Dr. Andre Maddox's (Anthony Montgomery) predicament. She pays him a visit at the PCPD and tells him "this is a fine predicament isn't it?". Perhaps Anna has a solution for her good friend. Maybe she can put in a good word with the WSB. Perhaps Andre knows more than he is willing to tell. Maybe Anna can get something out of him that will help Drew (Billy Miller) regain some, if not all of his memories. ABC General Hospital spoilers hint Andre's life may be in danger; there are those who would not be pleased if the information he processes were to become public.
Michael Furious With Nelle
Michael (Chad Duell) is furious with Nelle (Chloe Lanier) and her bomb shell about expecting his child did not seem to garner the reaction she had expected. Carly (Laura Wright) looks on as Michael yells at a bewildered Nelle that he will not believe that the child is his until she can prove it. Is Nelle pregnant? She has run so many schemes until she has lost all credibility; especially with Michael. Will Nelle prove to Michael she really is expecting his child.? Does she already have a plan in place? Will Carly try to prove Nelle is lying? Nelle looks very concerned; but one can bet she has already anticipated she would needs to provide proof.
Oscar Has Cold Feet
In other General Hospital spoilers Oscar (Garren Stitt) gets cold feet. He doesn't seem to want to find out if Drew is his dad. Perhaps he fears Drew will reject him or his mother will be so upset she might make them leave town. Josslyn assures him "If you want to go on not knowing , it's ok." Will Oscar change his mind and find the courage to read the results of the DNA test?
Kim Comes Clean With Drew
Dr. Kim Nero (Tamara Brawn) has been finding her way around Port Charles apparently better than she has around her own apartment. Now that she has informed Drew and Sam (Kelly Monaco) that Drew is the father of her son Oscar, she tells them it is up to them to decide what happens next. Drew has been arrested and charged with being AWOL from the Navy, has just found out he is not Jason Morgan but Drew Cain and that his sons Danny and Jake belong to his twin brother Jason (Steve Burton), and now he discovers he has a son from a past he cannot remember. What will Drew decide? Will he go to Oscar and let him know that he accepts him as his son?
Sonny Calls In Help To Question Britt
Sonny (Maurice Benard) and Jason have confronted and questioned Britt Wesbourne (Kelly Thiebaud) about the twin mystery. She has not been very forthcoming with the information they seek. General Hospital spoilers state Sonny places a call to his Son police detective Dante Falconeri (Dominick Zamprogna). Will Dante be able to assist in their search as Sonny asks Britt if the traitor dead?
LOVE GENERAL HOSPITAL? SIGN UP FOR OUR GH NEWSLETTER!
Be sure to tune in to watch General Hospital on ABC on Monday December 11 you won't want to miss any of the exciting drama.
Also, don't forget to check back with Celebrating the Soaps for all your latest news, updates, and spoilers for General Hospital along with all your other favorite daytime television soaps.
Share your thoughts in the Comments section below, on our Facebook Page,  join our Facebook Group