The Young and the Restless (YR) Spoilers: Jack Can't Work From Home – Dina Deserves Better
Get the details --->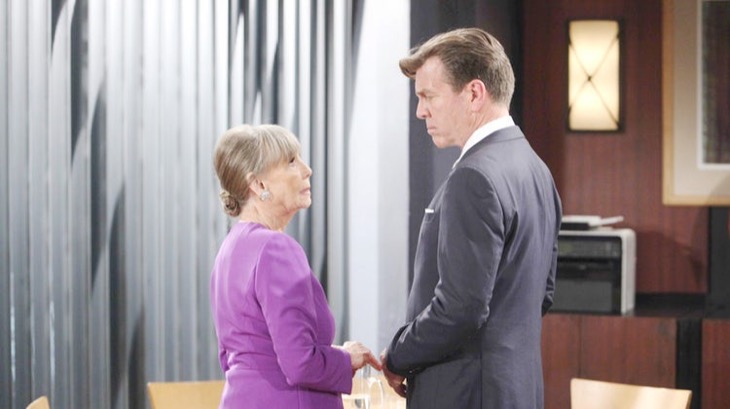 Jack (Peter Bergman) believes that he can achieve a work-life balance on 'The Young and the Restless'. As many careerists have learned through the years, he's mistaken. Dina (Marla Adams) needs specialized care, which Jack isn't capable of offering while telecommuting, or attempting to do so.
Ashley (Eileen Davidson) agreed to her brother's request that she refocus her efforts in what will be a redesigned laboratory. Jack's peace offering came with a catch, he was pushing her off the CEO's chair that she temporarily occupied. Ashley's inability to control a board vote means she had little choice in the matter, but there's no doubt that her strength lies in chemistry.
The idea that Jack can run a major cosmetics company from the Abbott living room might work for a day, or so. But his mother is living in the house and not only needs, but deserves constant attention.
Dina's Alzheimer's diagnosis has proven to be very sobering. Her children have responded with compassion and love. While Jack and Ashley believe that she doesn't need a live-in caregiver. She does.
A needed bit of humor was put into the plot when Gloria (Judith Chapman) stopped by to work with Jack. Oh, John's (Jerry Douglas) wives went at it, trading juicy verbal barbs.
Jabot is John's legacy to his children. The third person singular form of be (is, for all non-grammarians) was used because Douglas' character still exists in Genoa City, even though he died years ago.
John hasn't been seen since Adams' character was written back into the show. Generally, Jack is the only person who speaks with his dad in purported visions, or memories based upon one's perspective. However, it would be cool if Y&R allows John and Dina to interact somehow so they could work out their differences. That's possible considering her diagnosis, or John's otherworldly powers.
LOVE THE YOUNG AND THE RESTLESS? SIGN UP FOR OUR Y&R NEWSLETTER!
If, or until John is channeled, the greatest Abbott conflict to be resolved will involve Dina's care. She's in need of a dedicated team of assistants, which includes, but shouldn't be limited to her children.
Soap Opera Spy is a leading source for everything linked to 'The Young and the Restless'.
Also, don't forget to check back with Celebrating the Soaps for all your latest news, updates, and spoilers for The Young and The Restless along with all your other favorite daytime television soaps