Young and the Restless Rumor: Michael Muhney Comeback Opportunity – JT Story End Followed By Adam Redemption Story?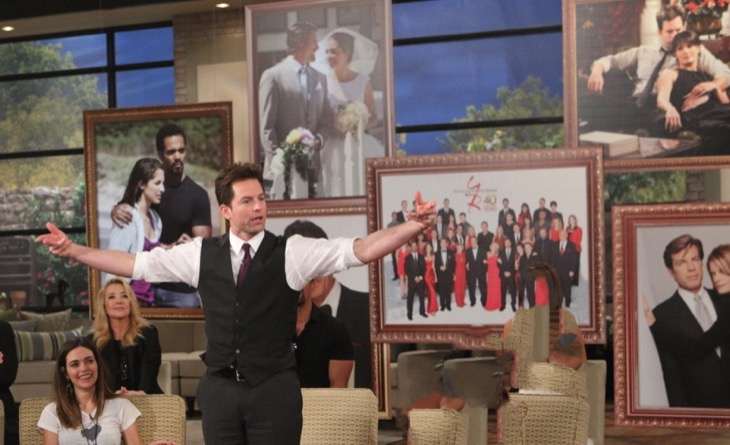 The buzz about 'Young and the Restless' isn't intended as confirmed fact, as all lighthearted soap fans know. Devoted viewers also gladly recognize that chatter about Y&R, along with the other three great remaining daytime steamers, is what helps to keep them alive. And so speculation about the potential for Michael Muhney (Adam) to come back to the show after the climax to the J.T. (Thad Luckinbill) storyline is worthwhile.
There are no issues regarding ongoing fan interest in Muhney's rehire, just as there aren't points to be made against the actor's desire to return unless he states otherwise in the future. Muhney was open about that point leading into his interview to be rehired, months after exiting the cast, and has remained steadfast.
Muhney also showed humility in taking responsibility for his departure by acknowledging that his personality was too intense on-set during his 2009-2014 run. That, along with Y&R's allowing him to interview for rehire in the summer of 2014, which confirmed that he was eligible to return, and recent buzz about a current Adam recast, makes this issue topical right now. Yes, it's been greatly covered in the past. But real-time guesstimation is again fully appropriate.
JT is back on #YR … sooo can we make the past year a fucking nightmare or something? Like Victoria will wake up and it was all a dream? And Hilary will be alive? And Nick didn't cheat on Sharon again? Please #YR

— Cindy (@BigBBfan1) February 20, 2019
Thinking strategically, rather than just focusing on understandable hopes, let's consider what Y&R looks like once the all-encompassing J.T. storyline ends. Yes, there is a gaping hole.
Former executive producer and head writer Mal Young, like so many other seasoned entertainment lifers, faced a different type of critique than those who oversaw soaps in days gone by. Social media enables audience members to offer their takes, with increasing precision as to exactly how large, moderate, or minute, opposition, apathy, or support actually is.
The most recent live daily viewer ratings show that Y&R is being seen by an average of over five million people in the United States and Canada combined each weekday. A red herring would be thrown when referencing viewership numbers prior to the online era, as most forms of televised entertainment have lost viewers during this decade, not just soap operas.
It is and will remain fair and right for any soap opera fan to justly critique anything seen (or read) about this genre. But can there be any strong question about whether Muhney's recast as Adam would increase rating results after the J.T. story is put to rest?
Sure, Y&R's ability to sustain any expected rating's bump is legitimate. But the realization of Muhney's rehire would bring with it a devoted audience segment who would watch him.
Justin Hartley's run as Adam was rightly well-received, but he's unlikely to return due to success with 'This Is Us'. Assuming another actor is selected to play Adam, Muhney is a natural consideration for various fans. Whether those now in charge at Y&R agree isn't yet confirmed.
Redemption for the character and Muhney, if rehired, would make for a doubly great comeback story. Y&R fan recognition of the on- and off-camera potential likely improve odds that ratings would increase, assuming that Adam's revival story would also remain compelling.
This site is a leading source for everything linked to 'The Young and the Restless'.
Read more Celebrating the Soaps news, spoilers, and gossip on our The Young & The Restless homepage