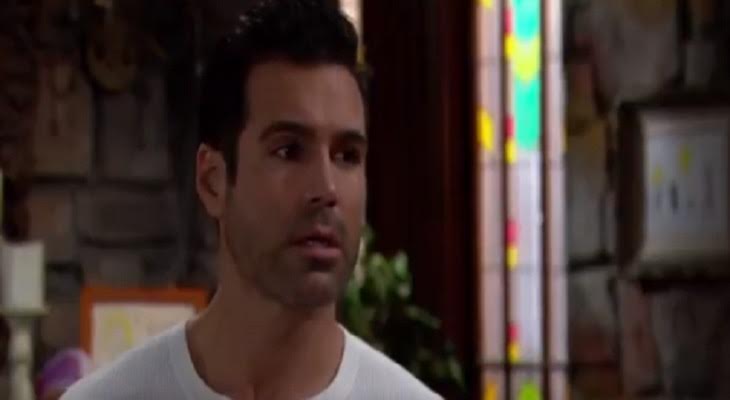 The Young and the Restless (Y&R) spoilers for Friday, February 15, 2019, reveals Rey (Jordi Vilasuso) confronting Sharon (Sharon Case) on her words, "It was self defense. We had no choice!" Rey admits she was the last one he suspected, but now he's confused. Sharon says there are so many times she wanted to tell him about her feelings; He says he has told her the truth about where he stands and now she needs to tell him everything.
Billy (Jason Thompson) arrives at Victoria's (Amelia Heinle) house, bringing food for her and the kids; something she appreciates, thanking him for always being there even after she shut him down. She worries about him having to step up full time if they needed him too, he wants to know if there is something she is keeping from him. Nick (Joshua Morrow) enjoys his private time with Phyllis (Gina Tognoni) in bed.
Young and the Restless Spoilers – Mia And Abby Fight Over Arturo
Abby (Melissa Ordway) confronts Mia (Noemi Gonzalez), in front of Arturo (Jason Canela) at the GCAC. She berates Mia about clinging on to Arturo and for someone who is so glamorous to look so desperate. Mia jumps up, saying Abby is the one who is desperate; Arturo tries to get Abby to leave, but she only pities Mia for her lack of control and grace. She had hopes when Mia renewed her vows she would act with dignity and self-respect but she is just a brat who is starving for attention, advising her to look for it in her husband, as Arturo is taken. Mia says if she really wanted Arturo, she could have him any time she'd like. Abby looks at Arturo in utter shock.
Mariah (Camryn Grimes) and Tessa (Cait Fairbanks) watch the exchange, as Tessa wishes everyone could be like them – lazy days, no drama, simply binge watching; having an ordinary life. She likes making Mariah blush, saying she likes being on the other side of everything. Mariah agrees but wants to celebrate Valentine's alone next year in their Pjs.
Abby reminds Mia this isn't her little school girl fantasy, as this is real life; telling her to "grow up". She again tells Arturo to put a leash on his lapdog. Abby says she isn't going anywhere as it is Mia who doesn't belong. Mia enjoys this telling Arturo to take a look at his future at how a rich girl will control everything he does. She wants to know if this is really what he wants.
Young and the Restless Spoilers – Billy Visits Victoria
Victoria tells Billy the kids are having a picnic with the food upstairs. Billy pushes to find out what is going on, but she denies anything is wrong. She says anything can happen, but they can only control how they react to anything will happen. Billy reassures her that he will do anything for the kids, but nothing is going to take her away from their kids. She asks Billy to have a picnic with her, but he notices how sad and troubled she is.
Sharon feels Rey's loyalty is to his job, as it is who he is. He insists he could protect her, begging her to tell him everything she knows. She talks about facing a monster, and how you become the person you never thought you would be and do things you'd never do. She wants him to believe that JT's (Thad Luckinbill) death was an accident, but every day since then has been a nightmare. Rey sits in front of her, as Sharon finally tells him what really happened after he promises to take care and protect her. She reveals everyone was there when JT was killed. He is startled to learn that she was a witness to JT's murder and didn't say anything.
Nick and Phyllis bask in their lovemaking, complimenting each other on everything they love about each other. He says the strip memory game was the best part of this Valentine's. Phyllis wishes things were as simple as when they married at Pepe's Roadhouse. He knows things are complicated with her, but he loves it.
Young and the Restless Spoilers – Rey Says JT's Death Was Murder, Not Self-Defense
Rey is shocked that Sharon kept this from him, feeling she might have heard a rumor about JT, but that she is an actual witness bothers him. He makes her walk him through the entire night; as they all felt this was self defense, but Rey stops her saying it was murder, not self defense!
Abby and Arturo both encourage Mia to go home and sleep it off. Abby is trying to keep Mia from destroying her marriage and embarrassing herself any more than she has already. Mia threatens to put her fist in Abby's face. Mia makes fun of Abby, saying she is so classy that her claim to fame is sitting naked on a horse, but Abby doesn't let it bother her. They continue to spar, but Arturo attempts to separate them; Tessa and Mariah try to help but Abby tells Mia she has no one because she is a nobody.
Abby finally agrees to walk away, but Mia grabs a fistful of her hair, daring Abby to say anything else about her. Abby calls her crazy, but Mia tells her she hasn't seen crazy yet. Abby yanks off the necklace Rey gave her, as Abby tells her this is how she shows her appreciation to Rey. She taunts her about the attention she is getting now. Abby asks the club manager to remind Mia of the club rules, offering to pay for the car to take Mia home. Mia tells her to go to hell with her and her money but tells Arturo he is going to regret the day he met Abby. He hugs Abby, who wants to sit down for a minute, thanking Mariah and Tessa for everything.
Mariah and Tessa grab their belongings and head out, wishing Arturo and Abby a better night. Lola (Sasha Calle) comes in, revealing that she found Kyle (Michael Mealor) with Summer (Hunter King) at the cabin. She is furious they broke up for 5 minutes and he was already planning on having sex with someone else. Kyle rushes in, begging her to hear him out. Arturo orders him to go, unless he wants to step outside with him.
Young and the Restless Spoilers – Billy Worries About Victoria
Billy isn't convinced that Victoria is doing well, as she doesn't want to miss a minute of the kids growing up. He suggests that Victoria takes some time off from work, but she says her parents need her, as this is partially her fault for bringing JT into their lives. He says Michael (Christian LeBlanc) will take care of them, but she needs to let Billy take care of her, reassuring her that things will be brighter in the morning.
Rey tells Sharon, technically it wasn't self defense, but the circumstances could be taken into account. Sharon says they all wrestled with it, but together they all decided they couldn't go to prison for killing a man who could have killed their friend. Rey understands they all felt trapped but wants to know what happened to JT's body. She explains where they buried him, but his body isn't there any more; she keeps telling him she is sorry as he wraps his arms around her, saying it will be okay.
Kyle pleads for time with Lola, saying nothing happened and Summer means nothing to him. Arturo orders him to leave, but he tells Lola he loves her always and will do whatever it takes to fix them. Lola is sorry for ruining their Valentine's Day. She thinks Kyle is telling the truth as Arturo feels she is better off without him. Abby suggests she gets a good night sleep and then listen to what Kyle has to say and if she wants Arturo's advice, she will ask for it. Lola leaves to walk home alone, promising Arturo she will be okay, but doesn't have her coat; Abby gives her her coat to go assuring Arturo she will call him when she gets home.
Mia returns to her home, extremely angry, beginning to drink alcohol excessively. She throws down the magazine of Abby and Arturo's engagement in a rage.
Abby and Arturo are making a splash courtesy of @LifeandStyle! #YR pic.twitter.com/vCvzDvxmiR

— Young & The Restless (@YRInsider) February 12, 2019
Young and the Restless Spoilers – Rey and Sharon Continue To Break Down The JT Case
Sharon says she won't lie to Rey again, but he mentions all her crimes thus far as she defends their actions in a panic. He wishes it was this easy as believing her, but she aided in the commission of several crimes. He accuses her of setting up Victor, but she swears she always said Victor (Eric Braeden) was innocent. Rey said she handed him the recording, wondering if she would be okay with an innocent man going to prison. He is furious as she wants to know what happens next?
Mariah and Tessa go to Crimson Lights, where Mariah puts on the jukebox, sharing a dance with Tessa; both wishing the night would never end. Lola arrives, looking very sad and wanting to speak to someone. They tell her to take a breath and reveals to them everything that transpired between her and Kyle, but he was at the cabin with Summer, kissing. Mariah is certain Kyle never would invite Summer to the cabin, as he loves her. Both believe that Summer manipulated the situation and now it looks like Lola is giving up and Summer is winning.
Mariah is shocked to learn that Lola shut Kyle down when he tracked her down as Tessa says there will be obstacles, but overcoming those is what makes the love even sweeter. Tessa says Lola is the one who changed Kyle and would do anything for her. Lola thinks they are the best friends a girl can have, as they ask her to give him another chance and hear what he has to say. She bolts out the door while Mariah and Tessa return to their romantic moment.
Phyllis and Nick recall their night at Pepe's Roadhouse, remembering the food and how Nick was hitting on her. They thoroughly enjoyed their night there, dancing to a slow song, but all Nick remember his holding her so close in his arms, never wanting to let her go. She says he never has to; a pounding at the door interrupts them.
Young and the Restless Spoilers – Rey Arrests Sharon, Victoria, And Phyllis
Victoria talks to Billy again about something happening to her, asking him to humor her, saying he would be there for the kids every single day. He says he would be and how much she loves them; but right now it would be him and the kids. Billy is extremely concerned, demanding to know what she is talking about; wanting to know if she is going somewhere. She says she thought she would have more time, but there is a knock at her door. She felt she would have more time to say "goodbye!"
Young and the Restless Spoilers – Lola Attacked By Mystery Woman, Left For Dead
Rey arrests Sharon as Phyllis and Victoria are hauled away in handcuffs. Lola rushes over to the Abbott house, knocking hard on the door, but when no one answers she goes to the back. She looks at her phone where there is a message from Arturo. Suddenly, she is shoved by a woman and hits her head on the diving board, she falls into the pool, face down.
The Young and the Restless airs weekdays on the CBS network. Check your local listings for times. In the meantime, drop us a line with your thoughts in our comments section below. And as always, don't forget to check back with Celebrating the Soaps for all the latest news, updates and spoilers on The Young and the Restless and all of your favorite daytime television shows right here!
Read more Celebrating the Soaps news, spoilers, and gossip on our The Young & The Restless homepage