Young And The Restless Spoilers: Is Nikki Newman Simply Being Held For Ransom?
Young and the Restless (Y&R) spoilers suggest Nikki Newman (Melody Thomas Scott) is going to have a rough few days ahead. While her assistant Claire Grace (Hayley Erin) seemed very sweet, she now has her locked up in the middle of nowhere keeping her captive. What is Claire's end game?
The Young And The Restless Spoilers – Does Claire Grace Have A Connection To Genoa City?
Y&R spoilers suggest that there is more than meets the eye when it comes to Claire. She presented herself as a studious assistant looking to gain traction in the corporate world; however, it's clear she's had a diabolical plan up her sleeve all along.
Fans have speculated that Claire has a connection to GC and the Newmans in some fashion.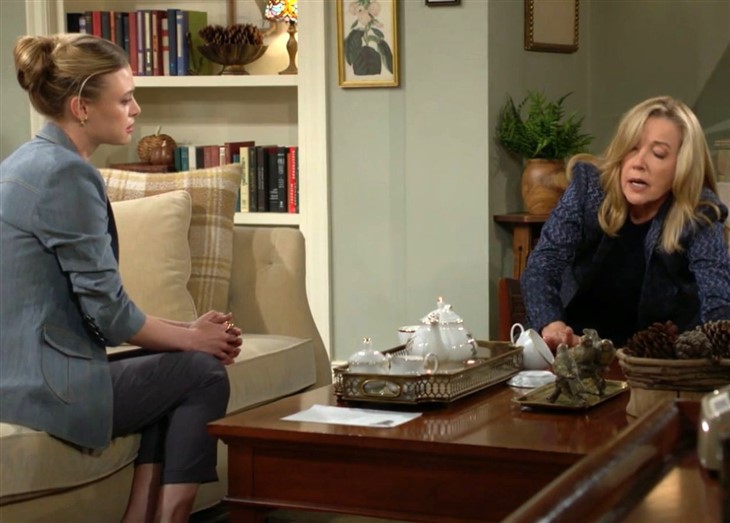 From viewers believing she's Ashland Locke's (Robert Newman) or Ian Ward's (Ray Wise) daughter seeking some sort of revenge, to being an unknown granddaughter of Nikki's; everyone seems to think that Claire has vengeance on her mind.
She may, but she may also be a random crazy looking for something more.
Y&R Spoilers – Claire Grace Just Wants Money
Claire has mentioned her Aunt Jordan quite a bit; however, fans have yet to see the mysterious woman. She also recently stated that her aunt was a "fan" of Nikki and all she accomplished in her life.
In addition, during a recent show when Nikki realized she was now a hostage of Claire's, Ms. Grace noted Ms. Newman was going to see her family, soon. She was off to Genoa City, so could Claire be holding Nikki for ransom money?
Perhaps Claire grew up with an aunt who idolized Nikki from afar. There could've been a lot of talk about the Newman family, and as the two likely had little money, the rich and powerful lifestyle portrayed in the media only had Ms. Grace envying their wealth.
What if Aunt Jordan recently passed? Could it be that Claire felt as if her aunt loved Nikki more than her?
She may have grown up with a small resentment towards Nikki, especially if the young girl was abused by her aunt over the years.
Claire is clearly unhinged so her Aunt Jordan's obsession with Nikki may have the young lady believing she can get some money out of the Newmans, and torture Ms. Newman, in the process.
What is Claire's end game with Nikki? Join the conversation in the comments section.
Tune into your favorite CBS soap daily to watch the drama unfold and visit this site regularly for the best Young and the Restless news, updates, and spoilers.