Young And The Restless Spoilers: Mamie Johnson's Return Motivated By Major Health Condition
Young and the Restless (Y&R) spoilers suggest the cat is out of the bag! As Lily Winters (Christel Khalil) and Devon Hamilton-Winters (Bryton James) struggled to figure out who bought Victor Newman's (Eric Braeden) stake in Chancellor-Winters, turns out it was their Great-Aunt Mamie Johnson (Veronica Redd), all along. But, why all the mystery?
The Young And The Restless Spoilers – Mamie Johnson's Cryptic Statement
Y&R spoilers state that Mamie's return to Genoa City has caused quite a stir, already. During a recent scene with Nate Hastings (Sean Dominic), she revealed that she came back to town to spend more time with the ones that she loves. After all, she didn't get to see much of her grand-niece and grand-nephews during GC's bicentennial gala.
With Neil Winters (Kristoff St. John) and Drucilla Winters (Victoria Rowell) gone, Mamie may feel it's her duty to bring Nate, Lily, and Devon back together as the cousins continue to be on the outs. Still, there may be another reason.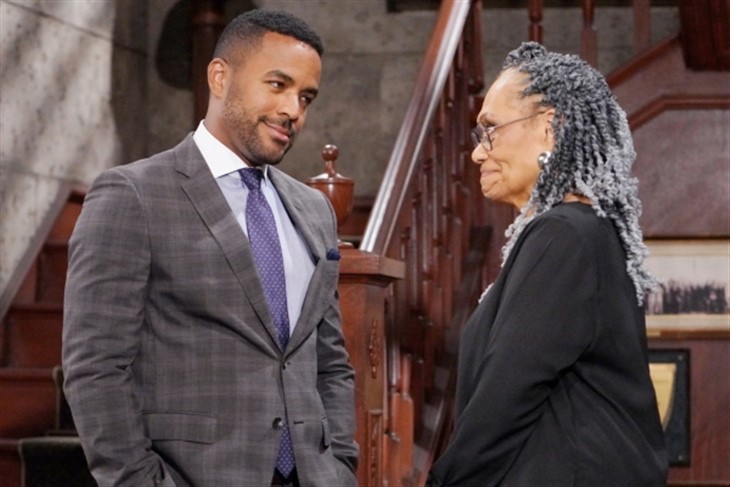 Y&R Spoilers – Mamie Johnson's Unknown Illness
Could Mamie be suffering from an unknown illness? Could it be fatal? If she were, she would be desperate to spend the little time she has left with the ones that she loves.
Ms. Johnson may feel unsettled knowing that Nate, Lily, and Devon have gone their separate ways.
Family has always meant a lot to Mamie and unifying these three to come back into each other's lives could be a dying wish.
MUST READ – Y&R Spoilers: Is Mamie's GC Return Fueled By Family Or To Get Back At Jill?
In the end, purchasing those stocks also guarantees that Chancellor-Winters will be more "Winters" than "Chancellor" as she'll end up dividing the shares between Lily, Devon, and possibly Nate when she passes.
It's clear that Mamie's got a plan, and wanted to keep her stake in Chancellor-Winters quiet to make sure everything went off without a hitch. Still, once she tells the trio what's really going on, will they be willing to mend fences?
How do you feel about Mamie's return? Share your thoughts below. Watch the popular CBS soap daily to see what happens next and visit this site regularly for the best Young and the Restless updates, spoilers, and news.