Young And The Restless Spoilers Thursday, March 7: Rey Takes The Stand – Phyllis Shocked Summer Is Engaged – Kerry's Shady Move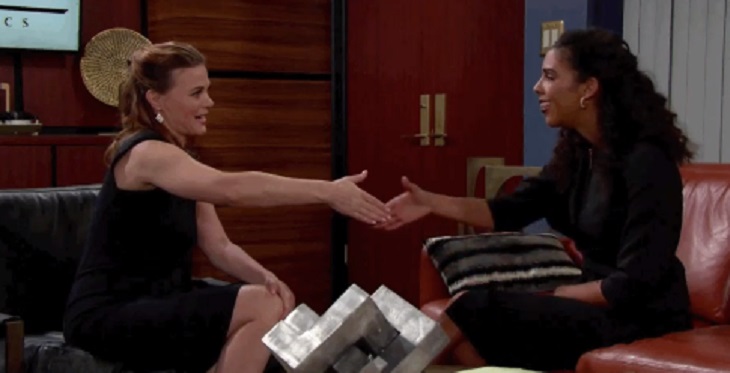 The Young and the Restless (Y&R) spoilers for Thursday, March 7, 2019 tease that we will have a day filled with confessions, announcements, and let's not forget plenty of drama. We have a very exciting day coming up and you will not want to miss a moment of the action!
Y&R spoilers reveal that Brittany Hodges (Lauren Woodland) will call Rey Rosales (Jordi Vilasuso) to the stand where she will call him out on his feelings for Sharon McAvoy (Sharon Case) and the real reason he was at her house Valentine's night.
Brittany will point out that Rey confessed his love for Sharon in which Rey will eventually admit to. Mia Rosales (Noemi Gonzalez) will be present in court there to support Rey and she will be in shock. She will angrily confront him once court goes to recess? Do you think it will be over for Mia and Rey?
Young And The Restless – Summer Tells Her Mother She's Engaged
Meanwhile, Summer Newman (Hunter King) will announce to her mother Phyllis Summers (Gina Tognoni) that she and Kyle Abbott (Michael Mealor) are getting married. Phyllis will be taken aback. She will question what the rush is and wants to know if Summer is pregnant. Summer will tell her mother that she and Kyle are in love. Do you think Phyllis will end up seeing through her lies?
Other "Young and Restless" spoilers suggest that Jack Abbott (Peter Bergman) will ask Kerry Johnson (Alice Hunter) to keep him in the loop on everything that is going on at Jabot and with Phyllis Summers after she reveals they have a new project they are working on.
The Young and the Restless Spoilers: Brittany's Strategy Wise – Lauren Woodland's Real Life Attorney Status Helps#YRhttps://t.co/kLdcfEQP5h

— SOS/CTS/HH (@SoapOperaSpy) March 6, 2019
Kerry will ask what is in it for her and agrees for a price? Did you Y&R fans see this coming? Make sure to stay tuned to CBS "The Young and the Restless" to see how this all unfolds. Don't forget to check often with Celebrating The Soaps for all your latest spoilers, news, updates, and much more!
Read more Celebrating the Soaps news, spoilers, and gossip on our The Young & The Restless homepage