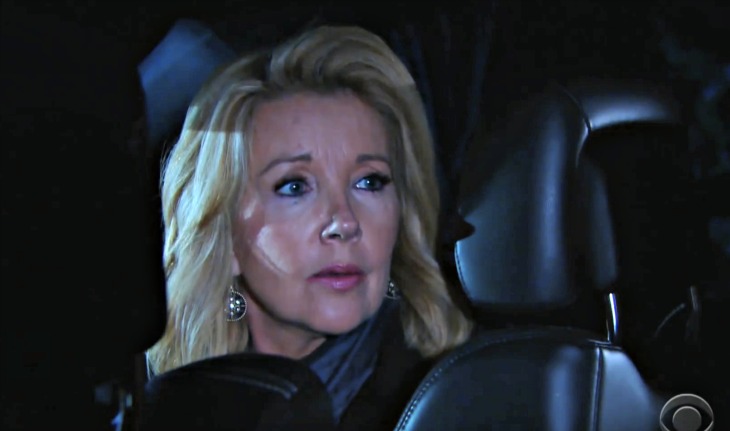 The Young and the Restless (Y&R) spoilers for the week of Monday, December 3 through Friday, December 7, 2018 reveal that several families struggle from falling apart while one is shocking reunited. Strange alliances are formed while risks are taken. Romance is in the air for one couple, while another could be in danger. Y&R fans will not want to miss out on all the action coming, starting on Monday, December 3, 2018!
Y&R Spoilers – Fenmore Baldwin Returns
Y&R sources tease reunions are coming this week in Genoa City as Fenmore Baldwin returns, with new actor, Zach Tinker taking over the role. Mackenzie Browning (Kelly Kruger) also pays GC another visit, but one has to wonder if it has to do with the shocking news Nikki Newman (Melody Thomas Scott) receives about the stables being on fire on Newman Ranch.
The Newmans seem to be on the offense as Nikki will also wake up with some very incriminating evidence in her bed this coming week. How much danger is Nikki really in and is Tessa Porter (Cait Fairbanks) behind it?
Young and The Restless Spoilers – Abby Takes A Huge Risk
Abby Newman (Melissa Ordway) is taking huge risks when it comes to business, but she feels Arturo Rosales (Jason Canela) is her biggest supporter; will she feel the same way when Arturo is found defending her arch enemy, and his former girlfriend, Mia Rosales (Noemi Gonzales)? Mia has been a thorn in Sharon Newman's (Sharon Case) side since she arrived in town, Y&R fans will be thrilled to see Sharon finally bite back at her this week, although many may feel she overstepped as she defends Rey Rosales' (Jordi Vilasuso) honor to his own wife!
Fen is bringing back a few surprises when he returns to Genoa City! 👏 @Traceybregman and @CJLeBlanc would like to introduce you to @ZachTinker who makes his #YR debut on Monday. Join them in welcoming him to the Y&R family! ❤️ pic.twitter.com/UDgmHHwc2p

— Young and Restless (@YandR_CBS) November 30, 2018
Y&R Spoilers – Shauna Says Goodbye
The Young and the Restless spoilers reveal after Shauna (Camryn Hamm) says "goodbye" to Genoa City to move back with her family in Colorado; Devon Hamilton (Bryton James) finally has a break through, opening up to Dr. Nate Hastings (Brooks Darnell); maybe he is finally ready to accept the help and on the road to healing after the death of his beloved Hilary Curtis (Mishael Morgan).
Weekly Y&R Spoilers – For the other residents of Genoa City ….
In other Y&R spoilers, Kerry Johnson (Alice Hunter) continues to be romanced by Jack Abbott (Peter Bergman), which seems to be okay with her as she has told Phyllis Summers (Gina Tognoni). Strange alliances happen as Cane Ashby (Daniel Goddard) and Victoria Newman (Amelia Heinle) join forces, who are they 'battling' together?
Billy Abbott's (Jason Thompson) facade seems to be cracking as he admits to Jack that he wants spitfire Phyllis back; but does she feel the same, just after she moved in with her ex, Nick Newman (Joshua Morrow)? Victoria will have no problem confronting her ex-husband and setting him straight, but will he follow her sage advice?
Be sure to tune into CBS' The Young and the Restless (Y&R) on Monday, December 3, 2018 to catch up on all the exciting stories happening right now in Genoa City. Check Celebrating the Soaps often for updates, news, rumors and spoilers!
Read more Celebrating the Soaps news, spoilers, and gossip on our The Young & The Restless homepage