Masked Singer Star Robin Thicke Stuns With Drunken Antics Before Show Premiere
Masked Singer panelist Robin Thicke chose the worst possible time to get embarrassingly drunk. Because the singer got captured by paparazzi stumbling around in West Hollywood just as the Masked Singer wanted to publicize its premiere.
Find out how Robin's humiliated fiancee reacted to his drunken attempt at an exit from a bar. And learn how it occurred just a few days ahead of the Masked Singer premiere. Get all the details below.
Robin Thicke – Gets Humiliatingly Drunk Amid Show Premiere
Masked Singer panelist Robin Thicke and his fiancee headed to a bar for a supposedly fun night out. However, the singer got so drunk leaving The Fleur Room in West Hollywood that he nearly fell into a bush. And paparazzi snapped pics of Thicke and his embarrassed fiancee April Love Geary on the sidewalk, according to Page Six.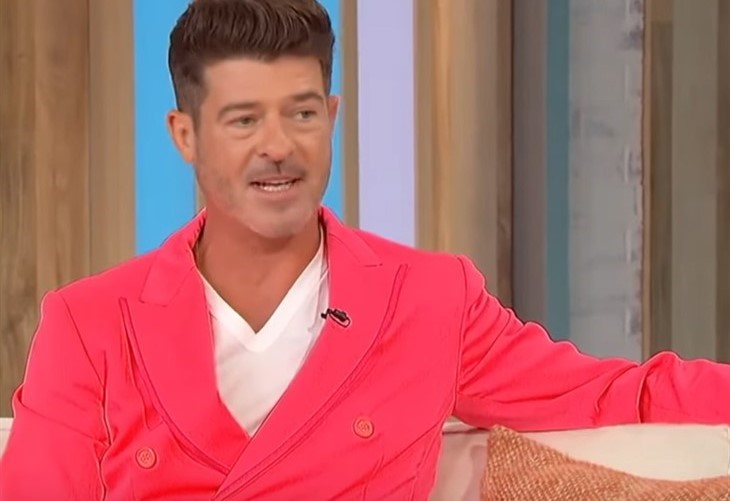 But Geary did her best to keep her 46-year-old fiance upright on the sidewalk. However, Thicke managed to escape and then try to go back into the bar. And April, 28, made it clear that she felt he had gone too far as he just escaped a face plant.
"Alright, bye, Robin!" yelled Geary. And she added, "God, that's embarrassing. That's so embarrassing!" The model then once again tried to keep her future husband from falling over.
April Love Geary – Calls Robin Thicke 'So Drunk'
And as Robin tried to go back into the bar, April asked the security guard to prevent him. However, then she eyed her future husband and informed him, "Your b**ch a*s is so drunk."
But then the couple finally managed to move away from the bar. And the singer got into repeat mode in apologizing. "My bad," he chanted repeatedly.
However, April called the situation "f**king embarrassing. You're too f**king drunk," she added. "It's just embarrassing." But she finally managed to connect with their driver. However, Robin then tried to grab the phone.
And she suggested to the paparazzi, "Take pictures of him grabbing me like that." But Robin refused to stop, despite her attempts to get him to calm down. The two finally made it to their car.
Thicke proposed to Geary in December 2018 after dating for over four years. And she promised not to sign a prenuptial agreement. As for her reason? April theorized that Robin would not marry "anyone else after" the self-dubbed "baddest b*tch on the planet."
Masked Singer – Kicks Off Special Premiere
Meanwhile, Thicke starred as a panelist on the Masked Singer premiere on September 10. And after nine seasons of celebrities surprising the panelists, the Masked Singer introduced Anonymouse. The masked figure began season 10 with "What About Love" by Heart, noted MSN.
Host Nick Cannon requested a clue. And the unknown celebrity stated, "Just like Michelle Obama, Oprah and Angelina Jolie, I'm on one special list: Time's 100." But panelists Ken Jeong, Jenny McCarthy, Nicole Scherzinger and Robin Thicke debated among Christina Aguilera, Miley Cyrus, Ariana Grande, Lady Gaga or Alicia Keys.
And Jeong proclaimed Anonymouse "the most powerful voice on the show." Near the end, McCarthy, Scherzinger and Thicke agreed that Demi Lovato hid under the mask. And she proved them right when she took off the mask. The Masked Singer season 10 will return on Sept. 27 at 8 p.m. ET on Fox.
Tell us what you think. How do you feel about Robin Thicke's drunken antics? And after you share your views, check back on our site for more TV news.