General Hospital Spoilers Tuesday, September 19: Sasha Determined, Selina Threatens, Sonny Warning, Eddie Excited
General Hospital Spoilers for Tuesday, September 19 indicate Sasha Gilmore (Sofia Mattsson) is determined to stop this mess before it gets any worse.
Selina Wu (Lydia Look) pushes Marshall Ashford (Robert Gossett) to reconsider. Curtis Ashford (Donnell Turner) gets honest with Portia Robinson (Brook Kerr). Eddie Maine (Wally Kurth) gets a gig.
Valentin Cassadine (James Patrick Stuart) asks Nina Reeves (Cynthia Watros) to keep quiet. Sonny Corinthos (Maurice Benard) issues a warning.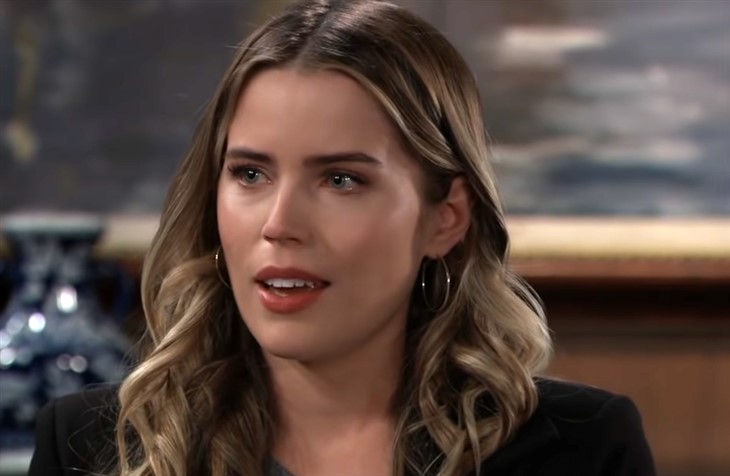 General Hospital Spoilers Highlights
General Hospital Spoilers reveal that Sasha wants this mess to end before it gets any worse. Sasha and Cody Bell (Josh Kelly) are on the run and hiding out as escapees from a mental institution.
Sasha knows that her doctor was drugging her but really has no way to prove it. Can Sasha find a way to get justice for herself and to make this doctor pay?
Selina pushes Marshall to change his mind. Selina wants to continue to have her poker games in the back room of the Savoy. However,
Marshall is determined to have no part in that. Curtis has been allowing this for months and Selina doesn't like that change at all. Will Selina resort to threatening Curtis to get what she wants?
MUST READ – GH Spoilers: Mac And Chase Face A Dilemma-Would They Really Turn Dante Into The FBI Over Sonny?
GH Spoilers – Valentin Cassadine Finds Answers
Valentin and Nina find out who ransacked Anna Devane's (Finola Hughes) room. Valentin asks Nina not to show this to anyone.
Now that Valentin knows who is behind this, will he find a way to stop whoever is stalking Anna? What Will Anna think when Valentin finally reveals the truth? Is this finally the end of Anna being harassed?
Eddie gets a gig at the Savoy. The last time Eddie tried this it didn't work. Now Eddie is getting another chance to sing at the Savoy and show off his talent.
Of course, Eddie is actually Ned Quartermaine's (Wally Kurth) surname. Is Eddie ready to try to make a career out of his latest passion or will he finally get his memory back?
General Hospital Spoilers – Sonny Corinthos Issues A Warning
Sonny issues a warning to Dex Heller (Evan Hofer). Sonny has been in the business for several years and he knows how dangerous allowing a loved one to have too much information is.
Sonny will issue a warning to Dex, perhaps about being a bit more careful and how to better look out for Josslyn Jacks (Eden McCoy).
Curtis And Portia get honest about a visitor. Of course, Selina is trying to buy the Savoy since Marshall has refused to allow her to continue the backroom poker games.
Will Curtis tell Portia everything that is going on with Selina? Will Curtis manage to realize that he can run the Savoy even if he is in a wheelchair?
Be sure to catch up on everything happening with GH right now. Come back here often for General Hospital spoilers, news, and updates.