Days Of Our Lives Spoilers Tuesday, Sept 19: Accidental Crime Spree, London Adventure, Drunk Detective MIA
Days of Our Lives spoilers for Tuesday, September 19, 2023, reveal that Wendy Shin (Victoria Grace) snoops on EJ DiMera (Dan Feuerriegel).
Belle Brady (Martha Madison) panics when Shawn Brady (Brandon Beemer) doesn't come home. Plus, Ava Vitali (Tamara Braun) and Harris Michaels (Steve Burton) search for Susan Banks (Stacy Haiduk) in London. Keep reading to find out what is coming up in the Peacock soap opera.
Days Of Our Lives Spoilers Highlights
DOOL spoilers for Tuesday, September 19 reveal that Shawn will be waking up to a nasty hangover. The night before, Shawn ended up getting drunk with Talia Hunter (Aketra Sevillian).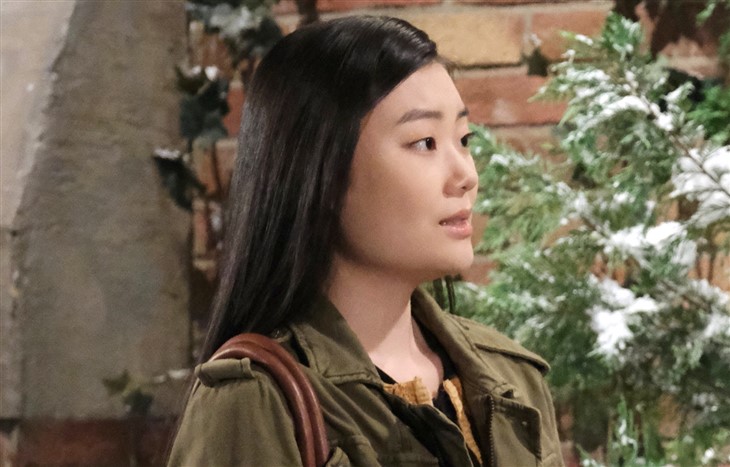 The two went from Brady's Pub to a room, where they continued to vent about their problems while boozing it up.
As Shawn wakes up, he might be dazed and a bit confused. It could take a few moments for Shawn to realize he's not in his own bed.
DOOL Spoilers – Belle Brady Panics
While Shawn is dazed and confused, Belle will fly into a frenzied panic. Belle knows that Shawn has been going through a lot of issues lately.
Shawn blames himself for shooting Bo Brady (Peter Reckell), even though he intended to save Hope Williams Brady (Kristian Alfonso).
MUST READ – DOOL Spoilers: Theresa's Surprise, Victor's Briefcase Found, Brady And Alex Meet With Konstantin
Then, Victor Kiriakis (John Aniston) died in a plane crash. Shawn also blames himself for that and has been hitting the bottle.
So, Belle will panic when Shawn doesn't come home at night. Belle will probably assume the worst. To find out that Shawn and Talia were together the night before could destroy "Shelle."
Days Of Our Lives Spoilers – London Adventure
Days of Our Lives spoilers for Tuesday, September 19 reveal that Ava and Harris will continue their London adventure.
In order to stop EJ's killer vengeance, Susan needs to be found. Everyone thinks that Susan is dead. However, Ava remembered that Susan jumped out of the car before it exploded. Then, seeing Susan has given Ava new clues to follow.
However, don't expect Ava and Harris to just be focused on Susan in London. The pair might also get to know each other better and enjoy a bit of unexpected passion.
DOOL Spoilers – Tuesday, September 19
Fans can also expect Tuesday's episode to feature Wendy. Expect Wendy to spy on EJ. However, it is teased that Wendy gets busted later in the week trying to hack into EJ's phone.
So, how will Wendy get out of this accidental crime spree situation? Wendy's intentions are good, but along with the fake passports, she could face a complicated situation. If Wendy gets caught, then that could lead EJ right to Tripp Johnson's (Lucas Adams) door.
Be sure to catch up on everything happening with DOOL right now. Come back often for Days of Our Lives spoilers, news, and updates.