Nikki & Brie Bella Announce Their Departure From WWE Take Up Their Real Names
The Bella twins are bidding farewell to their nearly 2-decade career with the WWE company. It's true that every good thing must come to an end, and as for Nikki and Brie Bella? Their WWE road has finally come to an end.
Nikki and Brie Bella both joined the WWE company in 2007 and since then, they've been one of the greatest performers of the company both in and outside of the ring.
They didn't just let their fans into their in-ring characters, they also allowed them see what their lives outside the ring are like. From E!'s "Total Divas" to its spinoff "Total Bellas."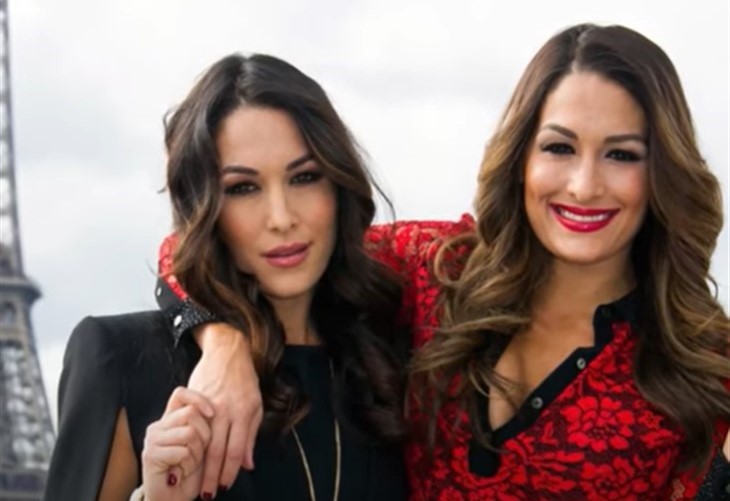 Now, the twins have decided that they've had a good run and it's time to end it. They're hanging their wrestling boots once and for all to focus on other aspects of their lives like; being mothers to their children, entrepreneurs, hosts, and executive producers.
Nikki & Brie Bella News — The Bella Twins Ditch Their Wrestling Names
On Tuesday, March 14, the twins shared on their SiriusXM podcast "The Nikki and Brie Show," that they will no longer be a part of the WWE anymore, and they have also decided to drop their ring name "The Bella Twins."
Nikki explained that the decision to retire came when it was time to renew their contract with the company. "When our contract came up with WWE, mutually we all knew we just needed to head into this new chapter."
"Today we are officially from here on out, the Garcia Twins, Brie and Nikki Garcia," announced Nikki.
Brie on the other hand took the medium to appreciate her in-ring character and all she has accomplished as a performer. "I just want to thank Brie Bella—Brie Bella the character, the name, all of it that I have been the last 16, 17 years."
She went on to add, "I am so excited to close that chapter on Brie Bella, put that book to the side and open up a news one—and see what Brie Garcia is gonna do next."
After Brie's shout-out to her past self, Nikki also took that opportunity to chime in how she's "so beyond grateful for Nikki Bella. She empowered me, she inspired me, she truly made me become fearless, and the road that she has paved and what she's done for women and the youth—and will continue to do—just as Nikki Garcia."
The now Garcia Twins are both happily married and share children with their respective husbands. Brie got married to former WWE wrestler Daniel Bryan, and together they share daughter Birdie Danielson, 5, and son Buddy Danielson, 2.
Nikki on the other hand is married to Artem Chigvintsev and they share two-year-old son Matteo.
In April 2022, the former "Bella Twins" were inducted into the WWE Hall of Fame 2022.
Be sure to catch up on everything happening with Nikki & Brie Bella right now. Come back here often for all the Nikki & Brie Bella's spoilers, news, and updates.