The Bold and the Beautiful Preview: Sheila's Hero Status, Finn Fights Steffy's Deman
The Bold and the Beautiful spoilers for the week of July 31 reveal that the preview clip has finally been released. It shows John "Finn" Finnegan (Tanner Novlan) seeing Sheila Carter (Kimberlin Brown) as a hero.
Finn even states this to Steffy Forrester Finnegan (Jacqueline MacInnes Wood). However, Liam Spencer (Scott Clifton) could go to extremes to save his ex-wife and daughter.
Saving Kelly Spencer
B&B spoilers for the week of July 31 reveal that Finn took Kelly Spencer (Sophia Paras McKinlay) to the beach.
However, Finn was distracted by a phone call about a patient. While Finn's back was turned, Kelly was carried away by a rip tide. This led to Sheila jumping into action. While watching Finn from afar, Sheila saw Kelly was drowning.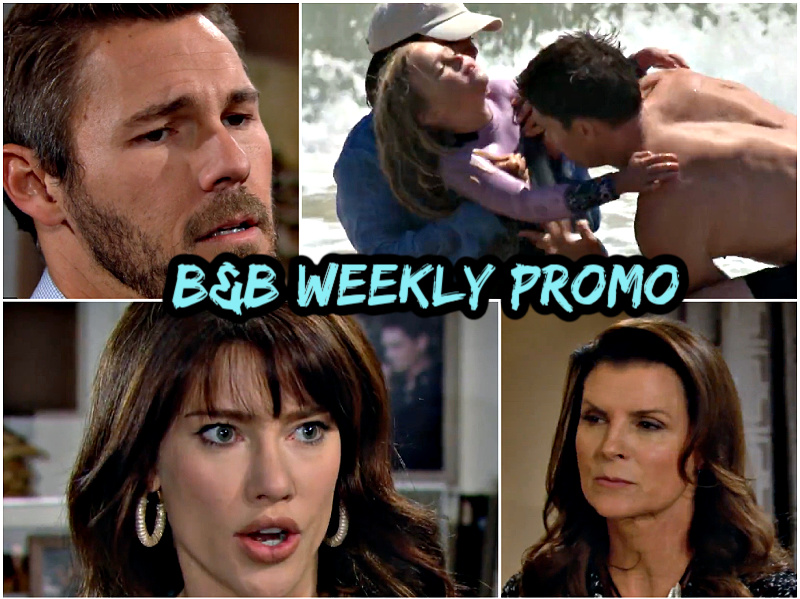 B&B Spoilers: Sheila Carter's Heroism
So, villain or not, Sheila did save a little girl's life. Now, it would be easier to dismiss if Hayes Forrester Finnegan (Alexander and Chase Banks). After all, Hayes is Sheila's grandson, so of course she would risk her life to save the little boy. However, Kelly has no blood relation to Sheila at all. In fact, Kelly's mother would love to see Sheila dead and perhaps vice versa!
Steffy Forrester Finnegan's Demand
The Bold and the Beautiful spoilers for the week of July 31 reveal that the preview clip then turns to "SINN." This must be the point in which Finn admits to Steffy that Sheila saved Kelly's life. Steffy doesn't seem to care if Sheila committed one heroic act. It doesn't erase all the decades of torment and destruction Sheila has done.
So, when Finn tells Steffy that Sheila is a hero, the reaction isn't good. It would be just like Steffy to demand that Finn cut ties with Sheila forever or lose their family.
The Bold and the Beautiful Spoilers: Liam Spencer's Extreme Move
During the week of July 31, fans can also expect Liam to insist to Wyatt Spencer (Darin Brooks) that Steffy and Kelly are in danger. Liam truly believes that Sheila will put Steffy and Kelly's lives in jeopardy. Then, with what happens to Kelly, Liam would naturally jump to the conclusion that Sheila planned this whole thing. Liam might even accuse Finn of being in on it!
https://twitter.com/BandB_CBS/status/1686119600730300417
Wyatt will try to reason with Liam. Wyatt will also question Steffy's reaction to the incident. So, will Liam truly save Steffy and Kelly from Sheila? Will Finn continue putting his family in danger? What does this mean for the future of Steffy's marriage?
Which storyline are you looking forward to seeing the most on Tuesday, August 1? Share your thoughts in the comment section below. Remember to keep watching the soap on CBS or Paramount+ to find out what happens next.
Be sure to catch up on everything happening with B&B right now. Come back often for The Bold and the Beautiful spoilers, news, and updates.
For more about what's happening on your favorite soaps and more ways to connect with us, join the conversation on our YouTube Page or our Facebook Page, check out our Twitter feed, look for an update on our Instagram, follow us on Threads , Always stay up-to-date with us on Google News, or drop us an e-mail HERE! See you there!