B&B Recap And Spoilers Friday, May 26: Liam Confronts Hope, RJ Connects With Thomas, Steffy's Confession
The Bold And The Beautiful spoilers and recap for Friday, May 26 reveal that Liam Spencer (Scott Clifton) tells Hope Spencer (Annika Noelle) to tell him this isn't true. Liam needs to know if Hope has feelings for Thomas Forrester (Matthew Atkinson). Thomas thinks about the time he and Hope almost kissed. Ridge "RJ" Forrester (Joshua Hoffman) asks Thomas if he is thinking about a girl. John "Finn" Finnegan (Tanner Novlan) comes home early.
The Bold And The Beautiful Spoilers – Steffy Forrester Makes A Confession
Steffy Forrester (Jacqueline MacInnes Wood) tells Finn she's upset about Liam. Steffy says she knows Hope has feelings for Thomas and she told Liam as much. Steffy tells Finn how Liam went off on Thomas. Steffy couldn't listen anymore and told him the truth. Finn is shocked that Steffy did this. Finn says she dropped a bomb on his marriage. Steffy had to defend her brother.
B&B Spoilers – RJ Forrester Bonds With His Brother Thomas Forrester
The Bold And The Beautiful spoilers indicate RJ is looking for Hope at the Forrester offices. RJ thinks it is good that Thomas and Hope are getting along. RJ says it must be good for Douglas Forrester (Henry Joseph Samiri). RJ is proud of Thomas for fixing himself. Thomas wants to be someone his family can be proud of. RJ says Ridge is still trying to get him to work there. RJ and Thomas are glad their mothers get along. RJ is glad Thomas and Hope are getting along too.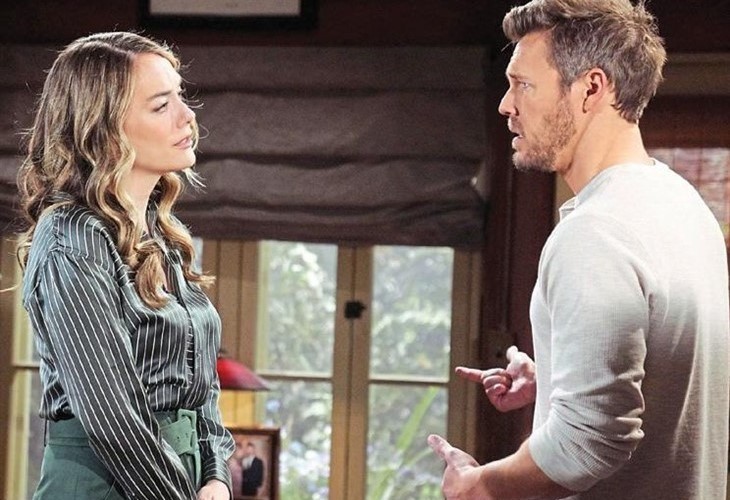 The Bold And The Beautiful Spoilers – Liam Spencer Demands Answers
Liam says he has been told all along that nothing is going on. Liam needs answers right now. Hope feels very ambushed right now. Liam says he told Steffy she misinterpreted this.
Liam knows that there has never been anything but friendship between Hope and Thomas. Liam says Steffy has no reason to target Hope or their marriage. Liam says Steffy is protecting her brother.
Hope can't believe Steffy is worried about her corrupting Thomas. Liam tells Hope what Steffy said she saw. Hope thought they were past this. Liam says this isn't about him, it's about Thomas. Hope says nothing is going on. Liam says Hope could be in denial. Liam says he cannot walk on eggshells. Hope loves Liam, but Liam says this is too much.
Nothing will convince Liam that Thomas isn't a threat unless Hope stops working with Thomas. Hope says the line needs Thomas. None of this would be happening if Hope had kept Thomas away. Hope says Liam needs to accept that Thomas has changed. Hope says Liam never trusts her. Hope asks what it is going to take for Liam to believe her. Hope swears she doesn't have feelings for Thomas. Hope apologizes and tells Liam she loves him.
Be sure to catch up on everything happening with B&B right now. Come back here often for The Bold And The Beautiful spoilers, news, and updates.