The Bold And The Beautiful Spoilers: Steffy Forrester Won't Keep Quiet
The Bold and the Beautiful spoilers document that Steffy Forrester Finnegan (Jacqueline MacInnes Wood) is teased to tell Liam Spencer (Scott Clifton) unnerving news. More than opinion, what Steffy relays to Liam about his wife is based on her repeated eyewitness accounts.
Liam does not know that his wife has developed feelings for Thomas Forrester (Matthew Atkinson). However, further exploration and many weeks, if not months down the plot, a better question could be asked.
Has Hope Spencer (Annika Noelle) always had a fondness for Thomas that represented the start of love?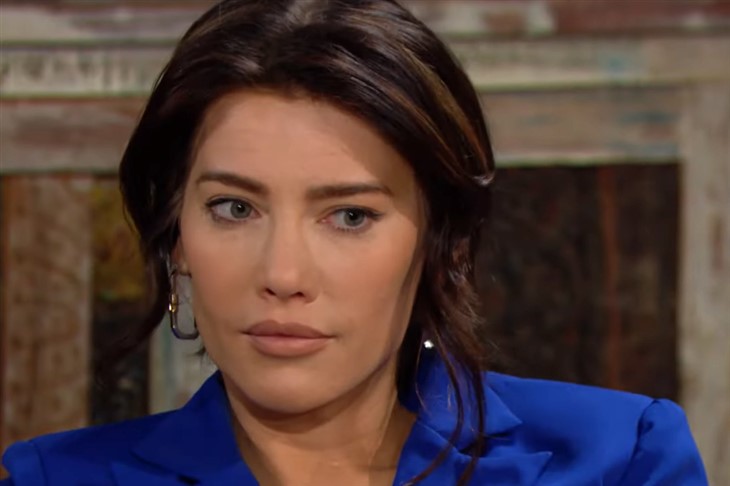 The Bold And The Beautiful Spoilers – Steffy Forrester Finnegan Is Unsettled
Steffy felt compelled to talk with her husband about Hope's behavior at work. On numerous occasions, Steffy has witnessed Hope flirting with Thomas.
While Hope denied it, she never behaved toward Thomas as she has in recent months. His commitment to being a better man, father, family member, friend, and employee is something Hope has noticed.
Wood's character noticed the effect Hope's flirtatious responses to him are having. She spoke directly with Hope about it more than once and was not satisfied with the answers she gave.
B&B Spoilers – Liam Spencer Hears The Unthinkable
Liam's talk with his dad reinforced what he believes. Bill Spencer (Don Diamont) focused on Thomas' past behavior and told Liam not to let his guard down around him.
Bill and Liam understandably believe Thomas can not be trusted to be around Hope. Noelle's character has never given her husband any reason to be concerned. She recently cited that point when talking with Thomas during their impromptu business trip to San Francisco, California.
Liam gave Hope repeated pauses during the years when he was willingly involved with her and Steffy. This storyline represents a turn of the soapy tables on Liam.
The Bold And The Beautiful Spoilers – Brooke Logan Warns Son-In-Law?
Thomas was shaken when overhearing Hope tell Brooke Logan (Katherine Kelly Lang) that he was unstable and there would never be anything between them. Brooke quickly determined that Hope was overcompensating when offering that response to her mother's questions about her recent behavior.
Fans will be watching to see how Brooke interacts with Liam the next time she sees him. She might feel it necessary to involve him in this developing matter, so it does not become a disaster. Although, it might already be that for Hope on B&B.
This site is a leading source for everything linked to The Bold and the Beautiful. Check back regularly for B&B spoilers and news!