B&B Recap And Spoilers Monday, May 29: Taylor Encourages Deacon, RJ Questions Ridge, Hope Reassures Liam
The Bold And The Beautiful spoilers and recap for Monday, May 29 indicate Brooke Logan (Katherine Kelly Lang) and Taylor Hayes (Krista Allen) are at Il Giardino again. Deacon Sharpe (Sean Kanan) gives Taylor a questioning look. The Forrester team plans on going to Rome.
Ridge "RJ" Forrester, Jr. (Joshua Hoffman) questions Thomas Forrester (Matthew Atkinson) and Hope Spencer (Annika Noelle) going to Rome together. Hope returns from dropping Douglas Forrester (Henry Joseph Samiri) off at school. Hope is surprised to find Liam at home. Hope and Liam Spencer (Scott Clifton) talk about her and Thomas.
The Bold And The Beautiful Spoilers – Hope Logan Confronts Steffy Forrester
Hope tries to reassure Liam about their marriage. Hope says Steffy Forrester (Jacqueline MacInnes Wood) misinterpreted what she saw. Hope thinks Liam should believe her and not Steffy. Hope goes to work and confronts Steffy. Liam keeps reliving his conversation with Steffy. Hope once again explains herself to Steffy. Hope accuses Steffy of unminding her marriage.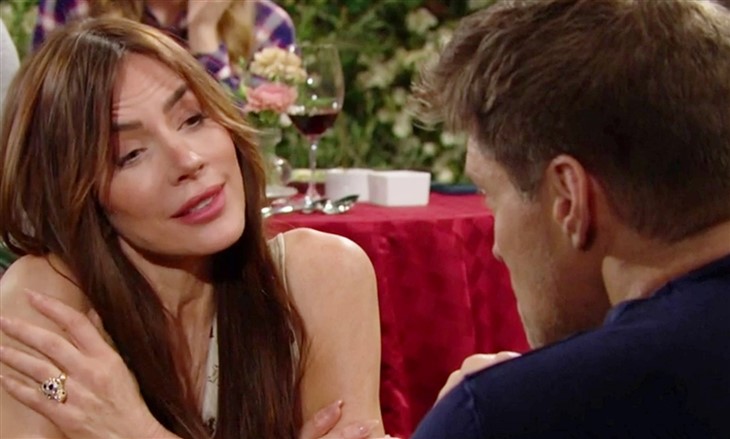 Steffy accuses Hope of doing the same. Hope has told Liam that he is the only man for her. Hope doesn't have feelings for Thomas. Hope points out that most of her and Liam's marriage problems were caused by Steffy. Hope tells Steffy to keep her comments to herself from now on.
B&B Spoilers – RJ Forrester Is Concerned
The Bold And The Beautiful spoilers RJ wonder about Ridge and his love life. Both RJ and Steffy want to know where Ridge's intentions stand with their mothers. Eric Forrester (John McCook) understands what they are doing. RJ wonders how soon until one of their mothers is sharing their life with Ridge.
RJ shows Ridge one of the videos he posted overnight. RJ feels bad when Ridge doesn't immediately understand. Brooke arrives and tells Ridge she was catching up with Taylor. Brooke is thrilled to see her two favorite men. Brooke asks when RJ became all grown up. Brooke is thrilled to have RJ back home.
The Bold And The Beautiful Spoilers – Deacon Sharpe Is Suspicious Of Taylor Hayes
Taylor tells Deacon how far he has come with the restaurant. Taylor says Deacon has become one of LA's most eligible bachelors. Deacon questions Taylor about pushing him and Brooke together. Deacon asks if Taylor is using him to get closer to Ridge. Taylor will always care about Ridge just like Brooke will always care about Deacon.
Deacon wants to know what happened to Brooke and Taylor's pact. Taylor doesn't trust their pact since Brooke doesn't trust Thomas. Taylor says they were supposed to be honest across the board. Taylor wonders what else Brooke isn't being honest about.
Be sure to catch up on everything happening with B&B right now. Come back here often for The Bold And The Beautiful spoilers, news, and updates.