B&B Recap And Spoilers Thursday, August 10: Liam Wants Steffy, Ridge Calls Out Finn, Hope's Point Is Proven
The Bold And The Beautiful (B&B) spoilers for Thursday, August 10 indicate that Liam Spencer (Scott Clifton) tells Steffy Forrester (Jacqueline MacInnes Wood) that he doesn't have to deny his feelings for Steffy anymore.
Liam says he shared a life with Hope Logan (Annika Noelle) but that isn't going to work out. Liam says if he got another chance with Steffy he would never let her go again.
Ridge Forrester (Thorsten Kaye) wants to know what John "Finn" Finnegan (Tanner Novlan) is thinking. Finn says this is complicated, but Ridge disagrees.
Finn turned his back on a little girl and almost let her drown. A lunatic tried to kill Steffy and almost killed Finn. Ridge says this is dumb, Finn shouldn't have questions because of his birth mother.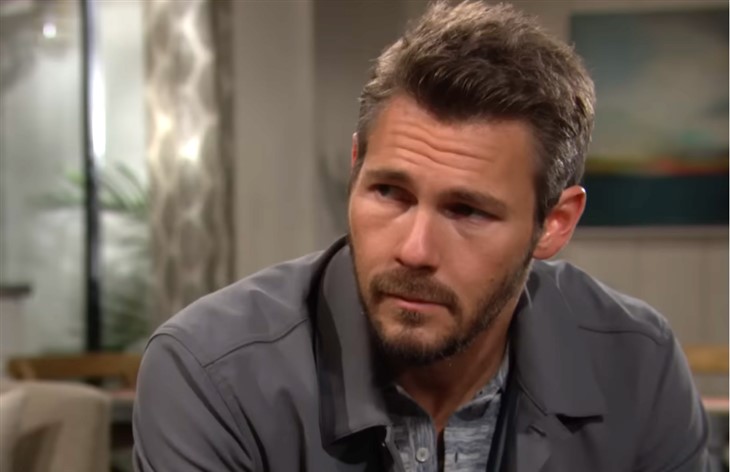 Finn needs to put all of that out of his mind. Hope and Thomas Forrester's (Matthew Atkinson) work is praised.
The Bold And The Beautiful Spoilers – Hope Logan And Brooke Logan Argue
Hope tells Brooke Logan (Katherine Kelly Lang) not to let what the Forrester model said get in her head. Brooke wants to know where things stand with Hope and Thomas.
Hope is concentrating on her designs. Brooke says Hope seems to be handling her divorce very well. Brooke says he hopes this doesn't cause more problems for Finn and Steffy. Hope understands why Ridge would go to Finn.
Brooke hopes that Ridge doesn't make it harder for Ridge and Finn to get back together. Hope knows that Liam has vowed to protect Steffy and the kids too.
Hope says this just proves that Liam will always be a part of Steffy's life. Liam daydreams about Steffy as Ridge drops by.
Liam says Bill Spencer (Don Diamont) isn't there. Ridge says he talked to Steffy and she let him know what is going on.
Liam starts making his case for his actions. Liam doesn't know what Finn is thinking. Ridge told him the same thing. Ridge says he will see if he got through to Finn. Liam says he takes it that Finn wasn't open to Ridge's talk.
Liam says Finn doesn't have to have this explained to him. Liam says they are talking about an actual psychopath. Ridge says Steffy is where she needs to be.
Ridge asks if he is the only one who thought Finn was smart. Ridge asks Liam how he feels about Steffy.
B&B Spoilers – John Finnegan Vows To Fight For His Family
The Bold And The Beautiful spoilers reveal that Finn takes responsibility for what happened with Kelly on the beach. Finn doesn't know what happened at the courthouse.
Ridge partially understands Finn's problem. Finn tells Ridge that Sheila Carter (Kimberlin Brown) isn't the only threat to his marriage. Liam wants to be with Steffy. Finn says Liam took a video of him and Sheila.
Ridge says Finn brought Sheila back into the mix for whatever reason. Finn needs to get out of this pity party and fix what is left of his marriage.
Finn goes to see Steffy at Eric Forrester's (John McCook). Finn wants Steffy to hear him out. Steffy is sorry he hasn't responded.
Finn asks how the kids are. Finn misses Steffy. Steffy will not put her kids in danger as long as Sheila is out there.
Finn asks if Steffy knows what this is doing to him. Finn tells Steffy they need to work together and fix this. Steffy says they are in this place because of Sheila.
Finn doesn't think living away from him is just about Sheila. Finn tells Steffy that he isn't going to let Liam suck her back into all of that.
Finn isn't going to let Liam destroy their marriage. Finn loves Steffy too much to ever let her go. Finn is not going to let Liam interfere in their marriage. Finn will not lose Steffy.
The Bold And The Beautiful Spoilers – Liam Spencer Pleads His Case For Steffy Forrester
Steffy is flattered by what Liam said but Finn is never going to let that happen. Liam says if he got the chance he would never take his eyes off Steffy again.

Steffy looks very uncomfortable. Steffy doesn't know what to say, they are both married. Liam and Hope have signed divorce papers.
Liam says he has buried his feelings for a long time. Liam sees the old Steffy. Liam asks Steffy why he let her go.
This has nothing to do with his imploding marriage. Liam says if he ever got the chance again he would make sure Steffy knows she is respected and heard and that she is loved.
Be sure to catch up on everything happening with B&B right now. Come back here often for The Bold And The Beautiful spoilers, news, and updates.