B&B Spoilers: Steam Reunites, Steffy Loses Credibility
The Bold and the Beautiful (B&B) spoilers hint that if Steam reunites then Steffy Forrester (Jacqueline MacInnes Wood) will lose credibility among fans.
Some are already giving up on her as she grows closer to Liam Spencer (Scott Clifton). The viewers made it clear that they want Steffy and Dr. John "Finn" Finnegan (Tanner Novlan) to stay together even though they're having marital problems. Keep on reading to learn more.
The Bold And The Beautiful Spoilers – Steam Reunites
The Bold and the Beautiful spoilers suggest that Steam will reunite. Steam is known as Steffy and Liam.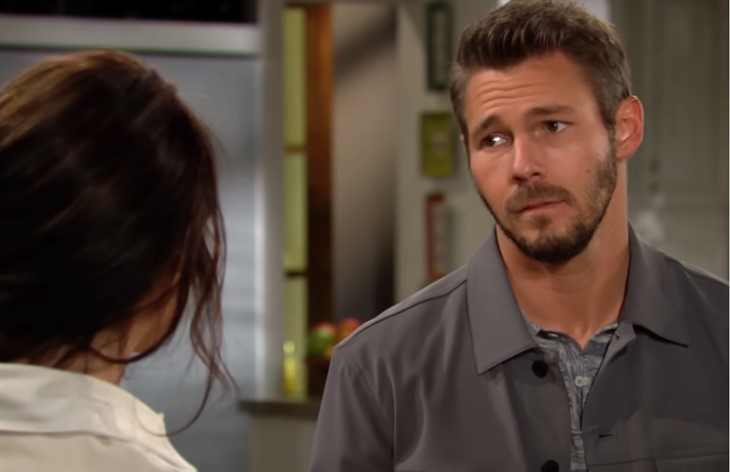 During the week of August 7th through August 11th, they will share another kiss. He already confessed that he's still in love with her.
Liam already forgot about his divorce from his ex-wife Hope Logan (Annika Noelle). He called off their marriage even though Hope realized that she doesn't want a man who can only give her half of his heart. Liam already set his sights on Steffy. Hope was right about her instincts.
She had a feeling that her then-husband ran back to Steffy once he saw Hope kiss Thomas Forrester (Matthew Atkinson).
While Steffy isn't to blame, she's been the center of their marriage for years because of Liam's waffling ways. Hope had a breakthrough.
She realized that she didn't want to deal with that anymore. She finally found a way to heal with her desires for Thomas.
Hope has no regrets about sleeping with him and made it clear to her mom Brooke Logan (Katherine Kelly Lang).
B&B Spoilers – Will Steffy Lose Credibility?
The Bold and the Beautiful spoilers suggest that Steffy will lose credibility among the fans if she reconnects with Liam.
The user bnbtayfan wrote on the SoapCentral.com Message Boards: "If Steam reunites, Steffy will lose all credibility." The B&B fan wants Steffy to stay away from Liam and realize that Finn is the only man for her.
Other fans took to the thread to share their thoughts. Some argued that Finn was never a good choice since it was revealed that his mom is Sheila Carter (Kimberlin Brown).
Liam loved Steffy most of her adult life and is someone she shares a child with. Others argued that Steffy will stay with Finn.
However, other fans fear the worst. In another thread on the SoapCentral.com Message Boards, Thomasha <3 wrote, "If Steffy ends her marriage for Liam then good luck with him!" If Liam breaks Steffy's heart, then it's her problem.
What are your thoughts? Do you think Steffy will lose credibility when Steam reunites? Sound off below in the comment section.
As always, check back for more B&B spoilers, news, and updates.