B&B Spoilers: Sheila Picks Between Love With Deacon Or Relationship With Finn
The Bold and the Beautiful (B&B) spoilers suggest that Sheila Carter (Kimberlin Brown) will have to choose between love with Deacon Sharpe (Sean Kanan) or a relationship with her son Dr. John "Finn" Finnegan (Tanner Novlan). She is seeking her one true love in this world. Sheila desperately wants to be a part of her son and grandson's lives, but she also wants love. Keep on reading to learn more.
The Bold And The Beautiful Spoilers – Sheila Carter's Decision
The Bold and the Beautiful spoilers reveal that Sheila has an important decision to make. Sheila is in love with Deacon.
She's never felt this way about anyone else before in her life. But, she also wants to be part of her son Finn's life. Some fans heavily debated as to what decision Sheila would make.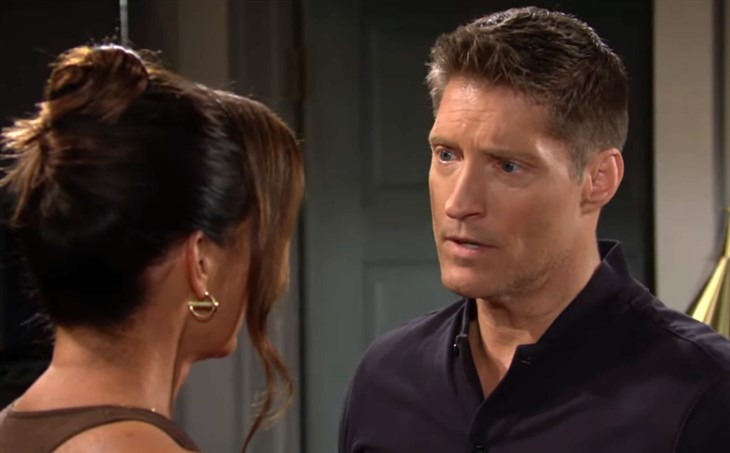 One user came up with a possible scenario on the SoapCentral.com Message Boards. They believe that Sheila would be willing to give up her relationship with Finn so she could find love with Deacon.
He provides her with the happiness she can't get when it comes to her complicated relationship with her biological son.
Sheila feels safe and content with Deacon. She doesn't care about the money or the power. She doesn't even care about the Forresters.
Sheila would rather stay with Deacon in his small apartment than she would stay with Bill Spencer (Don Diamont) at his mansion.
The Bold and the Beautiful spoilers suggest that Sheila doesn't have to pretend to be anyone else.
She told Deacon that he sees her whenever they're together. She feels free to be herself around him. Deacon knows that she's crazy and yet he's stuck around this long.
READ THIS: Find out what happens next on The Bold and The Beautiful.

B&B Spoilers – Deacon Sharpe Has The Same Choice
Deacon also has to make the same choice. He has to choose whether he wants a relationship with his daughter Hope Logan (Annika Noelle) or if he wants love with Sheila.
He told Sheila that he didn't want to be alone anymore. However, he initially kicked her out of his apartment because his relationship with Hope had been going so well lately.
The Bold and the Beautiful spoilers suggest that Deacon is conflicted with his feelings. He doesn't want his relationship with Hope to fall apart. This is the closest they've been in years. Yet, he doesn't feel so alone when he's with Sheila.
This storyline proves that Deacon and Sheila's relationship is risky because it could further drive their loved ones away.
What are your thoughts? Who do you think Sheila will choose? What about Deacon? Sound off below in the comment section.
As always, check back for more B&B spoilers, news, and updates.
For more about what's happening on your favorite soaps and more ways to connect with us, join the conversation on our Facebook Page, check out our Twitter feed, look for an update on our Instagram, follow us on Threads , Always stay up-to-date with us on Google News, or drop us an e-mail HERE! See you there!