General Hospital Spoilers: Sonny And Nina's Wedding Day Arrives, Will They Say I Do, Or Say I Don't?
General Hospital spoilers and updates tease when Sonny Corinthos (Maurice Benard) and Nina Reeves' (Cynthia Watros) wedding day arrives, will they say I do, or say I don't? Will their Valentine's Day planned wedding turn out to be a bust in more ways than one, or possibly even another St. Valentine's Day massacre thanks to Sonny's enemies?
General Hospital Spoilers: So Much To Gain, So Much To Lose
Nina has so much to gain, but so much to lose if her wedding to Sonny is successful-if Ned Quartermaine (Wally Kurth) regains his memory or someone else exposes her secret.
It was difficult for Nina to fake it when she found out Drew Cain (Cameron Mathison) was nearly killed in Pentonville and had something to do with Ava Jerome (Maura West).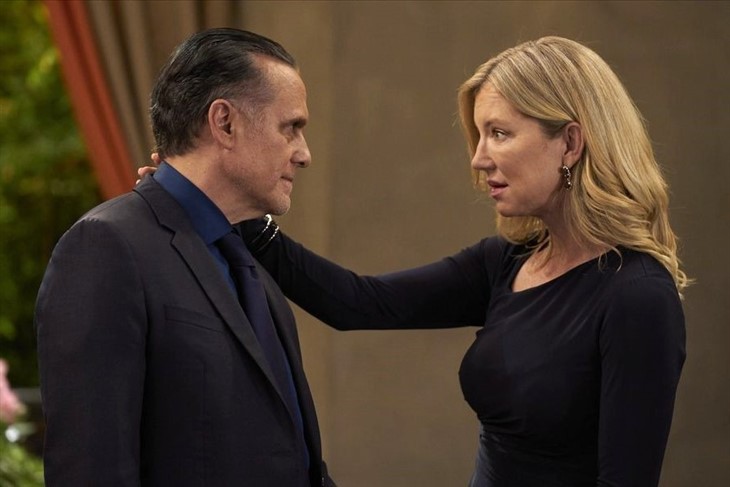 Nina knows that Ava took Avery Jerome-Corinthos (Ava and Grace Scarola) to Carly Spencer's (Laura Wright) house for safety and had a heart to heart talk with Sonny about his family.
She focuses on the danger that Drew encountered inside Pentonville and how Sonny is going to keep her safe-keeping in mind he's keeping her daughter safe as well.
When Sonny focuses on Michael Corinthos, (Chad Duell) Ava, Carly, and all the rest Willow Corinthos (Katelyn MacMullen) has to be considered-but no one can ever tell her secret-including Ava!
GH Spoilers: Ava Jerome Also Knows Nina Reeves' Secret
Nina made perhaps the stupidest mistake of her life telling Ava that she was the one who called the SEC on Drew and Carly.
She's lucky Ava forgave her since Drew was one of the team who saved Trina Robinson (Tabyana Ali) and Liesl Obrecht (Kathleen Gati) from Victor Cassadine (Charles Shaughnessy).
Otherwise, Willow would not have lived-but impulsive, pouting Nina didn't know Drew went to Greenland-and she didn't ask, either, she only wanted revenge for not being included in Willow's inner circle.
Now she has to worry if Ava might bust her to Sonny, not for revenge but for her own safety and her daughter's!
READ THIS: Find out what happens next on General Hospital.
General Hospital Spoilers: The Head Of The Snake Must Be Cut Off
Sonny got into trouble when his plan backfired to give fake intel to be taken to Mason Gatlin's (Nathanyael Gray) boss-the FBI raided a Pikeman crated shipment of coffee beans.
Sonny got off, but then Drew was targeted when he asked him to find out who Austin Gatlin-Holt (Roger Howarth) was visiting. Sonny's protection squad inside Pentonville isn't loyal to him and many enemies are in there.
Will Ava bust Nina and ruin her new relationship with her daughter and grandchildren? Or will Sonny's enemies show up at the wedding and make it a new St. Valentine's Day massacre-looks like Nina's in trouble either way!
Be sure to catch up on everything happening with GH right now. Come back here often for General Hospital spoilers, news, and updates.
For more about what's happening on your favorite soaps and more ways to connect with us, join the conversation on our Facebook Page, check out our Twitter feed, look for an update on our Instagram, follow us on Threads , Always stay up-to-date with us on Google News, or drop us an e-mail HERE! See you there!