B&B Spoilers: Finn Snaps Back, Realizes Who's Important
The Bold and the Beautiful (B&B) spoilers hint that Dr. John "Finn" Finnegan (Tanner Novlan) will snap out of it. He's been under a haze since he hugged his mom Sheila Carter (Kimberlin Brown). Hopefully, he realizes who is more important in his life. Keep on reading to learn more.
The Bold And The Beautiful Spoilers – Does John Finn Finnegan Have A Reality Check?
The Bold and the Beautiful spoilers hint that Finn has a reality check. According to the Daytime Confidential spoilers for the week of August 7th through August 11, he might realize that he needs to get his family back. Finn's estranged wife Steffy Forrester (Jacqueline MacInnes Wood) walked out on him and took their kids. She realized that she can no longer trust him.
The spoilers were posted on the SoapCentral.com Message Boards. One fan wrote: "Heaven knows Finn has to ruthlessly cut off Sheila. I feel sorry for him, though. Sheila will stalk Finn and Hayes 'til the end of time."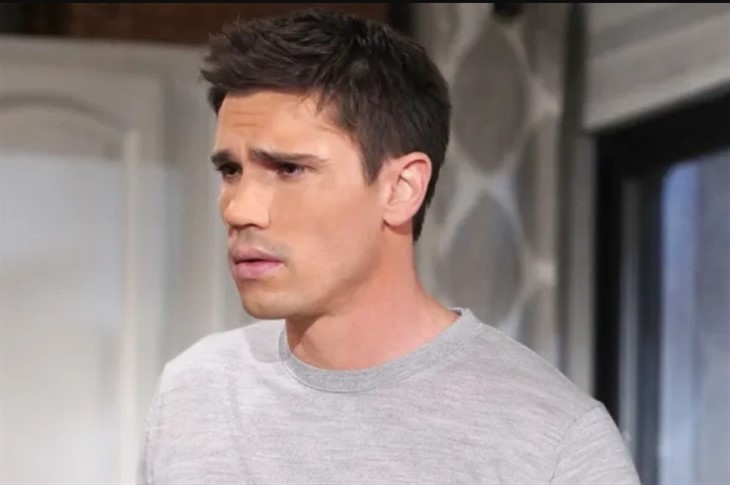 Finn will finally snap back to reality. He will go running back to Steffy. She's been staying at Eric Forrester's (John McCook) house with the kids since it's a high-security mansion. Steffy doesn't feel safe at the cliff house, especially when she found out that Finn hugged Sheila. He also told Steffy to cut his mom some slack after she saved Kelly's house.
However, some fans have a feeling that Finn won't cut off contact with Sheila. He's still going to keep her at a distance to make her happy. Finn already set some boundaries with Sheila. He told her that she can't just follow him around.
B&B Spoilers – What This Means For John Finn Finnegan
The Bold and the Beautiful spoilers suggest what this could mean for Finn. He's going through some complex feelings with his biological mother. Finn already let Sheila back into his life after he embraced her. He wants to explore his feelings for her now that he realizes what he's been missing.
Finn lacks that blood connection in his life. If these emotions continue to surface, Sheila will never leave him alone. She won't listen to the boundaries he set in place. This could be a huge problem for Steffy and their marriage. The B&B spoilers also hint that he will continue to think about Sheila.
What are your thoughts? Do you believe that Finn will snap out of it and realize that he should fight for the family he has? Or, do you think he will keep in touch with Sheila? Sound off below in the comment section.
As always, check back for more B&B spoilers, news, and updates.