B&B Spoilers Weekly Update: Luna's Past, Hope & Finn's Dynamic, Katie Deceived
The Bold and the Beautiful spoilers for the week of October 2 are in. Fans can expect Ridge "RJ" Forrester, Jr. (Joshua Hoffman) to tell Luna (Lisa Yamada) about Eric Forrester's (John McCook) intentions.
Hope Logan (Annika Noelle) turns to John "Finn" Finnegan (Tanner Novlan) for advice. Plus, Donna Logan (Jennifer Gareis) lies to Katie Logan (Heather Tom). Keep reading to find out what is coming up in the CBS soap opera.
The Bold And The Beautiful Spoilers – Monday, October 2: Taylor Hayes' Confrontation
B&B spoilers for Monday, October 2 reveal that Taylor Hayes (Krista Allen) takes action after learning about "Thope."
Once Taylor finds out that "Thope" are sleeping together, the psychiatrist will probably be concerned about Thomas Forrester's (Matthew Atkinson) state of mind. Taylor knows that Thomas has loved Hope for years.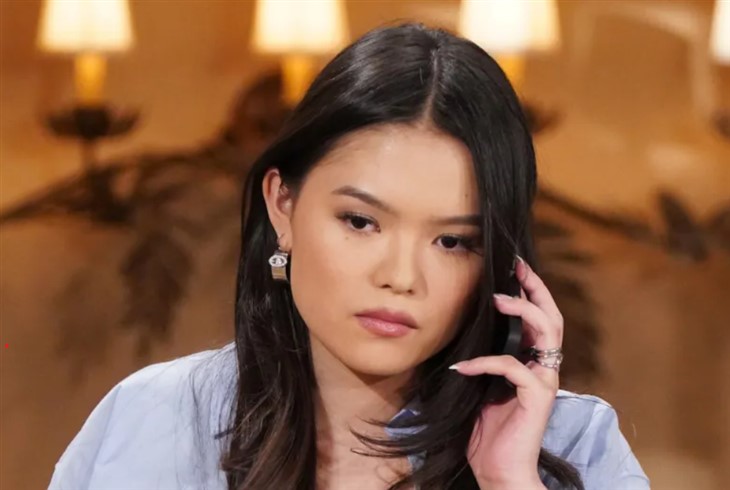 So, when Taylor confronts Hope, she might want to know her intentions. If Hope tells Taylor that she doesn't know, then that could be a problem.
Taylor knows how deeply Thomas feels for Hope. To be okay with a relationship where both are on separate pages just doesn't work. At least, it won't work until both Thomas and Hope are in agreement.
The Bold and The Beautiful spoilers – Weekly Recap
On Tuesday, October 3, fans can expect Luna to continue working with Eric, Donna and RJ on the solo fashion line. Even though Luna is new to the Forrester family, she has gotten close with RJ already.
Now, it seems that Luna has been following the Forrester family on the internet for quite some time. However, fans just don't know the reason why.
MUST READ – The Bold And The Beautiful Spoilers: Deacon's Decision Puts Everyone In Danger – Finn Tasked…
In the meantime, RJ opens up to Luna. It is teased that Luna will find out about Eric's intentions. This could put both RJ and Luna in a tough position if something happens to Eric.
B&B Spoilers – Week Ahead
The Bold and the Beautiful spoilers for Wednesday, October 4 reveal that Luna will admit a piece of her past to RJ.
What exactly is this past and how will RJ react? This can't be Luna's biggest secret as her storyline just began. So, what else is the fashion student hiding?
The Bold and The Beautiful Spoilers – Upcoming B&B Spoilers
On Thursday, October 5, fans can expect Hope to open up to someone new. Confused about what to do regarding Thomas and Liam Spencer (Scott Clifton), Hope turns to Finn. Now, what will Finn tell Hope and will it change the direction of her life?
READ THIS: Find out what happens next on The Bold and The Beautiful.
B&B Spoilers – Friday, October 6: Hefty Promise
On Friday, October 6, Hope reflects on Finn's advice regarding Thomas and Liam. Fans will also see Deacon Sharpe (Sean Kanan) make a big promise to Sheila Carter (Kimberlin Brown).
During the week of October 4, it is also teased that a spontaneous marriage proposal is made. Donna hides Eric's condition from Katie. Speaking of Eric, he and Donna will get distressing news.
Be sure to catch up on everything happening with B&B right now. Come back often for The Bold and the Beautiful spoilers, news, and updates.