Bold And The Beautiful Spoilers: Hope Fears Liam Still Loves Steffy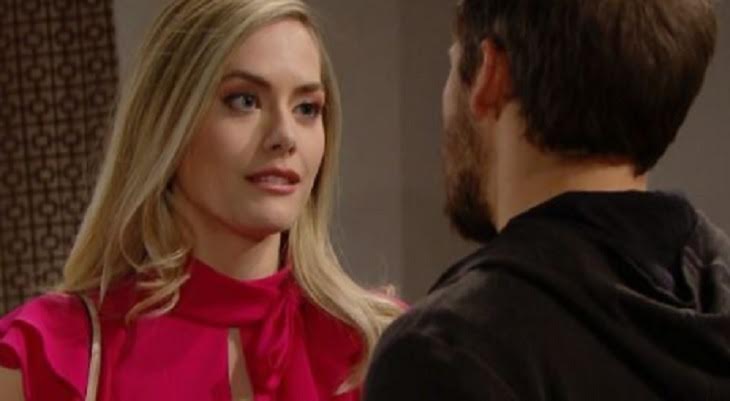 Bold and the Beautiful (B&B) spoilers tease that Steffy (Jacqueline MacInnes Wood) is trying her hardest to be happy without a man in her life. She has proclaimed that she didn't need a man to be happy. Hope (Annika Noelle) and Steffy have been getting along much better the past few weeks, too. Is it possible they have buried the hatchet and the women will continue to get along?
Steffy Maintains She is Swearing Off Men
Steffy has stayed the course and she continues to swear off the need for a man. She turned down a date with handsome Leo (Sam Myerson) last month. The strange part of this whole Steffy situation is Liam (Scott Clifton) hasn't wavered in his decision to stay with Hope and turning his back on his relationship (and marriage) to Steffy. Usually, Liam wants whatever woman he cannot have, so it's quite a shock that he isn't wanting Steffy back.
Today on #BoldandBeautiful, Justin attempts to persuade Bill to put his Spencer necklace back on and blames Brooke for changing him. pic.twitter.com/l7937BUF2f

— Bold & The Beautiful (@BandB_CBS) November 26, 2018
Hope Worries Liam Still Loves His Ex
Hope would be lying if she said she wasn't worried about Steffy and Liam. She knows that Liam cares about her and she wonders if a small part of Steffy wants him back. Little does Hope know, Liam is thrilled for Steffy's newfound independence and happiness.
Steffy and Hope
Steffy and Hope have called a truce and they have decided to keep the peace for their family. After all, Kelly is Liam's daughter and Hope's step-daughter. Hope wonders if Liam will change his mind about their marriage and decide he wants a life with Steffy.
And, the truth is, Scott Clifton (Liam) notes that his alter ego seems to change his mind like the wind, so it is a good possibility. Do you think Liam will leave Hope for Steffy at some point? Don't forget to come back to Bold and the Beautiful (B&B) spoilers, news, and casting updates!
Want up-to-the-minute soaps news, spoilers, and gossip on your social feeds? Just hit 'Like' on our Facebook page and 'Follow' on our Twitter account.