The Bold And The Beautiful Spoilers: Bill Gives Liam Sage Advice, Tells Him Not To Take Hope For Granted?
The Bold and The Beautiful spoilers and updates tease that Bill Spencer (Don Diamont) will give his son Liam Spencer (Scott Clifton) some sage advice. He tells Liam the quickest way to lose a woman is to take her for granted, and that includes Hope Spencer (Annika Noelle).
The Bold And The Beautiful Spoilers – Liam Spencer Worried
Liam has been worried about Hope working with Thomas Forrester (Matthew Atkinson) ever since he was rehired to design Hope's line. Her line didn't matter to Liam, others could work it and they got into quite the argument over it, he didn't believe that only Thomas could make her line work. Steffy Forrester-Finnegan (Jacqueline MacInnes Wood) was literally going to shut down "Hope For The Future" because the clients weren't buying, they wanted Thomas' designs.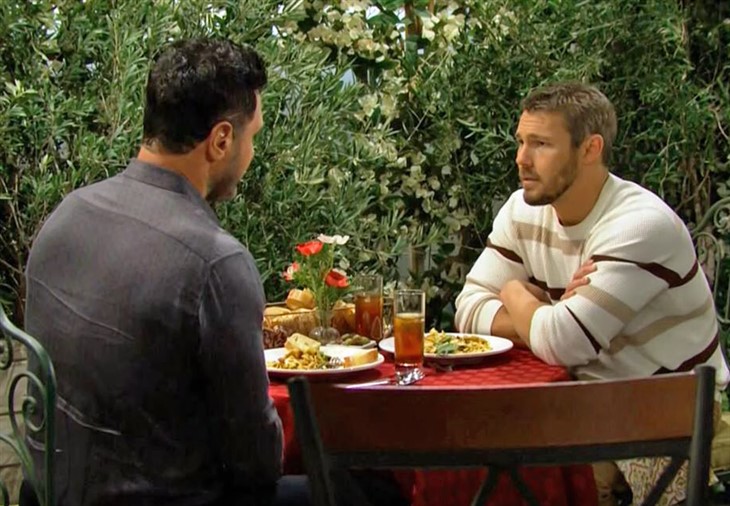 Liam's jealousy over Thomas and insecurity over Hope seemed to be more important than supporting her and her dream. Again he'd gone to the office to have it out with Thomas!
B & B Spoilers – Liam Spencer Gets Advice From Wyatt Spencer
Wyatt Spencer (Darin Brooks) who's appeared to have lost the love of his own life, advises Liam to make the next romantic move on Hope and sweep her off her feet. Apparently he tries but it doesn't go so well, or maybe he's overcompensating as well as Hope-something kills the mood. Secretly, Hope has gotten to the point where she has to fantasize being with Thomas sexually in order to respond to Liam, and she fears talking in her sleep. It's become uncontrollable for her and she doesn't know what to do or how to get rid of it-or does she even want to? To make a long story short, Hope has become bored with Liam and his overly predictable behavior and Thomas excites her!
The Bold And The Beautiful Spoilers – Sage Advice From Dad
Wyatt's advice didn't work, and no wonder, he couldn't even hold on to Flo Logan (Katrina Bowden) she's been gone forever. Liam decides to talk over the situation with their dad, Bill, even though he hasn't been able to hang onto his women for long either-but he's learned from his mistakes. Liam can tell that Bill speaks from sad experience that he shouldn't take Hope for granted, because someone else could come along and sweep her off her feet.
Not being supportive of something that's Hope's lifeblood-her clothing line and not understanding her isn't the way to go. Liam needs to learn more about the work that Hope does, and maybe ask her to teach her about it in some way-that would prove he loves all facets of her.
Be sure to catch up on everything happening with B & B right now. Come back here often for The Bold and The Beautiful spoilers, news, and updates.