The Bold And The Beautiful Spoilers: Deacon Figures Out Sheila's Phone Is Bugged, Tips Her Off To Setup
The Bold And The Beautiful spoilers suggest that Sheila Carter (Kimberlin Brown) may figure out that she has been set up. Will Deacon Sharpe (Sean Kanan) be the one to blow Bill Spencer's (Don Diamont) cover and put everyone in danger again?
The Bold And The Beautiful Spoilers – Sheila Carter's Phone Has Been Bugged
The Bold and The Beautiful spoilers reveal that the FBI has managed to bug Sheila's phone. Unfortunately, Sheila may be tipped off to this action by none other than Deacon. Deacon is far from a technological genius. However, he does know a thing or two about phones. Sheila's phone may malfunction while she is visiting Deacon prompting him to tell her to have it checked out.
Perhaps even Paul "Hollis" Hollister (Hollis W. Chambers) may be able to tell Sheila that her phone has been bugged. No one but Bill would have a reason to bug her phone and Sheila knows that. If Bill has bugged Sheila's phone, what else has he been up to? Is Bill onto Sheila and Deacon's little liaison? Is Bill up to something else completely?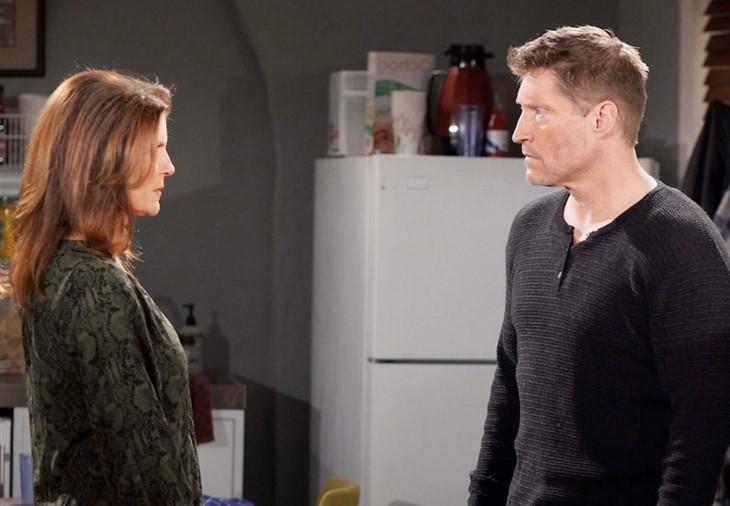 B&B Spoilers – Sheila Carter Could Become Much More Cautious
If Sheila suspects that Bill tapped her phone she may become a lot more cautious and figure out the real plan. This could especially be the case if it is discovered after Sheila accepts Bill's proposal. Bill would have no reason to keep tabs on her if she agreed to marry him. If Bill is willing to go that far, Sheila will certainly want to know what he is looking for.
Will Sheila assume that Bill is trying to find out what she and Deacon are talking about? Sheila already suspects Bill knows about their relationship but he hasn't said anything. Sheila may confront Bill about the bug and demand he removes it. However, she could also remain quiet and turn the tables. Sheila could stop visiting Deacon altogether and see how Bill reacts.
The Bold And The Beautiful Spoilers – Sheila Carter Could Plan Bill Spencer's Demise
If Sheila can keep herself from panicking if the bug is discovered, she could start planning things behind Bill's back. Unfortunately, Sheila may also decide to see if the house is bugged as well. If Sheila finds the equipment in that house, even in one room, she could go into panic mode and physically attack Bill. Sheila has thrown a man off a balcony, she has shot her son and his wife as well.
Sheila has admitted that she doesn't like being with Bill anyway so killing him would not be out of the realm of her actions. This could be exactly where Ridge comes through in the nick of time. Could Ridge and Bill actually become friends after Ridge saves his life? Will Sheila end up in a kill-or-be-killed situation with Bill forcing him or Ridge to take her out?
Be sure to catch up on everything happening with B&B right now. Come back here often for The Bold And The Beautiful spoilers, news, and updates.