The Bold And The Beautiful Spoilers: Eric's Ego Is Wounded – Ridge Stakes His Territory
The Bold and the Beautiful spoilers document that Eric Forrester (John McCook) is arguably overreacting. After seeming to have no issues with the way Ridge Forrester (Thorsten Kaye) and Steffy Forrester Finnegan (Jacqueline MacInnes Wood) have been running Forrester Creations, Eric has a new, aggressive outlook.
McCook's character sent a message to Ridge through Brooke Logan (Katherine Kelly Lang). His adoptive son was told that he was coming for him. Brooke was taken aback by Eric's hostile nature. However, viewers continue to see that Ridge feels he is in charge of FC and that the company will project his vision.
The Bold And The Beautiful Spoilers – RJ Forrester Not Caught In The Middle
Donna Logan (Jennifer Gareis) told Brooke that she wants what Eric wants. But she offered more after Brooke left the Forrester mansion.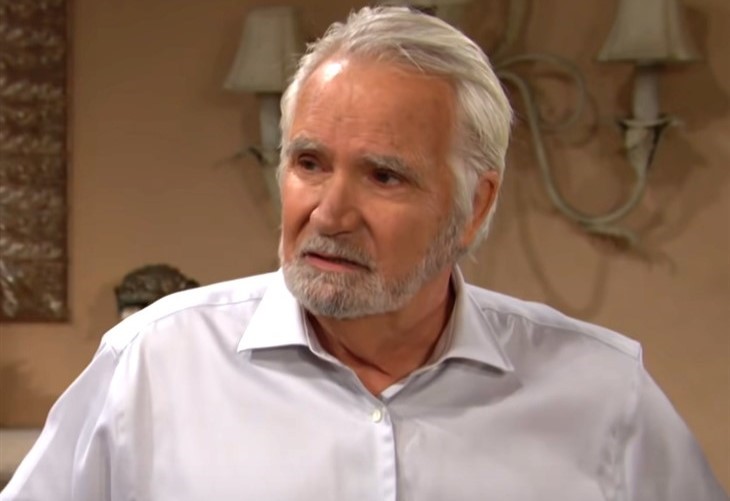 Eric has been getting worked up when talking about what he calls his final collection. Donna said that she does not want to see RJ dragged into the middle of what feels like a coming fight between Eric and Ridge.
But RJ told his grandfather when asked, that he loves working with him and supports the goal of collaborating to produce Eric's first new line in years.
BB Spoilers – Ridge Forrester Risks Being Canned
Ridge is the sole Chief Operating Officer who is on-site in Los Angeles, California. Steffy's need to flee the city in fear of the revived Sheila Carter (Kimberlin Brown) threat means that Ridge lacks what would be Steffy's potential to serve as a go-between with Eric.
It is not far-fetched to predict that Eric will not only create a new line but also take over for Ridge. He said as much when forcefully reminding Kaye's character that he is still in charge.
A hot head, like his dad, Ridge could bolt from the family business if Eric believes it is necessary to make an ultimatum or even, an employment statement.
READ THIS: Find out what happens next on The Bold and The Beautiful.
The Bold And The Beautiful Spoilers – Eric Forrester Has Something To Prove To Himself
Devoted viewers recognize that the issue of Eric's relevance in the fashion business that bears his name has been created in recent weeks.
Soap fans are suspending disbelief to accept what is a new storyline direction that has intriguing legs.
Whether Eric's motivations are being driven by changes inside his body that go beyond arthritis is yet to be known. But for now, the emerging conflict between him and Ridge is compelling on B&B.
This site is a leading source for everything linked to The Bold and the Beautiful. Check back regularly for B&B spoilers and news!
For more about what's happening on your favorite soaps and more ways to connect with us, join the conversation on our Facebook Page, check out our Twitter feed, look for an update on our Instagram, follow us on Threads , Always stay up-to-date with us on Google News, or drop us an e-mail HERE! See you there!