The Young And The Restless Spoilers: Sally Reconfirms Feelings – She Still Loves Adam
The Young and the Restless spoilers document that Sally Spectra (Courtney Hope) is outwardly planning a life with Nick Newman (Joshua Morrow).
But viewers were privy to a recent tell that appears to reconfirm her feelings. Body language is a technique that can be used to help determine what anyone thinks.
While not an exact science, it is useful to recognize that Sally's grooming herself was a reveal.
As viewers saw, Adam Newman (Mark Grossman) unexpectedly knocked on Sally's Genoa City Athletic Club suite door.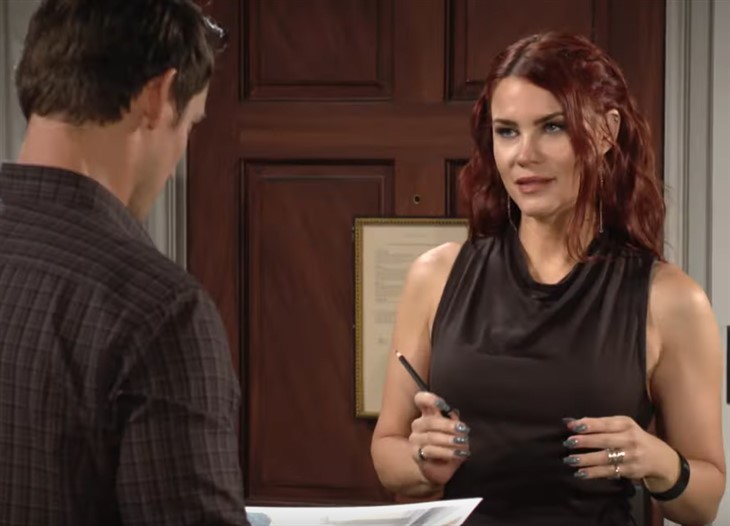 She was not expecting any visitors, looked through the peephole, saw who it was, took the knot out of her hair, let it fall naturally, straightened her clothes, opened the door, and offered a purposefully casual hello.
The Young And The Restless Spoilers – Adam Newman Is The Father
Unless history is rewritten someday, Adam will always be the father of Sally's first child. Ava Hope's loss through miscarriage profoundly affected her parents and seems to have reinforced their bond.
Adam is the man whom Sally fell in love with after Jack Abbott (Peter Bergman) stopped their flirtation from advancing to romance.
As devoted viewers recall, Adam pushed Sally off for months by telling her he was not ready for a relationship.
MUST READ – Y&R Spoilers: Adam Has To Prove Himself – Victor's Caution Justified
Eventually, Adam could not withstand Sally's considerable appeal and their love story began. But Adam followed the pattern Victor Newman (Eric Braeden) and Nick recently referenced when talking about his penchant for self-sabotage, with Grossman's character breaking Sally's heart when falsely claiming to have never loved her.
Y&R Spoilers – Nick Newman's Business Decision Is Ominous
Sally was surprised and very interested when Sharon Rosales (Sharon Case) pitched Nick with a business proposal. She offered him the opportunity to run Kirsten Incorporated with her.
Nick and Sharon's history is known. But they have not been romantically involved in years. However, Sally's reaction shot implied concern for that pairing even if it would only be of a business nature.
After telling Sharon he needed some time to make his decision, Nick only needed a matter of hours to inform the Newman Enterprises brass, which includes Victor, Nikki Newman (Melody Thomas Scott), Victoria Newman (Amelia Heinle), and Nate Hastings (Sean Dominic) that he was officially leaving the family business so he could accept Sharon's offer.
The Young And The Restless Spoilers – Sally Spectra Corrected Big Brother
Sally does have feelings for Nick that could be placed on the love list. But she was quick to correct him when he suggested that Adam's recurrent troubles were connected to the miscarriage.
Nick did not appear to mean Ava Hope's loss was linked to the fallout at Newman Enterprises, where Victor let Adam go. Sally took it that way, which served to remind Nick of the permanent connection she shares with his brother.
Adam is claiming to want redemption and the willingness to start at the bottom of Newman Enterprises. Victor is naturally skeptical but says he will be impressed if Adam proves his sincerity.
If Adam has love in his heart for Sally, he will not be able to connive others. She would not stand for that. But if he truly is seeking redemption and sticks with that effort, a renewal with Sally could increase Adam's odds of success on Y&R.
This site is a leading source for everything linked to The Young and the Restless. Check back regularly for Y&R spoilers and news!