The Bold And The Beautiful Spoilers: Finn On High Alert, Fear Sheila Drama
The Bold And The Beautiful spoilers indicate that John "Finn" Finnegan (Tanner Novlan) will go on high alert when he finds out that Bill Spencer (Don Diamont) has proposed to his deranged mother. Finn is worried that Sheila Carter (Kimberlin Brown) will increase her efforts to have contact with his family. Can Finn protect his family from Sheila?
The Bold And The Beautiful Spoilers – Bill Spencer Has Proposed
The Bold and The Beautiful spoilers reveal that after Finn learns of Bill's proposal, he will vow to Steffy Forrester (Jacqueline MacInnes Wood) to do everything in his power to protect his family. Finn is truly having trouble coming to terms with how quickly this relationship has progressed. Like everyone else, Finn just does not understand.
Bill acts as though this is the most normal thing in the world. Meanwhile, Finn and Steffy are trying their best to protect their family from a psychopath that Bill has turned loose on them. Finn knows just how dangerous Sheila is and he will protect his family no matter what the cost. Sheila almost killed Finn and Steffy once and he will not allow that to happen again.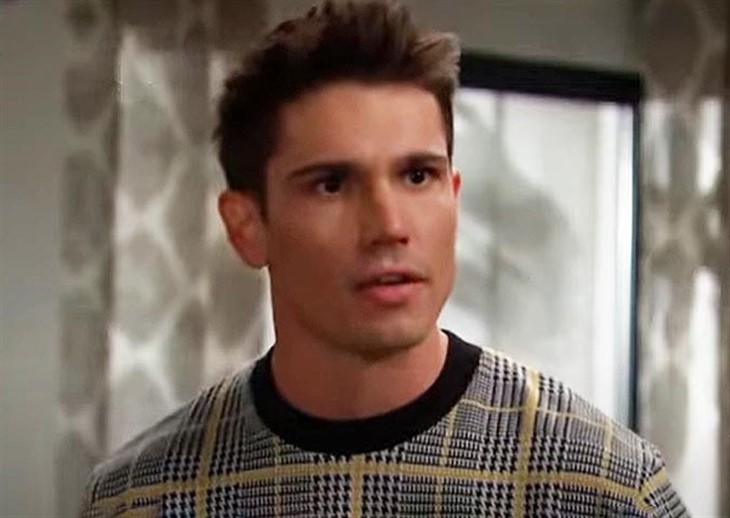 B&B Spoilers – There Is No Hope For A Reunion
Finn will make it perfectly clear to Sheila that there is no way that he would ever consider having a relationship with her. Finn knows that Sheila is his birth mother but that is and always has been where their connection ends. Finn tries to once against everyone's warning because he wanted to believe there was good in Sheila. Finn refuses to make that mistake again.
Finn simply cannot figure out how the man that burst into that apartment door to save him and get him back to his wife could possibly love Sheila. Bill knows how dangerous Sheila is and he is still protecting her. Finn, along with Bill's entire family is beginning to think that Bill has completely lost his mind to consider getting married to Sheila.
The Bold And The Beautiful Spoilers – John Finnegan Just Wants To Be Happy
All Finn wants is for him and Steffy to be happy and to raise their children in peace. Finn has fought long and hard to be with his family. Finn sees Sheila as a threat to that family and he is not going to let her ruin what he and Steffy have built. Finn is by no means a violent person but he will do what it takes to keep everyone safe from Sheila.
Finn can only hope that Bill comes to his senses before Sheila can hurt or kill someone he loves. What will Finn think when he learns that Bill and Ridge Forrester (Thorsten Kaye) came up with this scheme to put Sheila away for good? Will Bill and Ridge succeed in getting the confession they need to get rid of Sheila?
Be sure to catch up on everything happening with B&B right now. Come back here often for The Bold And The Beautiful spoilers, news, and updates.