The Bold And The Beautiful Spoilers: Finn's Bizarre Betrayal, 'Steam' Reunite As 'Lope' & 'Sinn' Die?
The Bold and the Beautiful spoilers reveal that Steffy Forrester Finnegan (Jacqueline MacInnes Wood) and Liam Spencer (Scott Clifton) recently went down memory lane. These flashbacks usually indicate a twist coming up. Steffy has already cheated, so could John "Finn" Finnegan (Tanner Novlan) be the one to commit a betrayal this time? Will it be spurred by "Thrope"?
The Bold And The Beautiful Spoilers – Hope Logan Spencer's Crush
B&B spoilers reveal that Hope Logan Spencer (Annika Noelle) has been crushing on her former stalker, Thomas Forrester (Matthew Atkinson). Just when Thomas is finally over his obsession, Hope suddenly is interested. However, Hope is married to Liam.
Hope doesn't want Liam to get any more suspicious than he already is. Hope lied to Liam when he asked her about feelings for Thomas. Plus, Hope blames Steffy for "interfering" in her marriage. Now, Steffy's concern isn't Liam exactly, but it's more about Thomas' mental health.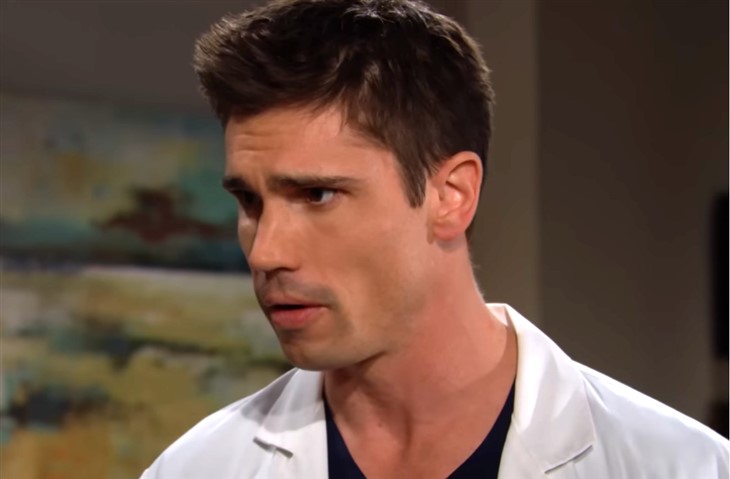 B&B Spoilers – 'Steam' Reminisce
During a recent episode, Liam went to Steffy's house to visit Kelly Spencer (Sophia Paras McKinlay). During that conversation, Liam worried about Hope and Thomas for the millionth time. That chat included flashbacks of when "Steam" had Kelly.
Sometimes, these indicate the past will become part of the future. Steffy has already slept with Liam while in a relationship with Finn. That resulted in a pregnancy and paternity storyline. So, Steffy probably won't be the one to cheat this time. So, what breaks "SINN" apart?
The Bold And The Beautiful Spoilers – John Finnegan's Bizarre Betrayal?
The Bold and the Beautiful spoilers reveal that while Liam came to see Kelly, Finn was working late at the hospital. So, with Finn working more hours, this could lead him to get close to someone on staff.
It's even possible that Finn and Hope could get close again. At one time, they bonded over having criminal parents. While Finn was dealing with Sheila Carter (Kimberlin Brown), Hope was conflicted about Deacon Sharpe (Sean Kanan).
It's true that Hope is crushing on Thomas, but they might never hit the sheets. So, if Hope does cheat on Liam, then could it be with Finn?
The Bold And The Beautiful Spoilers – 'Steam' Reunite?
It is teased that "Lope" is in danger of imploding. Meanwhile, could "SINN" also come to an end? If so, does that open the door to 'Steam" getting back together?
Would you like some new and different romantic shakeups? Is it possible that Finn could be the one who destroys "SINN?" If so, will it be related to the "Thrope" drama? Share your thoughts and remember to keep watching the soap to find out what happens next.
Be sure to catch up on everything happening with B&B right now. Come back often for The Bold and the Beautiful spoilers, news, and updates.