The Bold And The Beautiful Spoilers: Katie's Unexpected Heartbreak, Carter's Family Bombshell
The Bold and the Beautiful spoilers reveal that Carter Walton (Lawrence Saint-Victor) has bad luck in romance. However, Carter and Katie Logan (Heather Tom) seem to be a good fit. What rips this couple apart might not be Bill Spencer (Don Diamont), though. Could Carter leave Katie heartbroken if a former flame returns with their love child? Keep reading and let's discuss the possibilities.
The Bold And The Beautiful Spoilers – Katie Logan's Happiness
B&B spoilers reveal that Bill tried to get Katie back several times. At first, Katie enjoyed being single and not having to worry about Bill's loyalty. However, Katie eventually became ready to find love again. That led Katie and Carter to turn their friendship into a romance.
So far, Katie and Carter both seem very happy. The couple also recently exchanged the "L" word and became intimate. While Katie isn't interested in going back to Bill, it's a reasonable concern for Carter.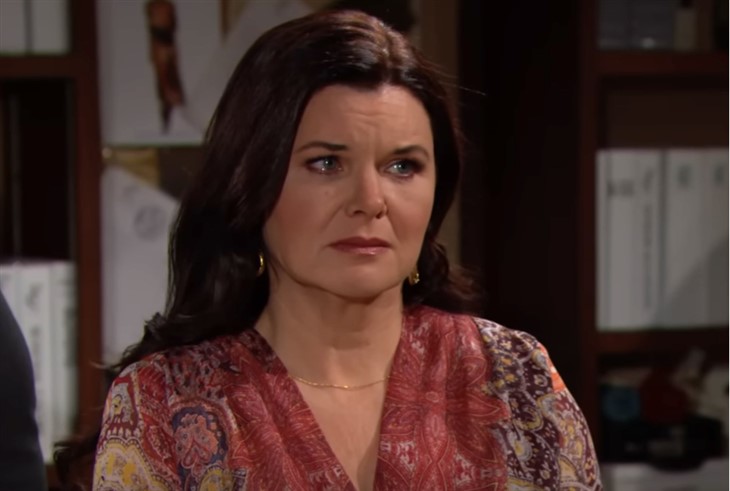 B&B Spoilers – Carter Walton's Perfection
Carter and Katie both seem to be unlucky in love. While Bill has repeatedly pursued and even won Katie at times, she always ends up with a broken heart. Most often, Bill betrays Katie with her own sister, Brooke Logan (Katherine Kelly Lang).
So far, Katie hasn't had to worry about Carter's eyes (and lips) wandering. That doesn't mean that Carter will remain faithful, though. After all, Carter seems to be the perfect gentleman, which doesn't exist. So, will Carter end up hurting Katie and if so, how will it happen?
The Bold And The Beautiful Spoilers – Bill Spencer's Unexpected Win?
The Bold and the Beautiful spoilers reveal that Bill is determined to get Katie back. Katie has already told Bill multiple times that she's not interested in rekindling their relationship. Katie is now with Carter and wants Bill to respect that.
Bill is finding that Carter is harder to beat in romance than he initially thought. Bill might not have to direct an attack to win Katie back, though.
B&B Spoilers – Family Bombshell?
Is it possible that Carter will face one of his former flames soon? If so, could that person be Zoe Buckingham (last played by Kiara Barnes)? If so, will Zoe blindside Carter by announcing they have a child together? Remember, soap time is different than real time.
If Zoe does come back with a baby, how will Carter choose? Well, Carter has made it clear he would do anything for a family of his own. Carter might decide that his child won't grow up in a broken home. That has always been very important to Carter. Despite Carter's love for Katie, could she still end up broken-hearted and back in Bill's arms?
Be sure to catch up on everything happening with B&B right now. Come back often for The Bold and the Beautiful spoilers, news, and updates.