The Bold And The Beautiful Spoilers: Li Forces Deacon To Kill Sheila?
The Bold and the Beautiful (B&B) spoilers tease that Li Finnegan (Naomi Matsuda) has the end game solution for her maternal rival, Sheila Carter (Kimberlin Brown).
Li raised Sheila's bio son John "Finn" Finnegan (Tanner Novlan) and she wants him to kill the dangerous woman but Finn is a doctor and balks at the thought of taking a life. This week he reminded Li, also a doctor, that they vowed to 'do no harm.'
Li is adamant however and if Finn won't do as she asks, will she find someone who will? Someone like Deacon Sharpe (Sean Kanan)?
The Bold And The Beautiful Spoilers – John "Finn" Finnegan's Dilemma
Finn is all alone at the cliff house because Steffy Forrester Finnegan (Jacqueline MacInnes Wood) is threatened by Sheila so she packed up the kids and left for Europe. At the same time Sheila becomes more obsessed each day thinking about reuniting with her son.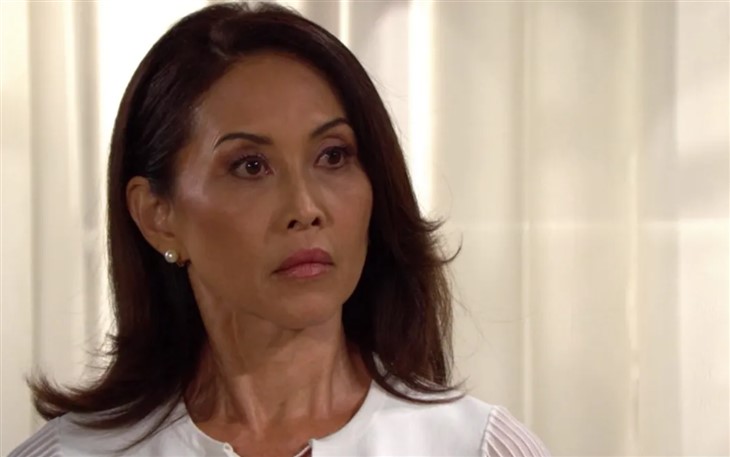 At the same time Finn becomes ever sadder as he talks to Steffy, Kelly Spencer (Sophia Paras McKinlay), and Hayes Forrester Finnegan (Alexander and Chase Banks) as the days go by.
He is desperate to bring back his family.
B&B Spoilers – Sheila Carter's Threat
But make no mistake about it, he will not kill the woman who brought him into this world. During the week of September 25, Finn spends time with his mother-in-law Taylor Hayes (Krista Allen) which points to Steffy remaining away and Finn needing support.
Taylor is also a doctor and a mother so she is a good person to turn to for advice.
The Bold And The Beautiful Spoilers – Li Finnegan Is Determined
Meanwhile Li won't rest until Sheila is neutralized. She wants Finn happy and that means having Steffy come home. But Steffy will stay put as long as Sheila is stalking Finn.
MUST READ – B&B Spoilers: Judge Evan Scott Returns, Michael Corbett Solves Freedom Mystery?
Would Li turn to Deacon for help? Deacon told Sheila he cant' continue to carry on with her because he risks damaging his relationship with his daughter Hope Logan (Annika Noelle).
Sheila went berserk and shocked Deacon who is not comfortable with her never ending one track mind r regarding Finn.
During the week of September 25, someone listens in on a private convo and hears a jaw dropping revelation. Will Li overhear Deacon and Sheila?
B&B spoilers – Someone Hears A Secret
If Li hears all about Deacon cavorting with Sheila, she has blackmail material, and may use it to force him to get rid of Sheila.
Deacon may not have a choice if Li threatens to expose his secret—he would lose Hope and Il Giardino. Will he do as Li requests in order to save his comfortable life?
Be sure to catch up on everything happening with B&B right now. Come back here often for The Bold and the Beautiful spoilers, news, and updates.