The Bold and the Beautiful Spoilers Monday, July 24: Verdict Outrage, Steffy's Panicked Promise
The Bold and the Beautiful spoilers for Monday, July 24 reveal that Russell (Rodney Van Johnson) hasn't given Sheila Carter (Kimberlin Brown) much hope of getting out of prison. However, the trial has a shocking outcome.
Expect to see the aftermath of Sheila's hearing. Plus, Steffy Forrester Finnegan (Jacqueline MacInnes Wood) could make a panicked promise.
Sheila Carter's Freedom
B&B spoilers for Monday, July 24 reveal that everyone will continue reeling from Judge Evan Scott's (Michael Corbett) verdict. Although the judge admitted that Sheila belonged behind bars, a conviction could be overturned due to the way the evidence and confession were obtained. This is Steffy Forrester Finnegan's (Jacqueline MacInnes Wood) worst nightmare.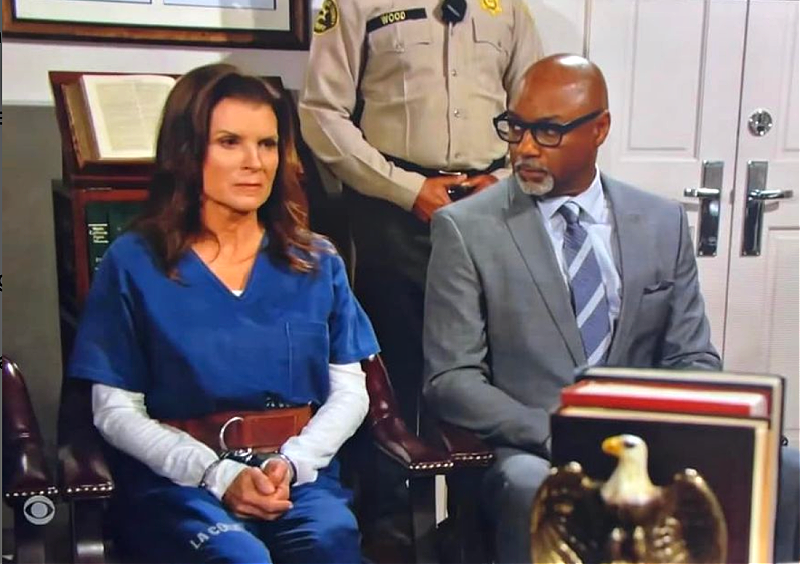 B&B Spoilers: John Finnegan's Turmoil
Following the verdict, Sheila hugged John "Finn" Finnegan (Tanner Novlan). It's clear that Finn will have mixed emotions.
On the one hand, Sheila's words are getting to his vulnerable spots. On the other hand, this woman tried to kill both him and Steffy.
Of course, one of Sheila's primary goals, once she is released, is to get Finn on her side. Meanwhile, Steffy will most likely make another promise to protect her family no matter the cost.
Liam Spencer's Misdirected Rage
The Bold and the Beautiful spoilers for Monday, July 24 reveal that Liam will continue fuming over what he saw outside the courtroom.
When Sheila hugged Finn, Liam glared at the pair. Now, it's not clear if Liam was glaring at Sheila or Finn. Perhaps it was both of them.
Although Liam and Finn have been civil for the most part, that changed recently. Finn doesn't know that Liam has kissed Steffy not once but twice recently. However, Finn is sure acting like he somehow knows and issued a warning to Liam.
The Bold and the Beautiful Spoilers: Monday, July 24
On Monday, July 24, fans can also expect Ridge "RJ" Forrester Jr (Joshua Hoffman) to work hard at Forrester Creations.
Mike Guthrie (Ken Hanes) will make another appearance. Plus, Scott Hamm continues playing the bailiff while Akeem Mair returns as a guard.
It is also teased that Rodney Van Johnson continues as Sheila's attorney, Russell. However, Soap Opera Digest just states it for the week of July 24 and doesn't list specific days.
Which storyline are you looking forward to seeing the most on Monday, July 24? What are your predictions for Finn, Steffy, Liam, Hope Logan (Annika Noelle) and Thomas Forrester (Matthew Atkinson)?
What does the future hold for Sheila, RJ, Deacon Sharpe (Sean Kanan), Bill Spencer (Don Diamont) and the rest of the characters? Share your thoughts in the comment section below. Remember to keep watching the soap on CBS or Paramount+ to find out what happens next.
Be sure to catch up on everything happening with B&B right now. Come back often for The Bold and the Beautiful spoilers, news, and updates.