The Bold And The Beautiful Spoilers Next 2 Weeks: Eerie Warnings, Hidden Pasts, Scandalous Shenanigans
The Bold and the Beautiful spoilers for the next two weeks are in. From October 2 to 13, 2023, fans can expect Luna Nozawa (Lisa Yamada) to open up about her hidden past.
Bold and the Beautiful Spoilers Highlights
Don't expect the full truth just yet, though. Luna will also get an eerie warning. Elsewhere, Deacon Sharpe (Sean Kanan) issues a plea to John "Finn" Finnegan (Tanner Novlan).
Eric Forrester (John McCook) will also keep a secret from Donna Logan (Jennifer Gareis). Could this be about the patriarch's health?
The Bold And The Beautiful Spoilers – Scandalous Shenanigans
B&B spoilers for the week of October 2 reveal that some characters will be involved in scandalous shenanigans. Now, fans recently watched in shock as Deacon proposed to Sheila. So, expect Sheila to give Deacon an answer.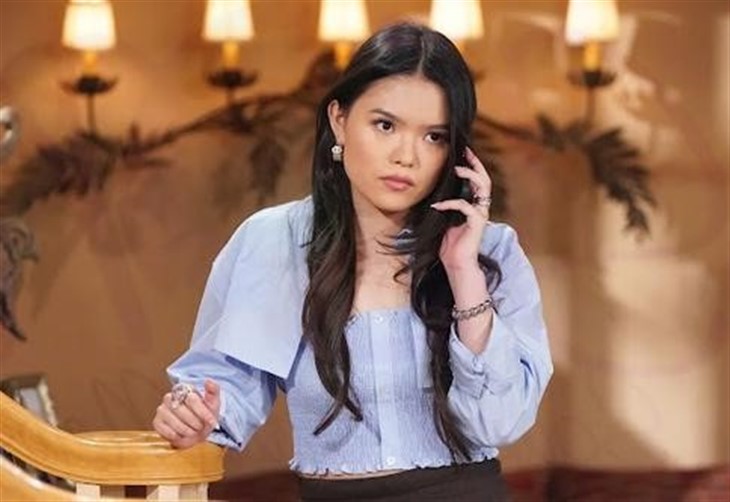 B&B Spoilers – Week Of October 2
Meanwhile, Eric will continue his solo fashion line plans despite a lot of questions and opposition. Eric has his supporters, including RJ and Donna.
However, RJ is beginning to suspect that Eric's problem is more serious than arthritis. RJ will open up to Luna about Eric's intentions.
However, this could put Luna in a difficult position, especially if Donna asks her questions. After all, Eric does keep a secret from Donna.
Speaking of Luna, she will share a tiny piece of her past with RJ. However, don't expect all of Luna's secrets to come out so soon. The fashion student is still hiding something.
It is also teased that Eric and Donna get devastating news. Donna will also hide the truth from Katie Logan (Heather Tom).
The Bold And The Beautiful Spoilers – What Else To Expect
The Bold and the Beautiful spoilers for the week of October 2 reveal that Taylor Hayes (Krista Allen) confronts Hope Logan (Annika Noelle).
Hope will end up talking to Finn about her situation with Thomas and Liam Spencer (Scott Clifton). Later, Hope reflects on Finn's advice about Thomas.
MUST READ – B&B Spoilers: New Woman Shows Thomas Love, Dumps Booty Call Hope?
B&B Spoilers – Next 2 Weeks
During the week of October 9, fans can expect Hope to receive mind-blowing information. Luna receives a mysterious warning.
Does this warning urge Luna to stay away from the Forrester family? If so, what is the connection between Luna and the Forresters? Plus, Deacon issues a plea to Finn on Sheila's behalf.
Which storyline are you looking forward to seeing the most during the next two weeks? What are your predictions for Eric, Donna, Katie, RJ and Luna?
What does the future hold for Deacon, Sheila, Finn, Hope, Thomas and the other characters?
Share your thoughts in the comment section below. Remember to keep watching the soap on CBS or Paramount+ to find out what happens next.
Be sure to catch up on everything happening with B&B right now. Come back often for The Bold and the Beautiful spoilers, news, and updates.