General Hospital Spoilers: Selina And Cyrus Team Up Against Sonny!
General Hospital Spoilers tease that Sonny Corinthos (Maurice Benard) and Selina Wu (Lydia Look) have had a tenuous agreement for quite awhile now.
When Sonny returned from Nixon Falls, he agreed to let Selina do business in Port Charles as long as their interests didn't conflict with each other. In addition, Sonny demanded that Selina refrain from bringing drugs into Port Charles.
For awhile now, both Selina and Sonny have had some measure of business in Port Charles. But all that may be changing in the very near future.
General Hospital Spoilers – Selina Wu Ran A Poker Game At The Savoy!
Sonny did agree to let Selina run a high-stakes poker game in the back room of Curtis Ashford's (Donnell Turner) club, the Savoy. But what Sonny didn't realize, until now, was that Selina was targeting Sonny's cousin, Gladys Corbin (Bonnie Burroughs).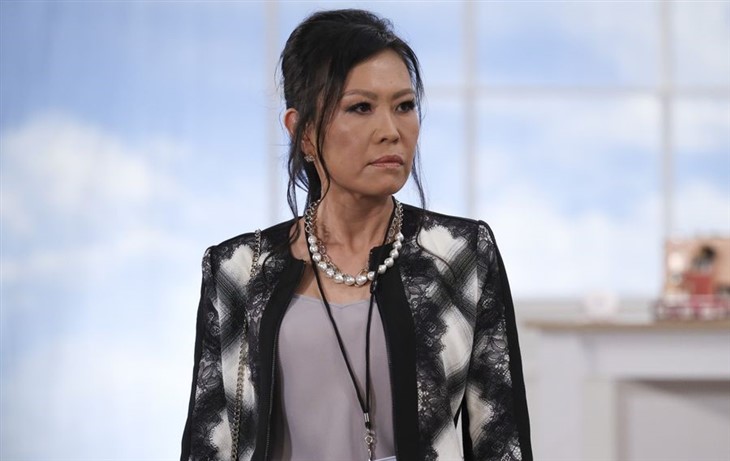 Gladys has a gambling problem and owes Selina thousands of dollars. Now that Sonny knows about Gladys' debt, he may decide that Selina can no longer do business in Port Charles.
GH Spoilers – Selina Wu Can No Longer se The Savoy.
In addition, Selina's access to the Savoy has been rescinded. Previously, she had asked Sonny to intervene with Curtis' father, Marshall Ashford (Roger Gossett) but Sonny refused.
Selina's income from her gambling operation has now dried up so Selina may decide to partner with Sonny's enemy, Cyrus Renault (Jeff Kober). Such a move would definitely be seen as a sign of aggression, but Selina may decide she has no choice.
General Hospital Spoilers – Cyrus Renault Is Working Behind The Scenes!
Although Cyrus is currently serving time at Statesville prison, its pretty obvious that he is still in power. If Selina throws her lot with Cyrus, it could become quite a dangerous situation for Sonny and his family.
MUST READ – GH Spoilers: Sasha Records Gladys And Dr. Montague's Confession, All Hell Breaks Out!
It seems that after a couple years of peace, that another mob war is on the horizon. And if Cyrus and Selina team up, Sonny could find himself in a world of trouble. But can Port Charles survive yet another mob war?
GH Spoilers – What Do You Think?
Is Selina's partnership with Sonny about to end? Is Cyrus a better partner for Selina? And is yet another mob war on the horizon?
Anything can happen in Port Charles so stay tuned to General Hospital airing weekdays on ABC. And don't forget to check back right here regularly for all your General Hospital news, information and spoilers!